SANTO DOMINGO, Dominican Republic -- When André Pérez first left Haiti for the Dominican Republic in 1964, his new employer gave him a machete, a gallon of water and a bag. The 14-year-old boy went to work cutting cane, one of the most grueling jobs the hemisphere offers, and one that is intimately tied to the advent of racial slavery his birth country had rebelled against in the 18th century. For the next five decades, he swung a machete under the tropical sun.
Now, at 66, he faces the threat of deportation and, with it, the loss of his pension and separation from his two Dominican-born children. "They threw us out into the fields and let the bugs eat away at us," Pérez told The Huffington Post. "Now they want to kick us out of the country. I've been here 52 years. I spent my youth cutting cane … They don't want to give us papers. They don't want to give us anything." Tens of thousands of Haitian migrants who came to the Dominican Republic to cut cane, some of them more than half a century ago, now face the threat of deportation.
The passing of a deadline last week to register as a foreign national with the Dominican government has put an international spotlight on this country's immigration policies, which local advocates and international human rights groups have widely criticized for de-nationalizing as many as 200,000 Dominican-born people who once qualified for citizenship here. The vast majority of them are of Haitian descent and black, fueling charges that racism has played a role in motivating the policies.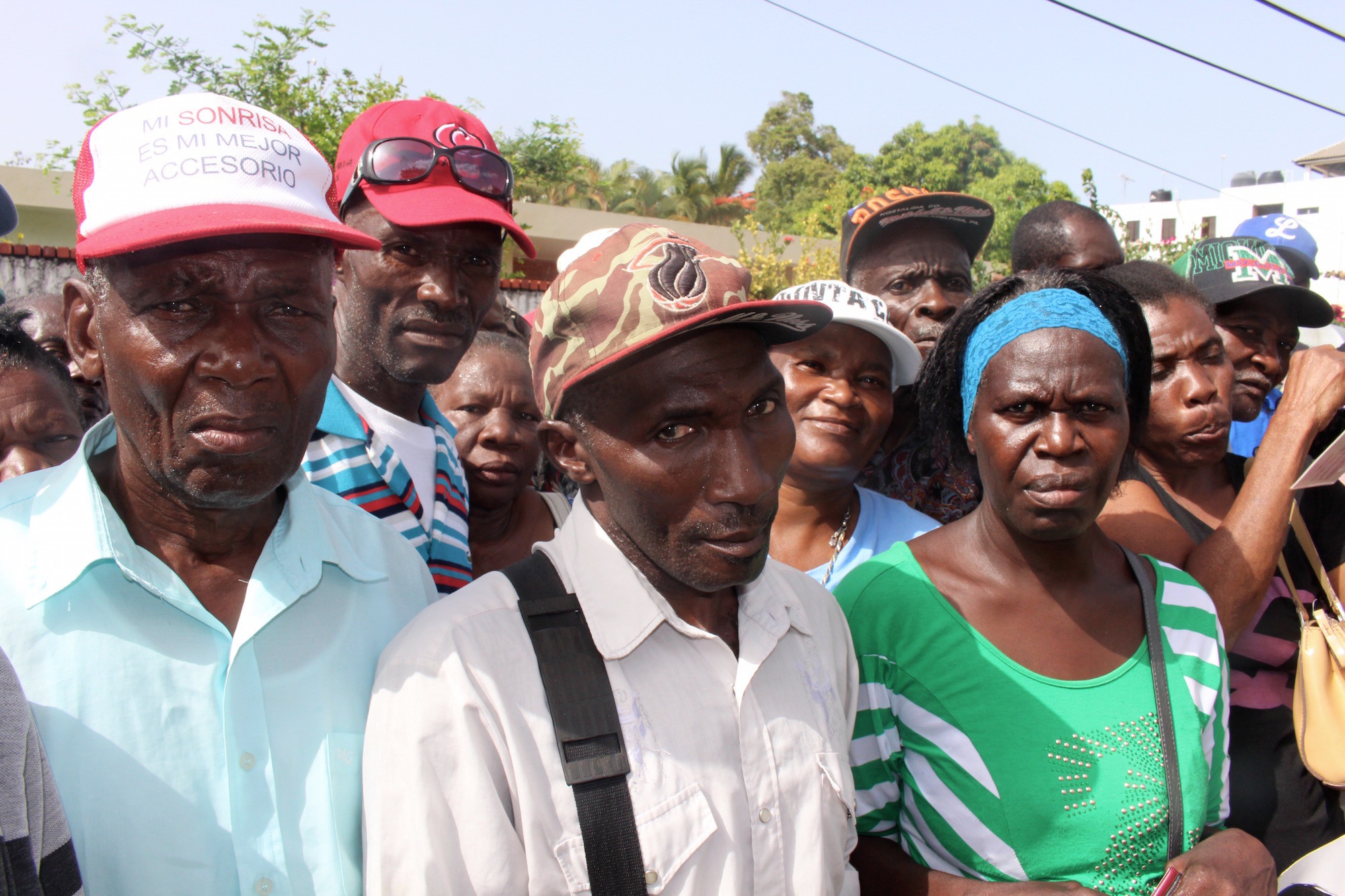 Jeane Saintlouis, 53, center, cut cane from 1985 to 1999 in the Dominican Republic, but never received a government identification. He has two Dominican-born children, neither of whom have documents either, he says. (Roque Planas/HuffPost)
Dominican officials have pledged to move forward with the process and begin expelling people despite the criticisms. President Danilo Medina's administration has repeatedly lashed out at foreign critics, asserting that control over immigration policy is a matter of sovereignty.
But it also recognizes that cane cutters deserve special treatment because of the Dominican government's role in recruiting them. The vice minister of the Interior and Police, Washington González, told the local press earlier this month that officials plan to negotiate a deal to provide residency for cane cutters drawn to the country, though the government has yet to provide details. A lawsuit coursing through the Dominican Republic's courts argues that cane cutters should automatically qualify for legal permanent residency and the possibility of naturalization because they were largely recruited here. Filed on behalf of the Dominican Cane Cutters Union, attorney Genero Rincón says the lawsuit has the potential to upend the law responsible for leaving thousands of Dominican-born children stateless, since many of them were born to migrant cane cutters from Haiti.
"These cane cutters, and there are around 50,000 of them, were forcibly undocumented," Rincón, the director of the group Derechos Vigentes, told HuffPost. "Their children too."
The Dominican Republic recruited thousands of Haitian laborers to cut sugar cane under two bilateral agreements signed by the countries in 1959 and 1966. The second agreement remained in effect until 1999, according to Dominican daily Listín Diario.
The lawsuit was scheduled for a hearing on Thursday, but was continued until July 2.
Hundreds of cane workers gathered at the courthouse Thursday to march across the capital's streets, carrying banners reading "We demand legal permanent residence," banging out drumbeats and chanting, "There's no sugar without cane cutters." Crismena Luis Tucen, 55, was among them. Though she's lived in the country since 1982 and has six Dominican-born children, the only Dominican ID she holds is a company card issued by the sugar plantation that employs her. Like a guest worker program the U.S. implemented in the 1940s to recruit agricultural workers from Mexico, the card identifies her as a "bracero," or agricultural laborer. After more than three decades in the cane fields, she now worries that she'll be deported back to Haiti with nothing to show for it. "They don't even want to give us our pensions," Tucen told HuffPost.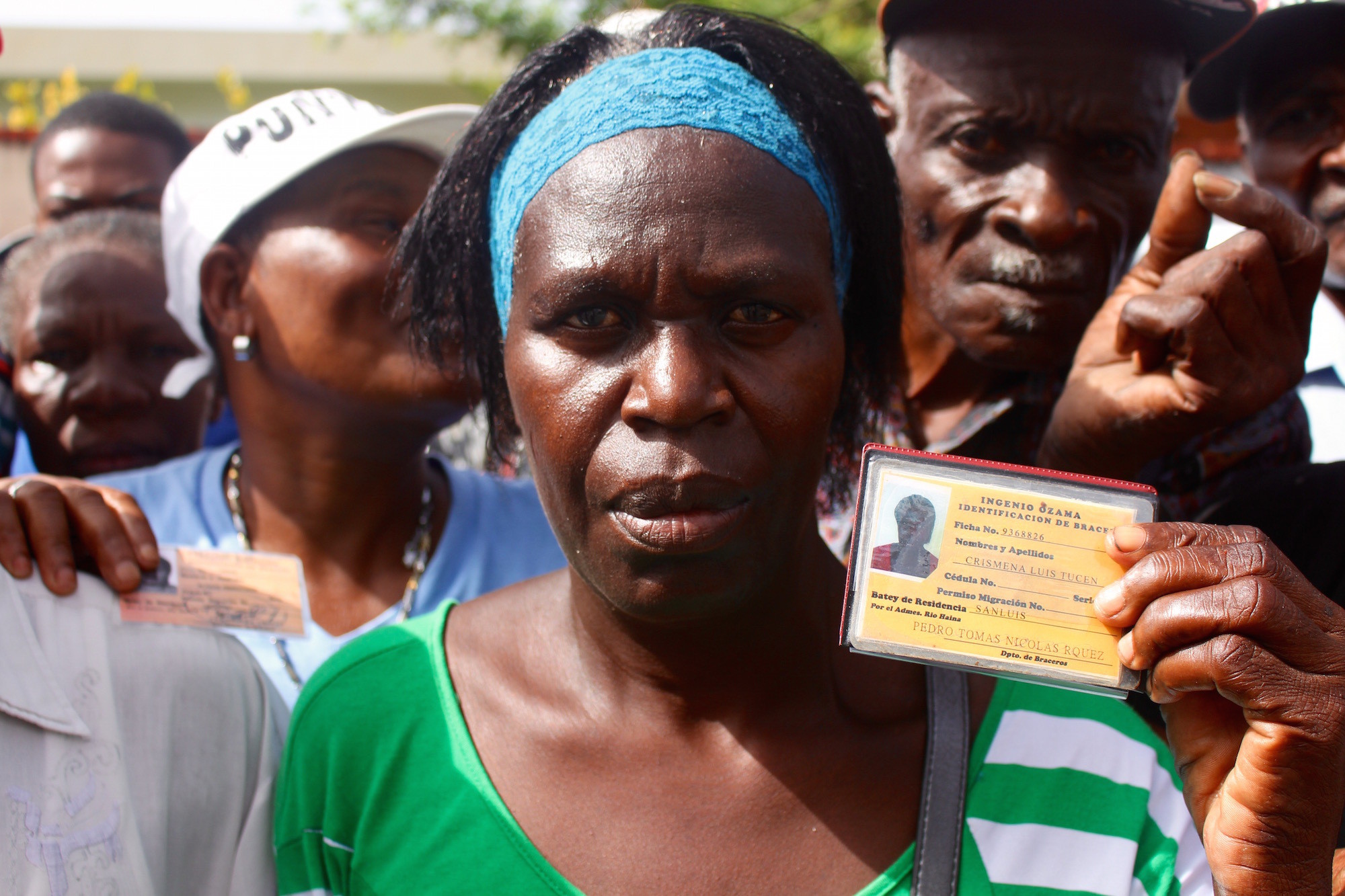 Crismena Luis Tucen, 55, immigrated to the Dominican Republic from Haiti in 1982. Since then she's cut cane, one of the country's most back-breaking jobs. The only Dominican ID she possesses is an employer card issued by her plantation. If deported, she will lose her pension. (Roque Planas/HuffPost) An estimated 500,000 undocumented immigrants reside in the Dominican Republic, the vast majority from neighboring Haiti. Some 288,000 registered with the Dominican government over the 18 months that it accepted applications for its "regularization plan," which gives them a provisional two-year visa. The deadline to register for the program was midnight on June 17.
But many migrants said they were unable to register, citing problems acquiring key documents from the Haitian government, confusion or misinformation about the process, or the costs associated with notaries, travel and lawyers.
An unknown number of people born in the Dominican Republic to undocumented parents also face the possibility of deportation after the passing of the deadline.
A series of legal changes since 2004 eliminated the concept of birthright citizenship in the Dominican Republic, a new standard that was codified in the constitution of 2010. A controversial 2013 Constitutional Court ruling applied the standard retroactively, leaving many Dominican-born children, the vast majority of them born to Haitian parents, without citizenship in either their home country or that of their parents. Many of them never received key documents like birth certificates to prove their claims to Dominican citizenship.
The regularization plan restored citizenship to some 56,000 people who had previously held Dominican passports or other national identification documents but were made stateless by the ruling. The plan also allowed people who were born in the Dominican Republic to undocumented parents and had not been issued proper documents to register with the government as foreign nationals and apply for naturalization after two years.
But fewer than 9,000 Dominican-born people who hadn't been properly registered applied, with many citing problems securing documents from the Dominican government or confusion about the process. The deadline for Dominican-born people to register for the naturalization plan passed in February.
Human rights organizations say the number of Dominican-born people who are now stateless may be as high as 200,000, including 60,000 children. Officials with Medina's administration dispute those figures and have been highly sensitive to criticism of their immigration policies. The Medina administration says it will continue to refuse citizenship rights to people who were born to undocumented immigrants in the Dominican Republic and didn't register before the February deadline.
This reporting was made possible with a fellowship from the French-American Foundation.
Calling all HuffPost superfans!
Sign up for membership to become a founding member and help shape HuffPost's next chapter