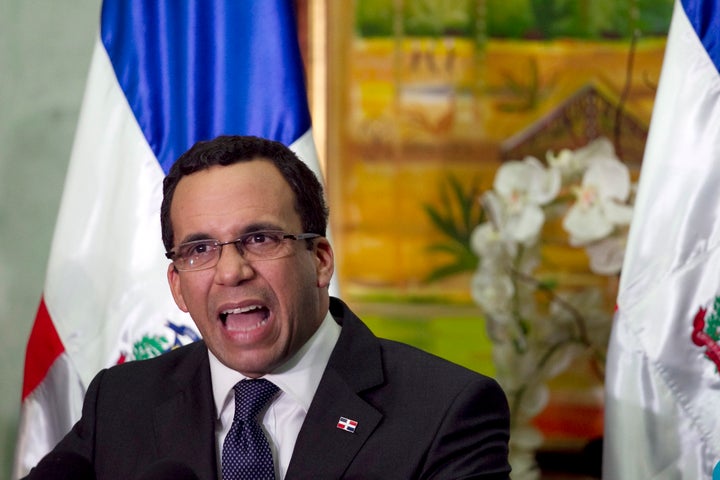 Andrés Navarro, the foreign minister of the Dominican Republic, met with local politicians in New Jersey on Thursday to try to dissuade them from passing a nonbinding resolution in the state Senate. The resolution would criticize the Dominican Republic for stripping the citizenship of thousands of people who were born in that country but whose parents were undocumented.
The appearance of the country's top foreign policy official to thwart a symbolic local proceeding highlights the Dominican Republic's continuing sensitivity toward any criticism of a series of legal changes that human rights groups say have left as many as 200,000 people stateless.
The resolution, sponsored by New Jersey state Sen. Raymond Lesniak (D), "respectfully urges the Dominican Republic to reinstate the citizenship of those of Haitian descent born in the Dominican Republic." Lesniak told The Huffington Post ahead of Thursday's meeting that he intended to listen to Navarro's point of view, as well as those of local activists, but that he would try to pass the resolution regardless.
"That's too bad if they're hostile toward criticism, because the criticism is well deserved," Lesniak said. "A way for them to eliminate that criticism is to get rid of that policy."
Navarro met Thursday with local politicians and members of several immigrant rights groups that have criticized the Dominican government's implementation of the new citizenship and immigration system, which was established over an 18-month period starting in late 2013. He went to New York the following day to continue defending the policies in meetings with local leaders, according to El Veedor Digital.
The vast majority of the people left stateless by the Dominican Republic's actions in recent years have been Haitian and black, which has led some critics to view the policy change as influenced by racism or anti-Haitian sentiment.
Dominican officials, on the other hand, have viewed foreign criticism of the new scheme as an affront to the country's sovereignty, and have repeatedly faulted neighboring Haiti for failing to produce the documents that migrants or Haitian descendants need to apply for legal status under the Dominican system. In a flurry of public statements since the June 17 deadline for those without legal status to register as foreigners, officials in President Danilo Medina's administration have lashed out at international human rights groups, the Inter-American Commission on Human Rights and some U.S. officials for criticizing Dominican migratory and citizenship policy.
"No other nation in the world, nor any international organization, can demand that the Dominican Republic make sacrifices to its migratory system, or any other sovereign right, beyond what is ordered by the laws and the constitution," Medina said in a speech on the country's Independence Day in February.
Navarro did not respond to a request for an interview. Wade McMullen, an attorney with RFK Human Rights, an international nongovernmental organization that has represented Dominicans affected by the changes, said that Navarro reiterated his government's previous defense of the changes during his remarks Thursday.
"Clearly the Dominican government was there to convince the New Jersey senators to hold off on the resolution," McMullen told HuffPost. "It doesn't seem like they did a very convincing job to demonstrate how the right to nationality wasn't being violated in the Dominican Republic."
Black activists and immigrant rights groups say they hope local politicians will move forward with the resolution in spite of Navarro's efforts.
Nancy Morisseau, a board member of the Haitian American Lawyers Association of New York, said Navarro's meeting with local politicians was part of a larger campaign to intimidate critics of the Dominican government's policies.
"It's interesting that such a high-level cabinet member is coming to attack a non-binding resolution," Morisseau told HuffPost. "This is a pattern of behavior on the part of the government to challenge any further awareness of what's going on."
A number of legal developments since 2004 have eliminated the concept of birthright citizenship in the Dominican Republic. That standard was codified in the 2010 constitution, and in 2013 the country's Constitutional Court ordered the new standard to be applied retroactively.
Human rights organizations estimate that as many as 200,000 people born in the Dominican Republic to undocumented parents, the vast majority of them of Haitian origin, lost their claims to citizenship in the ruling. An estimated 60,000 of those people are children.
The deadline to register with the government as a foreigner passed on June 17. Those who applied had until Aug. 1 to turn in their paperwork. Those who didn't are now subject to deportation.
CORRECTION: An earlier version of this article incorrectly said the deadline to register as a foreigner with the Dominican government passed on July 17, rather than June 17.
Popular in the Community