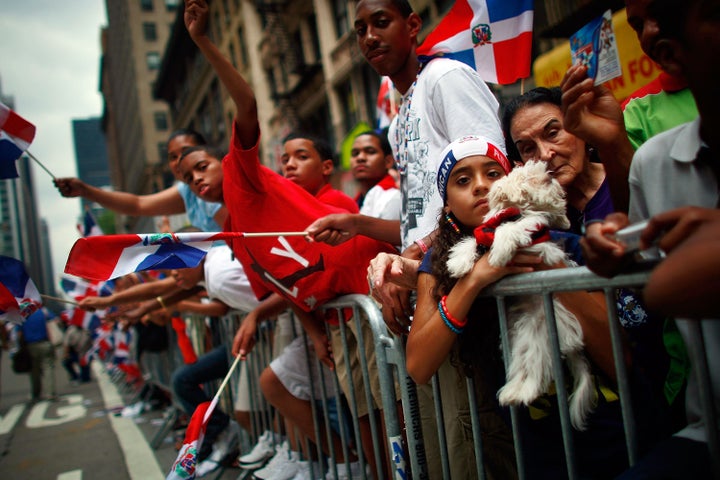 According to the 2010 Census, New York will lose two congressional seats because of a relative population decline. But for Latinos, the redrawing of new electoral districts may be good news since Hispanics are the only population group that grew when proportionately compared. And among Latinos in New York, the sector that may benefit the most -- after showing the biggest growth in the last few years -- is the Dominicans.
There are 1.4 million Dominicans in the United States, according to the 2010 Census, and they are concentrated in New York, New Jersey and Florida. In Manhattan alone, Dominicans account for 150,000 people, followed by Puerto Ricans at 108,000 and Mexicans at 42,000.
In the state of New York, Dominicans have consolidated to become one of the major Latino communities with greater political representation, coming in second only to Puerto Ricans. Dominicans account for at least 12 elected officials in state and local government, including: Sens. Adriano Espailat (D) and Jose Peralta; Assemblymen Nelson Castro and Guillermo Linares (D); Council members Julissa Ferrera (D), Diana Reyna (D), Fernando Cabrera (D) and Ydanis Rodriguez (D); Vivian Viloria, Suffolk County legislator; Francisco Batista, Vice Mayor of the Village of Haverstraw and Emily Dominguez, Village of Haverstraw comptroller.
If redistricting stipulates that seats be based on demographic growth, the resulting adjustment could result in expanding the group's representation beyond local government by electing the first Dominican to serve in Congress.
The Dominican prevalence is so great that, in redrawing lines for state and congressional seats reflecting the 2010 Census, the group could feasibly even directly decide an election. Case in point: District 15, a Democratic stronghold traditionally dominated by African American voters. For more than 65 years, the district has been represented by two African Americans -- Charles Rangel and Adam Clayton-Powell. As of 2010, that district is now predominantly represented by Latinos, who outnumber blacks almost 2 to 1, and most of whom are Dominican. District 15 has changed dramatically in the last 10 years, and its representation could soon move to catch up.
To analyze the progress of their community locally and nationally, Dominicans are preparing a summit of the Dominican-American National Council (NDAC) from October 7 to 9. With the theme "Our progress in education, politics and economic development: paving the way," the meeting will be convened in New York by conference president and State Assemblyman Nelson Castro (D), who represents Bronx District 66.
"The underlying theme is paving the way from New York to Congress," Maria Teresa Feliciano, president of the Dominican-American Roundtable (DANR), told The Huffington Post in a statement. And for that path, the group is building upon the site of their greatest strength. Feliciano explained, "The Bronx has emerged as the Dominican mecca in the U.S."
Calling all HuffPost superfans!
Sign up for membership to become a founding member and help shape HuffPost's next chapter