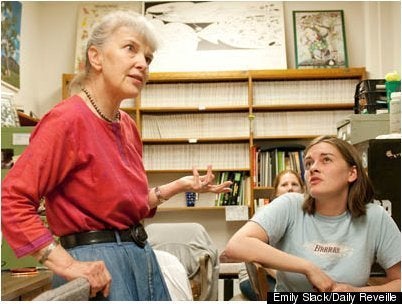 A Louisiana State professor who was excused from her duties for grading too harshly is demanding an apology from the university.
The professor, Dominique Homberger, came under fire after it was discovered that more than 90 percent of her introductory biology class was failing or had dropped the class, according to a statement from LSU dean Kevin Carman.
Homberger defended herself to Inside Higher Ed, saying that she rewards students for improving over time and many had performed well on a recent exam immediately prior to her dismissal.
According to LSU's campus paper, the Daily Reveille, Homberger's courses are regarded as challenging by students:
"[Her class] is one of the most difficult courses I have ever taken," said Morgan McGlone, mechanical engineering senior. "She kept saying you need to learn how to learn. I am a senior -- I think by now I know how to learn."

Many students took issue with Homberger's test format, which required students to choose a combination of multiple correct answers.

"You may know 90 percent of the info but still get a zero," said Justin Jones, political science freshman.

Still, Homberger, a tenured senior professor, is waiting for word from the university on her removal. As she told the Reveille:

"Being taken out of the course is unheard of," Homberger said. "You do this to someone who comes into class drunk, or if someone brings a gun into class. There are cases where you are justified to do that, but not about grades."
What do you think? Was Homberger in the wrong? Or is the university being too harsh on her?
Related
Popular in the Community