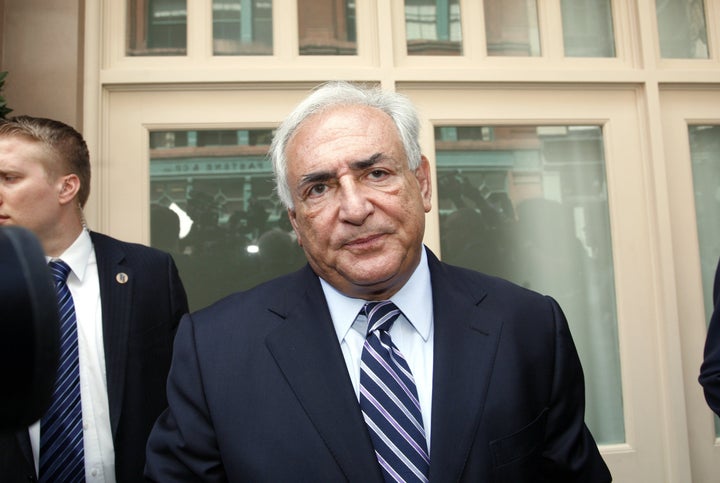 If you're a woman, the abrupt dismissal of all rape charges against Dominique Strauss-Kahn has got to frighten you a little. The implications seem to be that it is illegal to rape an honest woman, but it's okay to rape a woman who has credibility issues.
Writing for the New York Post, Andrea Peyser expresses disgust for both the alleged victim and her attacker, but seems especially repulsed by Diallo, calling her "sneaky and obscene," and saying she "has no one to blame but herself."
Meanwhile, in the New York Times, Jim Dwyer defends Manhattan district attorney, Cyrus R. Vance Jr., for dropping the case. Dwyer felt that it would have been "unethical and a fool's errand" for Vance to take it to court. As Dwyer explains it, the dramatic tale told by the housekeeper, Nafissatou Diallo, about being gang-raped by soldiers in Guinea -- during which she launched into a performance full of tears and drama worthy of the greatest Shakespearean actor -- was a work of pure fiction. Prosecutors were freaked out by her subsequent, convoluted explanation for lying to them -- to the point where they finally reasoned that, if she could put on such a convincing performance about a fictitious rape, what jury would ever believe her about a real rape?
According to Dwyer, "Having been tricked by Ms. Diallo, none of the seasoned lawyers... could ask a jury to convict Mr. Strauss-Kahn based on those very tools of dramatic persuasion." He concludes that prosecutors did "their jobs right (cutting) through the underbrush to search for the core truth."
The "core truth" here, of course, was that prosecutors didn't think they could win this case -- not necessarily because she wasn't raped, but because they didn't think they could convince a jury she was. Yet, in filing for dismissal, prosecutors themselves offered a convoluted and tortuous explanation for their reasoning. They appeared to go gentle on the alleged attacker, except to sort of suggest that he was guilty and just got lucky this time. But they had a lot to say to his alleged victim. They "slammed her," according to the New York Daily News, for lying to them about the gang-rape; for having ties to a convicted drug dealer; and for lying about how much money she made.
It's the nightmarish scene that plays out in the minds of many women who are rape victims -- that if they took their allegations to court they would end up being the ones on trial, rather than the rapist -- and heaven help them if they should have a blemish in their past.
Apparently, if Nafissatou Diallo had been a good, honest woman, prosecutors would have tried harder to go after her alleged attacker.
Related
Popular in the Community