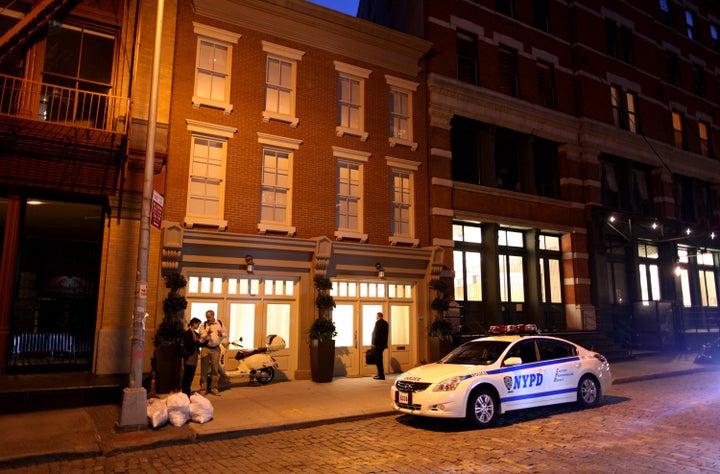 Since being charged with sexually assaulting a hotel maid, Dominique Strauss-Kahn, the former International Monetary Fund managing director, has moved from 71 Broadway, where gleaming studio apartments rent for close to $2765 a month, to 153 Franklin Street, a sprawling townhouse in Tribeca, Manhattan, which rents for $50,000 a month and features walk-in closets, dressing rooms, a stunning roof terrace, a bar, a spa steam bath, and a home theater.
So annoying, right? Moving is such a pain.
The cost to secure Strauss-Kahn -- including the ankle bracelet, cameras, security detail and 24-hour monitoring that comes with it -- is close to $200,000 a month, though Strauss-Kahn will pay for those services himself. If he'd remained at Rikers Island, the cost would have reverted to New York City taxpayers, to the tune of $6,500 a month.
"So now what we're saying is that people of status and class and power can perpetrate these type of crimes, hire an expensive legal team, and meet the conditions of bail to satisfy the court to secure their freedom," Nick Casale, a security expert, told the Associated Press on Wednesday. "Are we going to this caste system of defendants?"
It certainly seems so. Strauss-Kahn is only one of many exorbitantly wealthy convicts who have received remarkably cushy house arrests in recent years.
Most famously, Bernie Madoff, the perpetrator of the largest Ponzi scheme in US history, was holed up for three months in his Upper East Side apartment, a seven-room duplex with a wraparound terrace featuring 360-degree-views of Manhattan. The apartment is worth close to $10 million and covers over 4,000 square feet.
In early May, Raj Rajaratnam, the former Wall Street titan, was indicted on charges stemming from a massive insider trading case. He posted $100 million bail, the highest in US history, and was placed under house arrest in Manhattan until July 29. Representatives for Rajaratnam had no comment on his exact whereabouts, though if his Manhattan "prison" is anything like his house in Greenwich, Conn., those digs can't be too shabby.
As disgraced lawyer Marc Beier awaited imprisonment after swindling investors out of $400 million, he was sentenced to his gorgeous, $5 million, 3,000-square foot east side apartment, featuring $180,000 light fixtures hand blown by glass-maker Dale Chihuly and a $150,000 self-irrigating system on the terrace for his many plants.
Roman Polanski was confined to his luxury chalet in the Swiss Alps, unfortunately nicknamed "The Milky Way," after he posted $4.5 million bail in his decades-old sexual assault case. With its stunning mountain views and gorgeous locale, the chalet was a far cry from a prison cell. The iconic director was even allowed to host parties and continue to work on his films. Though, to be fair, he wasn't allowed to head into nearby Gstaad and enjoy the quaint art galleries and upscale restaurants.
Wealthy icons like Paris Hilton, Michael Vick, Dr. Dre, and T.I. have also been put under house arrest, locked in their extravagant estates.
"What many people find problematic, and this is certainly understandable, is that your punishment is essentially sitting in your multi-million dollar home," said David O. Friedrichs, criminal justice professor, and author of the book, "Trusted Criminals: White Collar Crime in Today's Society." "But it's also saving taxpayers money, since these criminals are paying for their own confinement."
Friedrichs notes that there is no set formula when it comes to house arrest cases and exorbitantly wealthy defendants.
"On one hand, you have Martha Stewart, who actually went to jail for a period of time, but was subsequently placed on house arrest for 5 months at her beautiful, sprawling estate," said Friedrichs. "And then you have Diana Brooks, the CEO of [Sotheby's], who managed to escape this major criminal charge and any jail time whatsoever, and was placed under house arrest at her 12-room, $5 million apartment on the Upper East Side. She was allowed to go shopping if she wanted."
There is clearly a deep, unsettling problem with the bail program in this country, said Friedrichs, and it's not going to change any time soon. Though judges have imposed sentences of house arrest since the early 1900s, electronic monitoring devices have only made the practice more inexpensive and easier for officials to manage. Slate pointed out that in 1988, there were around 2,300 monitoring devices in use. By 1998, that number had increased to 95,000.
"It's not really fair, is it?" Friedrichs said. "You've got millions of people charged with something parallel who are not sitting in these incredible houses. They're sitting in jail."
Meanwhile, as Strauss-Kahn awaits trial in his new prison palace, he'll receive a quarter of a million dollars in taxpayer-funded severance pay, and continue to eat $250 steak dinners every night from the trendy Manhattan restaurant Landmarc.
Related
Popular in the Community