At 55 years old, Dominique Wilkins is an elder statesman in the NBA. The nine-time All-Star and 2006 Hall of Fame inductee is decades removed from his days as "The Human Highlight Film," but he's as active as ever.
Wilkins, the vice president of basketball for the Atlanta Hawks, recently partnered with Allstate to announce their "Champions for Good" award recipients at the Books for Africa warehouse in Georgia. The NBA legend also helped volunteers sort and pack books for donation both overseas in Atlanta as part of the partnership.
Before heading out to serve his community, Wilkins spoke on the phone with The Huffington Post about the Hawks' offseason, Danny Ferry's departure from the organization, whether we'll ever see a female head coach and how he'd fix the Dunk Contest. 
NBA free agency was chaotic this year to say the least, capped off by DeAndre Jordan's indecision. Did you ever experience wavering moments like that during your career, when you feel stuck between two teams?
No, but that's because I spent most of my career in Atlanta. People change their minds for whatever reason. You've got to be comfortable about wherever you go. You've got to feel good about the organization and he's been in LA, so for him to change his mind, it's not surprising. Until there's ink, you don't have a deal. Maybe it was his teammates convincing him to come back.
Do you think the NBA should change its free agent moratorium at all to prevent these situations from happening?
The NBA does a great job in really creating opportunities for the guys. They do what's necessary for the betterment of the league. Adam Silver's done a great job with that, and he'll make changes that he sees fit that are going to benefit the NBA and the players will support him.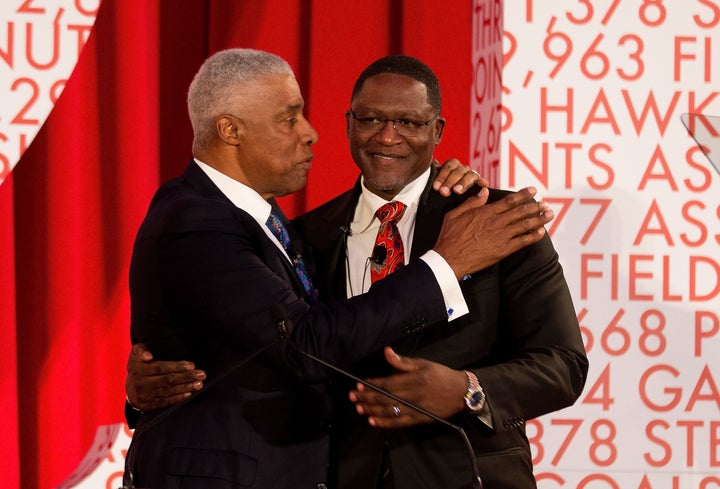 You've held an executive role with the Atlanta Hawks for over 10 years and now you're vice president of basketball. How have you seen the organization change this past decade?
Organizations are ever-changing. We are no different. I think when you put the right pieces in place -- the right management along with players -- and you start to win, wins help change. That's what happened here.
Building off that winning culture, how would you grade the Hawks' offseason so far?
It was a great season. We want to build on what we did last year. Of course, there are some moving parts that you have to get acclimated to and build up chemistry and I think we will do that. I think we're in a great situation.
[We don't have] major voids to fill. I thought we did very good [this offseason]. We're gonna miss DeMare -- there's no question about that. He brought some stability to the team, especially defensively, so we'll miss that. But we also helped ourselves. We got bigger and we got some good young players that can come in and help.
Former general manager Danny Ferry, who was caught up in a racial incident last year, left the Hawks this offseason too. How do you feel about what happened with Ferry?
I don't get involved in those sort of issues. I've always been a person who looks at the positive side of things. I really don't care to talk about that whole issue. It is what it is.
Have you spoken to Ferry within the past few months at all?
San Antonio Spurs coach Becky Hammond made waves earlier this week by becoming the first female coach to win the Las Vegas Summer League title. Given her impact, why don't you think we see more women NBA coaches?
This is a hard league to break into. San Antonio was brave enough to start what could be a trend. It's an ever-changing sport, but it's a very difficult sport for men to break into, let alone women. Coaching involves someone wanting to coach and to coach at this level.
It's a road you have to go down: Paying your dues and really understanding what this league is about, how NBA players learn the game, and more important, how they play the game. This is a high-octane game. You gotta be willing to educate yourself to keep up with it.
Could you see a female coach walking down the sidelines one day for the Atlanta Hawks?
For the Hawks, I don't know. This is a tough sport to break into. I try and take it one year at a time and not look too far down the road.
Looking ahead at the rest of this year, your son Isaiah is headed back to the University of Virginia to play basketball this fall. How have you helped guide him during his playing career?
He's created his own name. I look for him to have a great year and I think he's going to be fine. My younger son is coming right behind him. It's about teaching them how to play the game the right way, making them more fundamentally sound.
How has he made his own name for himself to escape your shadow?
I don't look at it as a situation with shadows. I look at it as following in the footsteps of someone who paves the path, and if that path can help you get to that level -- by being in that "shadow" as people call it -- then so be it. You have to emulate someone to play on this level. As a parent, you want to give your kids the best opportunity they can to achieve their goals. Isaiah is no different.
No, not really. The only thing they didn't get right, for me personally, was the 50 Greatest. They didn't get that right. 
What was your objection to that?
They left one off. [Laughs.] Actually, you look at Bob McAdoo, two-time MVP -- how is he not one of the 50 greatest players ever? Are you kidding me?
In your prime, you were one of the best dunkers the NBA has ever seen. Is there anything you would do to change the annual All-Star weekend Dunk Contest?
It's two things for me: One, go back to the old format when we did it. And two, get all the great athletes and the great players in today's game to compete. That's the only way you fix it.
By "great athletes" in today's game, do you also mean the inclusion of amateurs, street ballers and professional dunkers as well?
No, no. Real street ball teaches you respect and how to play the game. It's not the AND1s and all that stuff where guys are putting the ball up their shirt and all that garbage. Real street ball teaches respect. That's what builds reputation, builds your game coming into high school, college and the pros, so when those great players get to this level, they're able to display it on a national and international scale. If you get all the great players who are great athletes and high-fliers to do the Dunk Contest, it will come back with flying colors.
Did you learn about respecting the game while playing street ball?
I played street ball my whole young life. That's where it starts. I grew up in Baltimore, Maryland, and playing in the basketball summer leagues in Baltimore taught me how to play the game of basketball. You had to be able to play to stay on the court in playground basketball. If you weren't good enough, you never got on the court.
I didn't play organized basketball until I got to the 10th grade. I never played AAU and all these other basketball leagues. We played street basketball in the parks.
How do you feel about the AAU game now? The culture of AAU basketball seems to focus on winning more so than developing the skills of youth players.
I don't like AAU. That's probably a little harsh to say, but I think it teaches individualism, not team concepts. You gotta cater to all those players. You just can't cater to the best player and I think a lot of times other players get lost in the shuffle. Now there are some AAU teams that have good coaches that are interested in developing players, but there are very few.
This interview has been edited and condensed for clarity.
PHOTO GALLERY
Some Cool 2015 NBA Finals Photos
REAL LIFE. REAL NEWS. REAL VOICES.
Help us tell more of the stories that matter from voices that too often remain unheard.