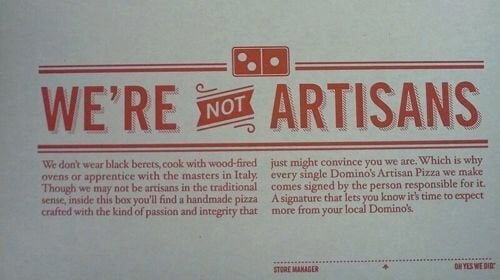 We don't wear black berets, cook with wood-fired ovens or apprentice with the masters in Italy. Though we may not be artisans in the traditional sense, inside this box you'll find a handmade pizza crafted with the kind of passion and integrity that just might convince you we are. Which is why ever single Domino's Artisan Pizza we make comes signed by the person responsible for it. A signature that lets you know it's time to expect more from your local Domino's.
We're not aware of any artisan pizza makers that do wear black berets, nor is it particularly clear why someone's signature identifies a pizza as "artisan," but the somewhat-personal touch is appreciated.
On the crust itself, a Grub Grade reader says, "Don't expect char or bubbling or anything like that, of course…it's still Domino's. However, it was light and chewy without being tough or a nuisance." Read the whole report here.
An inquiry to Domino's was not immediately returned.
Related