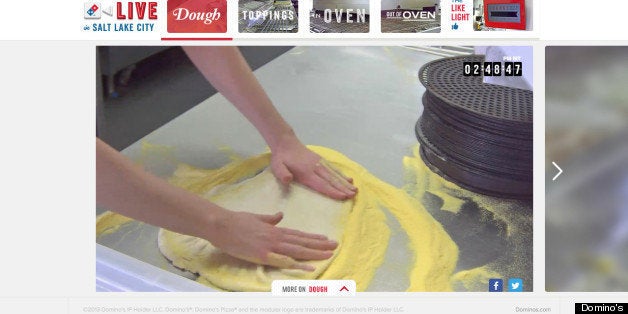 Domino's really, really wants to prove that it has nothing to hide. The company has launched a live cam of a Salt Lake City store that customers can access at DominosLive.com. It's basically a semi-souped up version of the Domino's Tracker, an online tool that allows customers to follow steps throughout the pizza-making process.
"We at Domino's have made continued efforts to open our doors and be as welcoming as possible," said Russell Weiner, Domino's Pizza chief marketing officer, in a press release. "This is simply the next step, and we are very excited to merge the visual tradition and spirit of the pizzeria with today's digital capabilities."
Domino's is making a big push to show that its pizzas are made to order. It recently launched a commercial saying that the company no longer stands behind the "30 minutes or less" claim. Instead, Domino's claimed, it has slowed down the pizza-making process to focus on freshness.
The live cam boasts five different pizza-making stations: dough, toppings, oven, out of oven and the "like light." The last one is a Facebook integration -- if you like the page, you may see your name in lights... on a live cam.
Is it that entertaining to watch a stranger make a pizza? Not really. The camera quality isn't fabulous and watching some pizzas in the oven is maybe vaguely more exciting than watching paint dry. But hey, Domino's has clearly succeeded in proving that its pizza is made with real live human hands. Maybe the next step is making it look better on camera?
Here's a promo explaining the concept:
REAL LIFE. REAL NEWS. REAL VOICES.
Help us tell more of the stories that matter from voices that too often remain unheard.
BEFORE YOU GO