Set in the hill town of Sant'Agata sue due Golfi is the extraordinary Don Alfonso 1890, which is not just one of the loveliest boutique hotels in Italy but one of Europe's very finest restaurants, run by the redoubtable chef Don Alfonso Iaccarino and his dear, charming wife Livia, who have had the hotel since 1982. So removed is the hotel from the rest of the area that the only sounds you'll hear are those of nature--birds, bees, trickling water, wind in the trees. This was once the reclusive 19th century residence of poet Salvatore Di Giacomo, whose early fame soured into infamy after he allied himself with the Fascisti.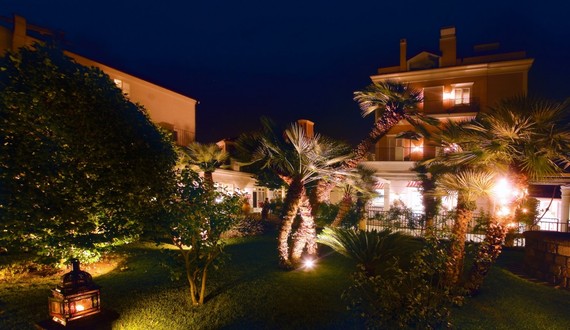 Recent renovations have brightened every room and suite with the colors of the flowers and herbs they are named for; the gardens have been amplified, the pool refitted, and the reception area brought to a high polish of classical elegance.

The dining room is as large as a chapel,with high, airy ceilings, all in tonal variations of white and pink, punctuated by modern artwork, with impeccably set tables set meters from one another. The only sound you hear is of guests murmuring their approval of each dish's presentation and taste, right from the moment the variety of breads arrives.
Don Alfonso is clearly the maestro of the magnificently modern kitchen (Livia oversees the million other details of the estate with impeccdable grace), and their sons Ernesto and Mario and a brigade of 20 young kitchen staff seem to regard him with as much awe and they do affection. The cuisine here is constantly evolving out of the traditions of southern Italy, with most of the ingredients plucked from the estate's own seven acre "Le Peracciole" farm down the hillside, where they make their own olive oil and raise some of their own livestock and poultry.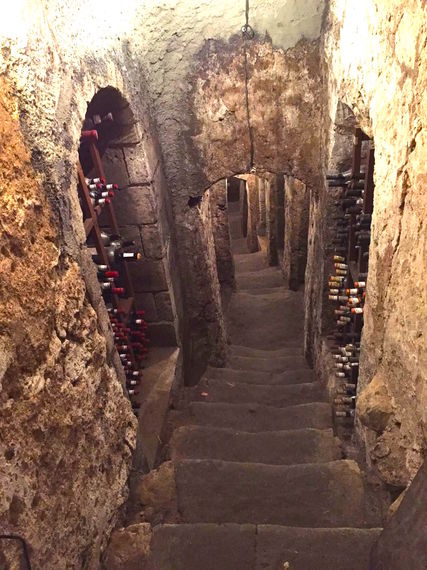 The estate's wine cellar dates back six centuries, dug deep into the volcanic rock and always maintained at the same cool temperature, preserving a cache of 25,000 bottles and 1,300 labels; it would be difficult to ask for any prestigious wine of the world and not find it in several vintages in this cellar. Prices are remarkably fair, usually just above a 100% mark-up.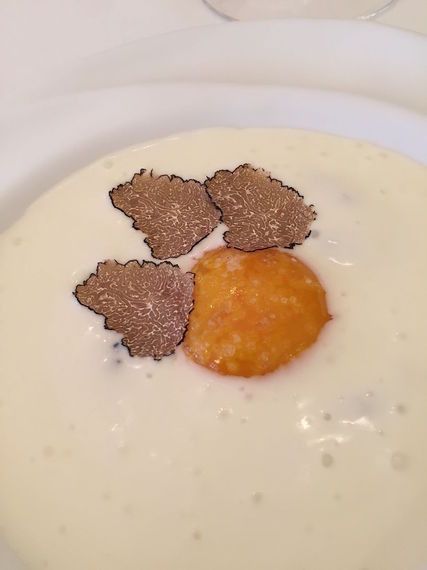 It is difficult to know where to begin describing the menu at Don Alfonso, not just because it is so extensive but because a mere listing of its items would barely hint at their creativity and exceptional balance of flavors and textures without ever losing the essential flavor of a dish. So let me just try to describe some of the high points of a multi-course sunlit lunch.
Having managed not to eat all the breads offered, I tucked into a kind of tempura-style lobster with sweet and sour notes, cut by the acid of citrus fruit, a dish I might have had in a fine restaurant in Hong Kong. Next came a quivering baked egg with cream-centered burrata and shavings of black truffles that might serve as an opulent breakfast.
Very traditional is the potato gnocchi here, with just a touch of novelty in a sauce of creamed smoked scamorza cheese and sweet cherry tomatoes. Then came marvelously tender and nicely fatted lamb with minced Mediterranean herbs and a subtle aïoli. A selection of local cheeses with honey from Le Peracciole followed, then an array of desserts that include baba with a Marsala-whipped zabaglione and raspberry jelly; a "concert of lemon," composed of one of those big lemons of the area that is hollowed out then filled with a lush pastry cream topped with a netting of caramelized lemon and a little lemon-scented beignet on the side.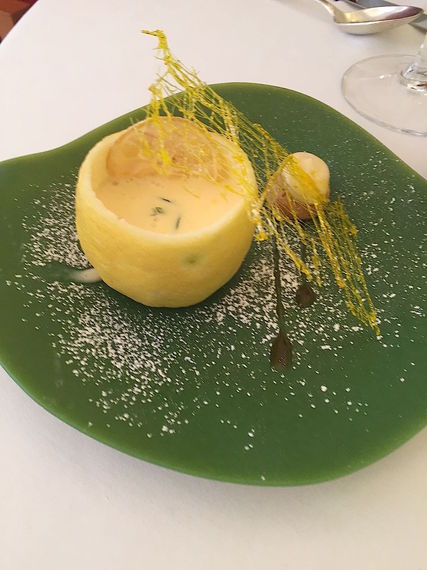 Extremely fragile sfogliatelle pastry came perfumed with vanilla and cinnamon, while a pastiera soufflé made of ricotta and wheat was made even richer with spiced honey ice cream.
There were more sweets, including a pastel-colored selection of macarons, bon bons, cookies and chocolates, espresso elegantly served, and other small touches that make Don Alfonso such an indelible meal. After dinner you'll want to stroll the leafy grounds--you could cover the whole town in about two minutes' walk--sit by the pool and sip a grappa or just retire to your room and watch the stars peek from behind the clouds above the Bay of Naples. You'll sleep well and you'll sleep late.
tel +39 081 878 00 26
www.donalfonso.com