 WASHINGTON -- A Massachusetts gubernatorial candidate went above and beyond the call of duty Friday when he leaped out of a Fourth of July parade to provide medical care for a woman who was unconscious.
Democratic candidate Don Berwick was shaking hands in a local Fourth of July parade in the pouring rain when spectators waved him down and told him that a woman nearby had passed out. Berwick, who trained and worked as a doctor, left the parade and tended to the woman by taking her pulse and making sure that she was breathing. When the woman woke up, Berwick stayed with her for a few minutes to make sure that she had no neurological damage. Once he determined that the woman was fully stable and an ambulance was on its way, he left his phone number with the police, told them to check her blood sugar as soon as possible and rejoined the parade.
When he treated the woman, Berwick said that he felt "100 percent" like a doctor and not a politician.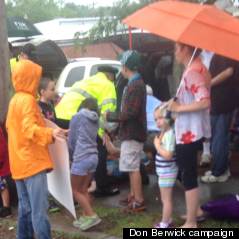 Berwick assisting a woman who had fainted during the parade.
"Everything else fades away," Berwick told The Huffington Post. "I'm trained to respond and it's just in me to do that. I'm not sure I was thinking; it was a reflex to go and help."
Olivia Markbreiter, a volunteer with Democrat Maura Healey's campaign for state attorney general, was marching behind Berwick and said that Berwick sacrificed visibility in the parade to help the woman.
"I thought it was pretty impressive because the whole point of a parade is to see as many people as possible," Markbreiter said. "Don Berwick really took a hit because he had to stop and break up his contingent and attend to this woman, so it was really a sacrifice on his part to not walk down the whole parade line like he was supposed to and really make sure that she was OK."
Berwick is currently in a three-way primary contest with state Attorney General Martha Coakley and state Treasurer Steven Grossman. Berwick was given a recess appointment by President Barack Obama to run the Centers for Medicare and Medicaid Services in 2010, but he stepped down in 2011 after Republicans refused to confirm him permanently.
This is not the first time that a politician has gone beyond his or her job description to give medical help to constituents or potential constituents. Oregon Gov. John Kitzhaber (D) saved a woman's life in May by performing CPR on her, and former Arizona Democratic Senate candidate Richard Carmona helped an injured GOP tracker in 2012.
REAL LIFE. REAL NEWS. REAL VOICES.
Help us tell more of the stories that matter from voices that too often remain unheard.
BEFORE YOU GO
PHOTO GALLERY
United States Governors