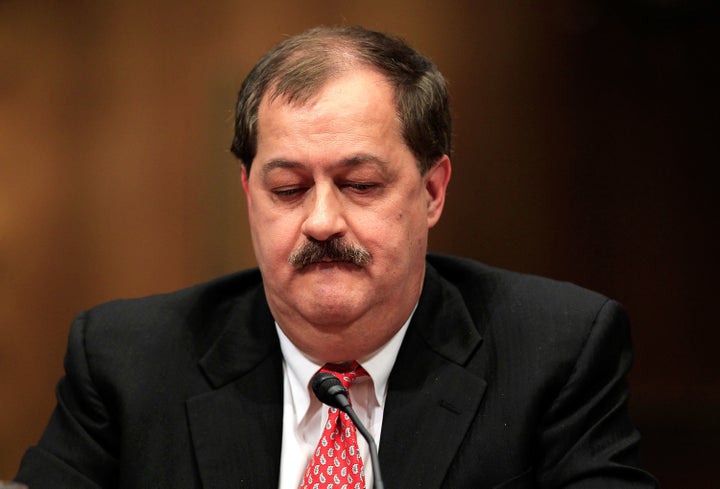 Former Massey Energy CEO Don Blankenship was found guilty Thursday of conspiring to violate mine safety standards.
Blankenship, 65, pleaded not guilty and has been free on a $5 million cash bond since being indicted by a federal grand jury in November 2014, four years after an underground explosion at the Upper Big Branch Mine in Montcoal, West Virginia, killed 29 men.
He is scheduled to be sentenced on March 23 but will request the date be pushed back a week, as he is scheduled to be out of the country at that time, according to West Virginia Public Broadcasting.
According to the indictment, The Associated Press reported, Blankenship "knew that UBB was committing hundreds of safety-law violations every year and that he had the ability to prevent most of the violations that UBB was committing. Yet he fostered and participated in an understanding that perpetuated UBB's practice of routine safety violations, in order to produce more coal, avoid the costs of following safety laws, and make more money."
While Blankenship argued that natural gas in the mine caused the explosion, four separate investigations found that unmaintained cutting equipment created a spark and ignited coal dust and methane gas. 
U.S. Secretary of Labor Thomas E. Perez applauded the verdict as a win for mineworkers.
"Today's verdict sends a clear message that no mine operator is above the law, that there must be accountability when people lose their lives because of the neglect of their employer," he said. "Workers in this country have the right to go home safe and healthy at the end of every shift, and the jury clearly recognized the violation of that right in this case."
Sen. Joe Manchin (D-W.Va.) hailed the jury's guilty verdict.
"After a long and exhaustive trial, I am pleased the jury's decision today has brought some measure of justice to one of the most tragic mining disasters in recent history," he said. "With this verdict, the state of West Virginia has set precedence and signaled that we will not allow the prioritization of production and profits over the safety of our workers. While nothing can ever bring back the 29 beloved souls who we lost on that tragic day, I hope that today brings some closure and peace to the families of the miners."
But Judy Jones Peterson, whose brother Dean Jones was killed in the explosion, didn't agree with everything the jury decided: 
Blankenship earned his "King of Coal" moniker by transforming a once-small family business into Appalachia's largest coal producer. Under his leadership, the company took down the mineworkers union and mastered the mountaintop removal process, reducing the land to "heaps of rubble," Mother Jones reported.
This post has been updated with a statement from the Labor secretary.
PHOTO GALLERY
10 States That Burn The Most Coal
Calling all HuffPost superfans!
Sign up for membership to become a founding member and help shape HuffPost's next chapter