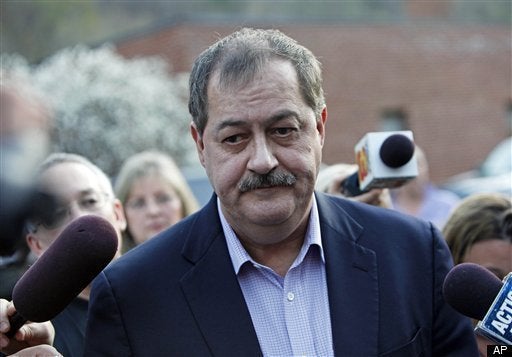 The calls to oust Massey Energy Company Chairman and CEO Don Blankenship began in earnest Monday, with members of both the private and public sectors getting involved.
The CtW Investment Group sent a letter to Massey's board of directors Monday afternoon demanding Blankenship's resignation in the wake of the disastrous explosion at the company's Upper Big Branch Mine in West Virginia.
CtW had previously warned the board that its minimal oversight over Blankenship's regime exposed Massey and its shareholders to "unnecessary legal, regulatory, and reputational risks" -- apparently vindicated in that judgment, the investment group deems the Upper Big Branch disaster a "tragic consequence" of Blankenship's "confrontational approach to regulatory compliance."
He's not fond of investigative reporters, either. Check out his reaction to an ABC News camera crew at about the one-minute mark:
Earlier Monday, New York State Comptroller Thomas DiNapoli likewise called for Blankenship's resignation. And DiNapoli is no idle politico: As the sole trustee of New York's Common Retirement Fund, he has direct control over some 303,550 shares of Massey stock, valued at $14.1 million.
"Massey's cavalier attitude toward risk and callous disregard for the safety of its employees has exacted a horrible cost on dozens of hard-working miners and their loved ones," DiNapoli said in a statement. "This tragedy was a failure both of risk management and effective board oversight. Blankenship must step down and make room for more responsible leadership at Massey."
Read Monday's full CtW letter below:
April 12, 2010
Bobby R. Inman
Lead Director
c/o Corporate Secretary
Massey Energy Company
P.O. Box 26765
Richmond, Virginia 23261

Dear Admiral Inman,

We are disappointed by your failure to respond to our March 31 letter, in which we communicated our intent to oppose the three directors up for election at Massey Energy's May 18, 2010 shareholder meeting unless the board of directors takes immediate steps to enhance its independence and accountability. In the wake of the subsequent Upper Big Branch mine disaster, we call on the board to also immediately seek the resignation of Donald L. Blankenship as Chairman and CEO.

We believe the Upper Big Branch mine explosion, which claimed the lives of 29 miners, is the tragic consequence of the board's failure to challenge Chairman and CEO Donald L. Blankenship confrontational approach to regulatory compliance. As you know, we first raised this as a shareholder concern in our March 31 letter, in which we specifically cited the board's "inability to exercise independent oversight of [Mr.] Blankenship."

The CtW Investment Group works with pension funds sponsored by unions affiliated with Change to Win, a coalition of unions representing six million members. These funds, together with public pension funds in which members of CtW unions participate, are substantial long-term Massey shareholders.

In our March 31 letter we delineated various indicators of an entrenched and unaccountable board. Most presciently, we echoed the shareholder concerns first raised in a June 13, 2007 board resignation letter from former directors Daniel S. Loeb and Todd Q. Swanson. These include the board's "misguided insistence on keeping [Mr. Blankenship] in place as CEO" and its "unwillingness to confront the company's "poor risk management" and "confrontational handling of environmental and regulatory matters."

Under Chairman and CEO Blankenship's domineering leadership, Massey Energy placed short-term production and profit goals ahead of prudent risk management, with devastating consequences for the corporation, its shareholders and employees. In light of these consequences, the urgent need for new leadership is apparent.

We have raised these issues with institutional shareholders assembled today in Washington, DC for the Spring Meeting of the Council of Institutional Investors and anticipate strong support

Sincerely,

William Patterson
Executive Director

cc: board of directors
Related
Popular in the Community