Former Massey Energy CEO Don Blankenship was sentenced to just one year for safety violations at a West Virginia mine that led to the deaths of 29 miners in a 2010 explosion. Now, one woman is working to push Blankenship to reflect on his crimes.
Ann Bybee-Finley, who grew up in Hurricane, West Virginia, launched a campaign called "Making one year count" on Wednesday, calling on people to send letters to Blankenship every day that he is in prison.
She wants to show Blankenship how many people he affected and empower West Virginians to speak out against coal industry abuses in their state.
Bybee-Finley told The Huffington Post she was inspired to start the campaign after seeing an emotional video in which Tommy Davis, whose brother, son and nephew were killed in the explosion at the Upper Big Branch mine, reacted to Blankenship's sentencing. Blankenship owned the mine and prosecutors said he knowingly ignored safety standards.
"He only gets one year and nothing we can say or do will change that right now. Working with what we got, how can we make this year more meaningful?" Bybee-Finley said. "If we could make it longer, a lot of people would, but we can't, right now, so we have to take this alternative approach."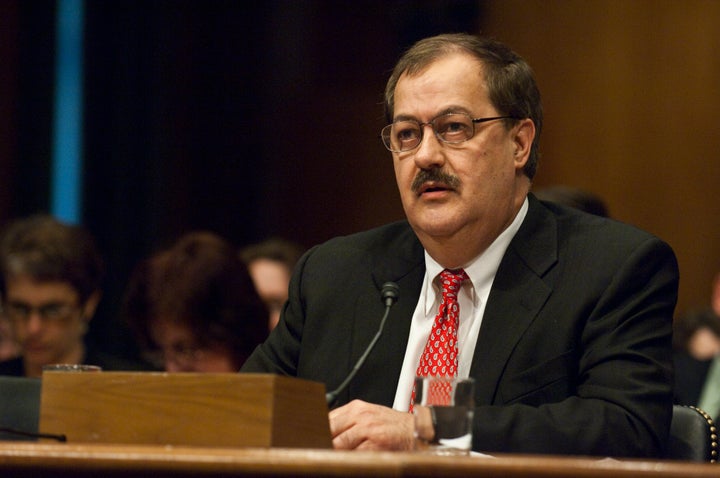 Blankenship could have been imprisoned for a maximum of 30 years, but he was found not guilty on more serious charges. He did receive the maximum sentence on the charge for which he was convicted, but part of the problem is the way the laws are written, according to Bybee-Finley.
"You have to look at the legislation, how the laws were written, how the laws were made, who made the laws and what influence did these people have and I think if you start looking at these mining laws, you'll see a lot of industry influence," she said. "I hope people see this as an example and say 'we have to do something different.' Where can we make this change to make this law more meaningful to have more strict enforcement?"
Bybee-Finley posted her email address on a Facebook page announcing the campaign, where she pledged to print out what people send her and send Blankenship one letter a day once he begins serving his sentence. The letters don't have a particular format or structure and can be a poem or a list. 
The Cornell University Ph.D. student said that having grown up in West Virginia, she knows how hesitant residents are to speak out against the coal industry because everyone is in some way connected to it. She hopes her initiative will give West Virginians a voice to speak out.
"[Showing people] you can speak to this former CEO, that is your right, you do have an ability to do that is one of the things that excited me the most about this campaign," she added.
Calling all HuffPost superfans!
Sign up for membership to become a founding member and help shape HuffPost's next chapter
BEFORE YOU GO
PHOTO GALLERY
Least Environmental Senators