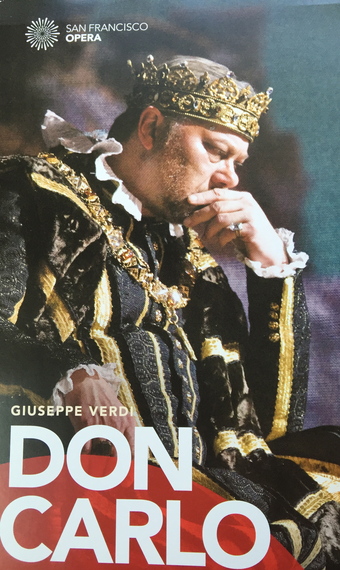 Verdi's Don Carlo has it all: passion and politics, the combat between church and stage, a mortal father-son conflict, a romance of broken hearts, dangerous jealousies, and a youth rebellion for freedom. It's a great, almost Wagnerian epic of 4 ½ hours that drives into its characters with psychological brilliance and a musical mastery that never stops astounding and thrilling our modern ears.
In terms of voices, San Francisco Opera's revival of Don Carlo had it all: famously fearless young tenor Michael Fabiano as Prince Carlo; Mariusz Kwiecien, young baritone-star of the Met, as his comrade Rodrigo; rising soprano Ana Maria Martinez as Elisabetta, Queen of Spain; Bulgarian newcomer to SF Opera, Nadia Krasteva as the King's mistress, Princess Eboli; bass Andrea Silvestrelli as the Grand Inquisitor; and last but not least, the celebrated German bass Rene Pape as King Phillip II.
Luckily SFO offered the complete, 5-act Italian version that begins in the park of Fontainebleau where Carlo and his intended Elisabetta fall in love, only to learn that her father, King of France, has given her to Carlo's father, King Phillip II, as a pawn to end a war. Carlo never overcomes his passion and pain; Phillip never overcomes his suspicion that Elisabetta is betraying him with his rebellious son; Princess Eboli never overcomes being in love with Carlo and betraying his secret love to the King; and Rodrigo never overcomes trying to help Carlo by sidling up to the King. Based on the German poet Schiller's intricate play Don Carlos, this is one of Verdi's best libretti (equaling his Shakespeare-based libretti) and there is enough historical accuracy and relevance to keep one fascinated and intrigued. All the protagonists collide with each other in their tragic destinies, all except the Grand Inquisitor who, in the ambiguous ending, may have the last word.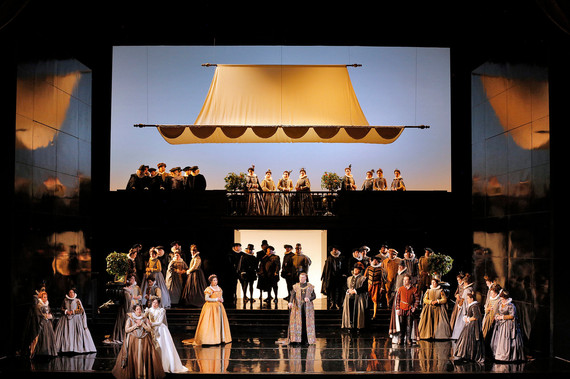 So, a timeless, thrilling piece of operatic writing, and a gripping, achingly beautiful score that was rendered to perfection by SFO's orchestra and choir under Music Director Nicola Luisotti's baton. And yet, the sum of the performance elements didn't make a truly successful whole.
What this production (from 1998, by Emilio Sagi) didn't have was a coherent direction. The staging is old and looks like a museum piece. Almost every scene is played in semi obscurity, as if set entirely in the dungeons of the Spanish Inquisition. Even the romantic first scene is drowned in gloominess. Only Act II, the garden at the royal palace, provides some relief with sunlight and a sky. I couldn't help suspecting that the obscurity was intentional--to hide the paucity of acting demanded of the singers. Of course a mature singer like Rene Pape has a majestic grip on his role, no matter what, and his monologue of a sleepless night, pondering his loveless marriage and the limits of his power, brought the house down. But Andrea Silvestrelli as the Inquisitor and the younger stars didn't get the guidance that would have allowed them to evolve into full-fledged, large-as-life characters that could excite you or stop your heart.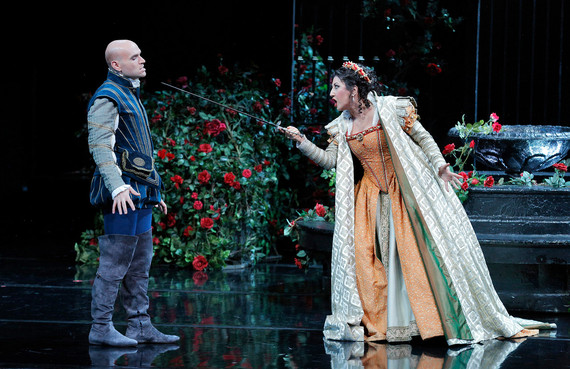 Especially Michael Fabiano disappointed in his acting. He seemed not to be in his body at all, just in his head where his marvelous voice emanated. His clean-shaven head caught most of the light in the semi-darkness, making it an unwanted focal point and drawing attention to how divided this head was from his body and how stiff and cramped his movements were. One wanted to ask, couldn't someone teach this guy how to walk? He often seemed like a marionette, waving around stiff arms, only precariously attached to the prominent head.(A wig placing him in the 17th century with everyone else would have been welcome.) What was wrong with him, I wondered? Thinking back to The Audition, the documentary that made him the star of the 2007 Met singing competition, he seemed perfectly embodied. A commentator back then said, this guy will either die of his intensity or become a top star. Almost over night, Fabiano did the latter, and in his recent appearance in Verdi's Luisa Miller (also based on Schiller) he did not strike me as struggling with paralysis. Maybe it was the absent direction, or maybe his role debut as Don Carlo was a challenge even for his beautiful, seemingly effortless tenor voice. This handicap cast its shadow even over the acclaimed, usually more charismatic Polish baritone Mariusz Kwiecien who shares most of his stage time with Carlo.
Bulgarian mezzo Nadia Krasteva in her SF debut as Princess Eboli surprised with a plum voice and a more sexy rendition of the Moorish romance or "Veil Song" than I have seen in a while. She knows how to move, how to dance, and even, in her fury against Carlo, snatch his sword from him and get ready to fight.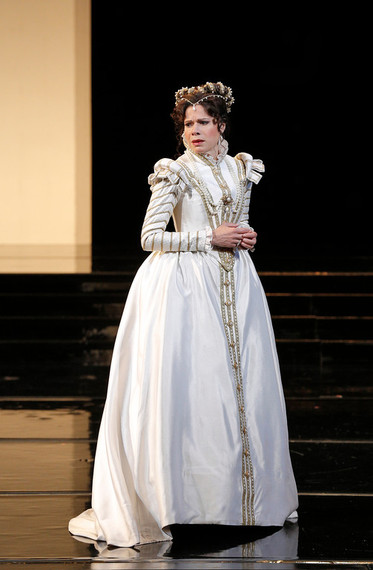 Young diva Ana Maria Martinez presented a shy, delicate, and somehow withdrawn figure as the Queen. She had to struggle to be heard at first, getting no help from either the orchestra or her Prince Carlo, who outsang her relentlessly. (It has been said that Fabiano tends to be alone in a different opera than his partners.) But her voice kept growing and opening up toward the end, gaining richness and a shimmering top that at times reminded me of another debut in the role of Elisabetta: Fiamma d'Amico with Karajan, a memorable performance (with Jose Carreras, Agnes Baltsa and Matti Salminen) preserved on DVD. In her final long monologue at the monastery, then her final, heartbreaking adieu from the Prince, Martinez soared and gained the spiritual authority of her renunciation of love and the full measure of her compassion for Carlo. Now the two voices came together in perfect balance, Fabiano singing with the same unearthly tenderness she displays, and one doubly felt the impact of loss and tragedy.
With a different production and director, this Don Carlo could have been an exulted, unforgettable night at the opera. Star-studded as it was, the audience warmed up to it, the applause grew and in the end was huge - with special acknowledgment to the orchestra and conductor, and, I thought, gratitude to parting director David Gockley who brought Verdi's great musical epos back to San Francisco just before his seasons end.
Popular in the Community