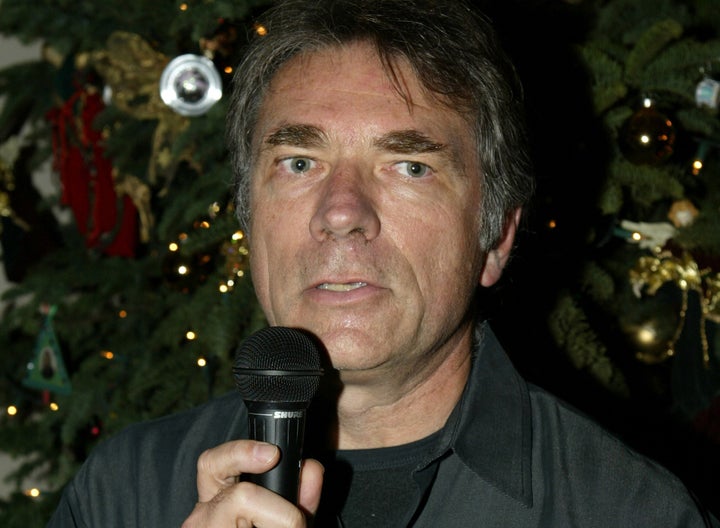 A prominent journalist who has led a number of progressive, left-wing media outlets for decades has been accused of sexually harassing female journalists. 
Several women say that Don Hazen, the executive director of AlterNet and the previous publisher of Mother Jones magazine, sexually harassed and acted inappropriately toward female journalists, BuzzFeed revealed in a report published Thursday.
In BuzzFeed's report, six women, all of whom are journalists or work in media, accused Hazen of openly discussing their sex lives, touching them inappropriately, sending emails detailing sex positions, showing one woman a photo of his erect penis and assessing his female employees' physical appearances.
A seventh female journalist told HuffPost that Hazen would often talk about sex during meetings and once mimicked a sex act with his hands while he was eating lunch with staff.
Six of the accusers had worked with Hazen at AlterNet at the time of the harassment. One of the women who spoke to BuzzFeed said she was harassed by Hazen but wasn't working for him at the time. Some of the incidents date back to 2008. 
In an initial statement to BuzzFeed, Hazen said he denied "most of allegations as have been presented to me by BuzzFeed, and I believe that others have been mischaracterized."
Later in an interview with the news site, Hazen acknowledged that he had stepped over the line with staff members and failed to recognize the implications of his influence as a supervisor.
The board of directors of the Independent Media Institute, the nonprofit parent organization that runs AlterNet, placed Hazen on "indefinite leave" after BuzzFeed revealed the accusations. The board said that no employee had pursued the grievance processed outlined in AlterNet's employee handbook but added that the organization would now be investigating the claims, according to a statement signed by six of the seven board members.
The five women who spoke to BuzzFeed and worked at AlterNet said they were unaware of any company protocol available to report the harassment.
Kristen Gwynne, a freelance reporter who had worked for AlterNet from 2011 to 2013, told BuzzFeed that she met Hazen while she was still in journalism school. She said he offered her an internship and, eventually, a full-time job before he began harassing her.
Gwynne claims Hazen would hug her and kiss her on the cheek at the office and once pointed toward her breast ― an incident that Hazen said may have been "purely accidental." Gwynne also said Hazen once showed her a photo of a naked, blond porn star, saying that the woman looked like her, according to BuzzFeed. 
In a message reviewed by the news site, Hazen asked Gwynne, "Are you going to stop and frisk me" ― referencing a story she wrote on the New York Police Department's "stop and frisk" procedures ― and suggested the two eat marijuana edibles. 
In a tweet on Thursday, Gwynne said that "working at AlterNet was the most helpless I ever felt in my life."
"But I was never weak," she added, "and now Don has no choice but to realize how strong and powerful the women he mistreated have ALWAYS been."
Tana Ganeva, another Hazen accuser who spoke to BuzzFeed, acknowledged on Twitter that Hazen "deserves credit" for giving people the opportunity to break into journalism.
Ganeva, formerly a managing editor for AlterNet, said she had once asked Hazen why it seemed like he only hired women who were traditionally attractive. She said he responded by commenting on his employees' physical appearances.
″'So, basically, what I'm saying is that you don't have to be attractive to work here, it just helps,'" Ganeva recalled Hazen as replying. 
She also told BuzzFeed that the AlterNet executive had once showed her a black-and-white photo of his naked and erect penis, which she said he thought was "artistic."
After the report on Hazen was published Thursday, other journalists spoke out to back the claims that the progressive media executive acted inappropriately with women and had a reputation for it.
Anne Elizabeth Moore, a journalist and Fulbright Scholar, told HuffPost that Hazen was a "widely known harasser" in the industry and said she had heard stories of Hazen's behavior. 
"Stories I heard were always from women about how he made them uncomfortable," Moore told HuffPost.
"I was editing Punk Planet [a culture magazine] at the time, so I didn't have to deal directly with bullshit, but I did travel in enough progressive circles to know to keep my interactions with him to a bare minimum," she added.
Talking Points Memo reporter Allegra Kirkland also spoke out against Hazen after BuzzFeed's story went live. She tweeted Thursday, "Don Hazen gave me my first full-time paid job in journalism. Everything in this article is true."
Kirkland told HuffPost that she was an intern at the weekly magazine The Nation when Hazen offered her a job as AlterNet's associate managing editor. Kirkland said she "eagerly accepted" the opportunity and worked there from June 2014 to April 2015.
"I appreciate the work I was able to do there ... but Don was often inappropriate and unprofessional in work settings," Kirkland told HuffPost in a message, adding that Hazen would "almost always" greet people with a kiss on the cheek, comment on employees' appearances and "have very lewd conversations about sex" during meetings.
The lewd conversations "were usually ostensibly in the context of whatever sex articles the site was going to publish ... but would inevitably turn into discussions of employees' sex lives, including my own," Kirkland said.
She recalled a lunch she had with Hazen and other AlterNet staffers at a Greek diner in New York, where Hazen had mimicked a sex act with his hands. Kirkland couldn't remember the exact date but estimated it was winter 2014 or spring 2015.
"I explicitly remember going to lunch at a Greek diner on the Upper West Side with a group of New York AlterNet employees and Don talking about how his favorite position was the 'butterfly' and sort of mimicking holding a woman's vagina open with his hands," Kirkland told HuffPost.
"We were eating souvlaki," she added. "It was the middle of the day. He was making flirtatious eyes at me and a female AlterNet editor while having this conversation."
Hazen confirmed with HuffPost that he hired Kirkland as an intern, but he said he had "no memory of a lunch at a Greek restaurant."
The BuzzFeed article prompted more journalists to comment later Thursday on behavior that appeared to be an "open secret."
Matthew Wheeland, managing editor of Civil Eats, tweeted a link to BuzzFeed's story, adding that it "could not have happened to a more deserving person."
Wheeland, who had been a managing editor at AlterNet, declined to comment on his tweet.
Hazen admitted to BuzzFeed that he may have crossed boundaries with some employees.
"In the atmosphere of lots of discussion about editorial topics like sex and drugs, I lost track of some boundaries I needed to keep," Hazen said. "I had personal conversations with staff I should not have had, made comments I should not have made, and take responsibility for failure to recognize the implications of my position and age in supervising people at that period."
Read BuzzFeed's full report on Hazen here.
Calling all HuffPost superfans!
Sign up for membership to become a founding member and help shape HuffPost's next chapter
BEFORE YOU GO
PHOTO GALLERY
Sexual Harassment 'Cheer Up Luv' Series