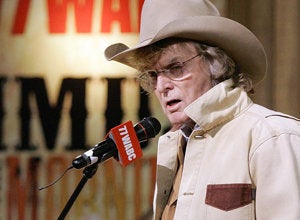 Controversial radio host Don Imus announced Monday morning on his radio show that he has been diagnosed with Stage II Prostate Cancer.
Imus, 68, said he believes that his doctors "will beat it," reports WABC TV (Imus' radio show airs on WABC radio):
"The day you find out is fine," he said. "But the next morning when you get up, your knees are shaking. I didn't think I could make it to work."

Wearing black sunglasses and slumped behind his microphone, Imus speculated that the cancer may have come from stress.
In stage II, the tumor has grown inside the prostate but hasn't extended beyond it.

Imus and his wife Deidre have worked on behalf of pediatric cancer patients for years through their well-known Imus Cattle Ranch for Kids with Cancer, leading him to joke this morning that he was changing the name of the Imus Ranch for kids with cancer to the Imus Ranch for kids with cancer... and me."
Related
Popular in the Community