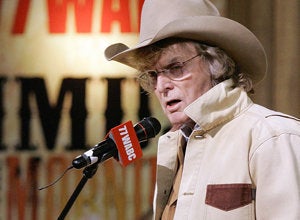 Don Imus will be simulcasting his radio program from 6-9AM on Fox Business Network starting October 5, the network announced Thursday.
The move had been expected, as reports that Imus was in talks with Fox Business circulated in August, and he left his current TV partner, RFD-TV, last week. The New York Times speculated last month that Imus' simulcast could be a turning point for the fledgling network.
"I love FOX," Imus said in the announcement. "Roger Ailes is the preeminent genius of American Broadcasting. Who wouldn't want to do this?"
"We're excited to welcome a renowned broadcaster like Don Imus to the FOX Business team," Executive Vice President Kevin Magee said. "His 40 years of on-air experience combined with his superb interviewing skills and capitalist sensibilities will be a great addition to our lineup."
"Money for Breakfast," which is hosted by Alexis Glick and currently airs from 6-9AM on Fox Business Network, will air its last show on October 2. Glick will remain as the host of "Opening Bell" at 9AM and as Vice President for Business News at the network.
Popular in the Community