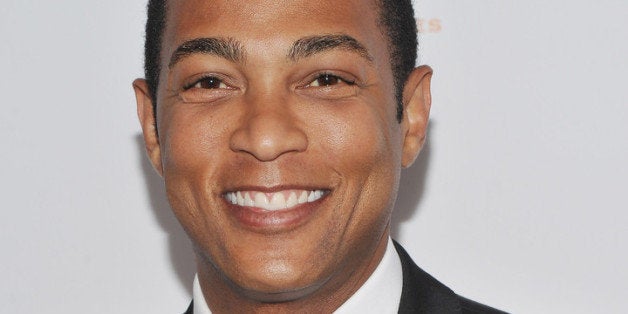 Who are America's black leaders? Not the activists, or entrepreneurs, community mobilizers or preachers. According to Don Lemon, the new black leaders are the Waka Flocka's, Rihanna's and Beyonce's of the world.
The CNN reporter debuted his new segment on the Tom Joyner Morning Show Tuesday, talking about a topic he's grown comfortable discussing as of late: the issues within the black community. He insisted that the burden of leadership in the community has shifted.
"Why am I so sure about that? I want you to ask yourself the last time you heard a young person walking around singing a church hymn?"
Lemon announced the exciting development on Twitter, telling followers to expect to hear his perspectives on the show every Tuesday and Thursday.
During Tuesday's segment, the 47-year-old journalist said the power brokers and influencers of the 1960's were the churches, unions, preachers and even radio hosts/DJs, but today the influence has shifted and those who currently have the label of "black leaders" don't do enough to move the status quo.
"Might some of them be keeping us from evolving because of their idea of Dr. King's dream hasn't evolved past 1963?"
And if Dr. Martin Luther King Jr. were alive today, Lemon says King would likely align with the present-day entertainers because of their influence on the black community.

"So that's why in my work as a journalist, I constantly challenge and urge the rap, hip-hop and music power brokers to step on to the stage of positive influence and into the fulfillment of Dr. King's dream, because whether they realize it or not they are the new breed, they are the new black leaders. They are the influences of our time. And I don't mean that I challenge them in a negative way. I mean that in the best possible way, that their names can too be one day be worthy of boulevards, and avenues, and streets.

Yep, you Waka Flocka, Gucci Mane, you T.I., Luda can be the next Harry Belafonte of the struggle. Beyoncé, Rihanna, you can be the next Lena Horne or Mahalia Jackson; of course, in your own way."
He went on to praise Jamie Foxx for his presence at the March on Washington, echoing Harry Belafonte's comments calling for black celebrities to step up to the plate as leaders in the black community.
"Because unlike some of the black leaders who get so much criticism today, your livelihood as artists don't depend on keeping people thinking the same way they did half a century ago."
Calling all HuffPost superfans!
Sign up for membership to become a founding member and help shape HuffPost's next chapter