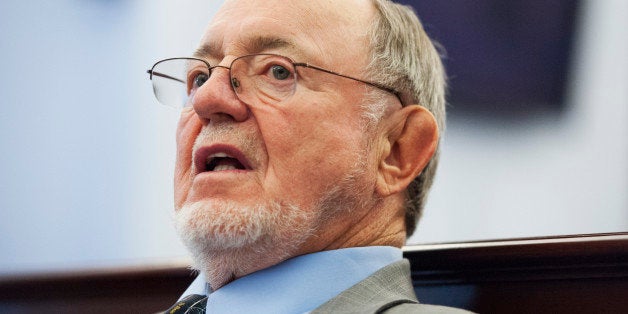 A debate between contenders for Alaska's U.S. House seat got particularly heated on Wednesday night, and now one side is offering a clue as to why.
According to Forrest Dunbar, the Democrat challenging Rep. Don Young (R-Alaska), an incident took place backstage before the debate in Kodiak that left a bad taste in both the candidates' mouths.
Dunbar told the Alaska Dispatch News that as the two men were walking near one another backstage, Young said, "You're not from Cordova any more than I'm from Fort Yukon. I had you looked into."
The 30-year-old -- who is 51 years the congressman's junior -- was raised in Cordova after his family moved there from Eagle, Alaska. Dunbar said he touched Young lightly on the arm and asked, "What are you talking about?"
Dunbar said that prompted Young to go off.
"He freaked out," said Dunbar. "There is no other way to describe it.

"He kind of snarled at me and said, 'Don't you ever touch me. Don't ever touch me. The last guy who touched me ended up on the ground dead,'" said Dunbar.

Before walking away from the congressman, Dunbar said he waved his hand in a dismissive gesture, saying, "Whatever, man."

Young replied, according to Dunbar, with a taunting, swishing motion of his own hand: "Oh, you got a sweet swing. You got a sweet swing."
The incident came up later on stage, when the Democrat accused Young of being immature.
"Immaturity was the thing you said behind the curtain there, Congressman Young," he said.
"Tell me what I said," the congressman responded.
"Very nice," replied Dunbar, before moving on to other issues.
A campaign spokesman for Young told the Dispatch News, "I can't speak to what transpired, as I was not there. However, this appears to be nothing more than our opponent's continuing campaign strategy, which is to distract the Alaskan voters from the vital issues that confront them."
Representatives for the congressman did not respond to requests for comment Saturday from The Huffington Post.
The 21-term congressman, who is currently the longest-serving Republican in the House, was reprimanded by the House Ethics Committee this summer for "his improper personal use of campaign funds, his acceptance of improper gifts, and his failure to report certain gifts."
He is also known for his combative personality. Just before entering a House GOP caucus meeting in August, Young was caught on video grabbing the arm of a staffer who mistakenly tried to block him from entering the room. On the video, the staffer is seen grimacing in pain.
Calling all HuffPost superfans!
Sign up for membership to become a founding member and help shape HuffPost's next chapter
BEFORE YOU GO
PHOTO GALLERY
113th Congress Facts