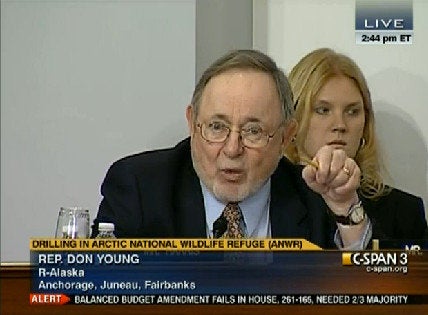 Alaska Congressman Don Young got into a heated discussion with Rice University professor Doug Brinkley at a hearing on Friday.
Young addressed Brinkley as "Dr. Rice" and called his testimony "garbage." Brinkley replied, "Dr. Brinkley. Rice is a university. I know you went to Yuba College and you couldn't graduate."
"I'll call you anything I want to call you when you sit in that chair. You just be quiet," Young quipped.
"You don't own me," Brinkley shot back. "I pay your salary."
This isn't the first time a Don Young outburst has disrupted a meeting. His illustrious record includes brandishing a walrus penis at the female head of the U.S. Fish and Wildlife Service and making an obscene reference to gay sex while denouncing the National Endowment for the Arts at a high school.