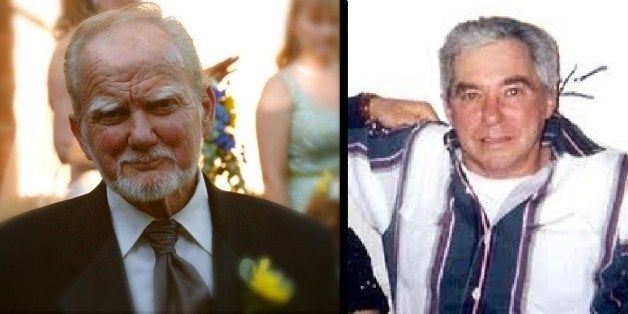 The families of Donald "JC" Cavanaugh and David Neily have forged an unlikely bond since their loved ones vanished nearly a decade ago.
Similarities between the two cases are undeniable, and the men's families believe the solution to one case could help unravel the other mystery.
Cavanaugh and Neily both went missing in California, both had a connection to the same Pacific coast horse farm and both are feared dead.
The dust has long settled on the men's case files, but their families are unwilling to give up hope.
"I think about my dad all the time," Cavanaugh's son, Jim Cavanaugh, told The Huffington Post. "I want answers, and I'll keep asking questions until I get them."
Neily's daughter, Lisa Hodanish, is equally determined.
"I will not give up," she told HuffPost. "My dad always said I was tenacious, and I'm going to live up to that for him."
The mystery of Cavanaugh's and Neily's disappearances is rooted in Westport, a small unincorporated community in Mendocino County. As there are roughly 60 residents, outsiders could easily speculate that few things would go unnoticed. However, that number is a blessing and a curse. A smaller community means fewer witnesses and, perhaps, fewer people willing to come forward with information.
The area is also known to attract people who have little interest in keeping their eyes peeled for suspicious activity.
"Marijuana is basically the only industry we have. It is at the forefront of this county," Sgt. Jason Caudillo, of the Mendocino County Sheriff's Office, told HuffPost. "More people are growing marijuana in the county than aren't. The more rural the area, the more acceptance there is for growing and selling marijuana."
In regard to Cavanaugh and Neily, no one has reported witnessing the cause of either man's disappearance. There have been no concrete clues suggesting foul play, and there is no positive proof that either man didn't wander off on his own.
However, as is often the case with missing persons, the devil lies somewhere in the details, and the cases have played out like a made-for-TV movie from the get-go.
The story of Cavanaugh's disappearance began in Elgin, Ill., where he was a well-known horse dealer. As a co-owner of a successful horse ranch, Cavanaugh was doing well for himself until he fell ill and required a quadruple bypass. From there, things went downhill fast. Cavanaugh lost his stake in the horse farm and fell on hard times.
In 2004, Cavanaugh, then 63, was contacted by his nephew, James "Jimmy" DeNoyer. At the time, DeNoyer operated a 20-acre horse ranch in Westport, Calif., and asked his uncle to help run the ranch. The two men struck a deal, and DeNoyer, along with Neily's son, Ryan, drove to Illinois to pick up his uncle and more than a dozen horses his uncle had hand-selected for their new joint venture.
The excitement was short-lived, however, said Ryan Neily, who was employed by DeNoyer at the time.
"They began bickering as soon as we got back," Neily told HuffPost. "Don was not happy about the condition of the farm. The bedroom he was promised turned out to be an abandoned truck with a mattress in the back, and he would complain that his nephew would not take him into town for his medication or food. Don was basically ignored. It was unbelievable."
Jim Cavanaugh was living in Illinois and would speak with his father by phone. He said he knew something was not right, but he did not know the extent of it until much later.
"Whenever I spoke with my father on the phone he seemed nervous, maybe like someone was standing next to him," said Jim Cavanaugh. "Once, he did say there was shady things going on out there, but he would not go into detail. He said he would tell me later, but he never got a chance."
By Christmas 2004, things between Donald Cavanaugh and DeNoyer came to a head, according to Ryan Neily.
"DeNoyer thought Don stole some money, so he dropped him off at San Francisco Airport," Ryan Neily said.
Cavanaugh did not have any money, so he went to stay with a friend in Laytonville, Calif. He remained there for a few weeks until his friend took him to a shelter in nearby Ukiah. While at the shelter, Cavanaugh said he was going to go back to DeNoyer's to pick up his belongings, family members report.
"My dad had valuables like horse saddles and other gear," said Jim Cavanaugh. "Dad was going back to DeNoyer's to get his stuff."
Cavanaugh left the shelter in March 2005. Whether he went to get his belongings or simply vanished along the way is unknown. What is known is that no one has heard from him since.
Back at DeNoyer's ranch, Ryan Neily was unaware of Cavanaugh's disappearance. He said he was told Cavanaugh had gone back to Illinois.
In the time that had passed since Cavanaugh had left, Ryan Neily had attempted to earn a living working for DeNoyer's lucrative construction business. In exchange, he was permitted to live at the ranch. His dad, David Neily, had also entered the picture and was making a deal with DeNoyer to build a shop at the ranch.
"My dad was working with copper and copper plating. He was really good at it, and DeNoyer was going to let him build a shop on the property. The shop was to be my dad and brother's," Hodanish said.
Unfortunately, those plans never came to fruition.
In January 2006, DeNoyer was charged with 36 counts of animal cruelty after 36 emaciated horses were removed from his property. According to KTVU.com, authorities said the horses were so thin that their ribs and backbones were visible.
"This is the type of conduct not only I am offended by, [but] I think everybody in Mendocino County is offended [by]," Mendocino County District Attorney Norm Vroman told KTVU.COM on Jan. 13, 2006.
During a pretrial hearing, it was revealed that someone living at the ranch had alerted animal control regulators to the condition of the horses.
According to Ryan Neily, DeNoyer accused him of tipping off the authorities. The relationship quickly disintegrated, so Ryan Neily moved in with his father in Albion, a town located about 30 miles south of Westport.
Ryan Neily said his father had a car -- a 1967 Ford Mustang -- on DeNoyer's property. He had been working on the vehicle there and wanted to pick it up, along with a truck DeNoyer had given him. He allegedly went to DeNoyer's on April 14, 2006, to make arrangements to get the vehicles.
"I told him not to go back, but he did anyway," Ryan Neily said.
As with Donald Cavanaugh, David Neily left and never returned.
CASE PHOTOS: (Story Continues Below)
PHOTO GALLERY
Donald Cavanaugh & David Neily Missing
Ryan Neily said he became concerned when his father did not return and went to the ranch. There, he claims he found his father's dog, Justice -- an animal family members said was always by David Neily's side -- inside the cab of a pickup truck.
"DeNoyer was not there, but his buddy, Ron Baumeister, was," Ryan Neily said. "Ron told me my dad had been there and left in his Mustang, so I went back to Albion with dad's dog."
Things did not sit well with Ryan, so the following day he returned to the ranch. He claims he did not see Baumeister or DeNoyer during his second trip, but he did make a startling discovery.
"I went further up the property and found both of Dad's vehicles -- the 1967 Mustang he had been working on and the 1976 Ford T-Bird Dad had been driving the day he disappeared," Ryan Neily said. "It looked like he had been working on the Mustang and just walked away, because his glasses and wallet were sitting there on the seat. These were items he always had on him."
Caudillo confirmed to HuffPost that the Mustang and T-Bird were found on DeNoyer's property. He also said a search of the property was conducted, but nothing else of interest was found.
"We [took] cadaver dogs out to the property, but unfortunately, there was no indication of any type of human sign," Caudillo said. "They did alert on a shallow grave that ended up being a family pet that had been buried years prior, but that's the only indication they had on that property."
Since the search of DeNoyer's property, authorities have had little to go on. There have been no sightings of the two missing men and no activity in their bank accounts. The lack of developments has left both families bitter about DeNoyer.
"If my dad had never got involved with him, he would still be here," Hodanish said.
"I think my dad went out there and got in a mess with a bunch of snakes and s--t went down," he said, adding, "The vibe there is everybody is scared to talk. I don't know why, but everybody seems petrified."
The Huffington Post was unsuccessful in its attempts to reach DeNoyer. Calls to his cellphone were not returned. According to Caudillo, DeNoyer has denied any knowledge of or involvement in the disappearances of Cavanaugh and Neily.
"It's obviously suspicious and more suspicious because two individuals, a year apart, had association with one individual and one property and now they're both missing," the veteran law enforcement officer said. "Obviously, to us, that is very suspicious ... [but] there has been no physical evidence tying Mr. DeNoyer to their disappearance. Ultimately, you can't rule Mr. DeNoyer out ... [but] the only thing we have is suspicion, and we've kind of run out of angles to attack that at without a direct witness or physical evidence."
In July 2007, two years after the animal cruelty charges were filed, DeNoyer's case went to court.
According to the Anderson Valley Advertiser, DeNoyer said he was unaware of how the horses were being treated and pointed a finger at his hired hands. John Gray, a customer of DeNoyer's and author of the popular book, "Men are from Mars, Women are from Venus," testified on behalf of DeNoyer, saying he was a man of good character, the newspaper reported.
For nearly a decade, the families of Donald Cavanaugh and David Neily have been on an emotional roller coaster from hope to despair and back again.
Admittedly, authorities have been unable to ferret out any new clues. The investigation has become a casualty of underfunding and insufficient manpower.
"At this point we're kind of at a standstill," Caudillo said. "We don't have a body and we don't have any physical evidence. We obviously would like to find the bodies [and] close the case. As time goes by, the family becomes frustrated and we understand that ... [but] we have five investigators for the entire county. We're the fourth largest [county] in the state, and we are so far understaffed that it is ridiculous. But we will continue to do what we can, and when there is credible leads to be followed, we will follow them."
The cases of the two missing men may be cold for now, but the pain their loved ones feel continues to burn on the inside.
"This time of the year is always tough. My father's birthday is on the 29th. It's very difficult knowing he won't be here to celebrate it with us," Hodanish said.
Jim Cavanaugh said he was close with his dad and still has difficulty grasping the reality that he is not around.
"When you have somebody missing like this, it's hard to even believe," he said. "If I see a guy with a cowboy hat, I think of him. It's unreal. He is my father, and all I can say is it's hard for me to believe. The whole thing is like something you would see on TV."
At the time of his disappearance, Donald Cavanaugh was 63 years old, 5 feet 8 inches tall and 140 pounds. He had gray hair and blue eyes. David Neily was 69 years old when he went missing. He was 5 feet 5 inches tall, weighed 150 pounds and had gray hair, green eyes and a white beard. He suffered from stunted growth due to a heart murmur, and as a result his legs were not proportional to his body.
Anyone with information in either of these cases is asked to contact Sgt. Jason Caudillo at (707) 468-3423 or the Mendocino County Sheriff's Office Anonymous tip line at (707) 234-2100. The family of David Neily has created the "Missing Person David Neily" Facebook page to share information and updates in the case.
Calling all HuffPost superfans!
Sign up for membership to become a founding member and help shape HuffPost's next chapter
BEFORE YOU GO
PHOTO GALLERY
Missing People