 Donald Fagen -- as a solo artist -- is back as of October 16, and this time we only had to wait six years.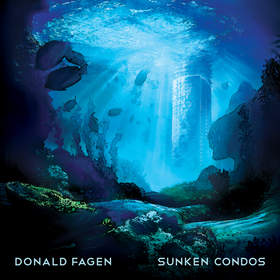 Although he's been a steady presence on the concert stage with Steely Dan and the "Dukes of September Rhythm Review" (the latter is a collaborative project with Michael McDonald and Boz Scaggs), the promise of a successor to his Nightfly Trilogy (comprised of The Nightfly in 1982, Kamakiriad in 1993, and Morph the Cat in 2006) has been tantalizing. Speculation and rumor about the new Fagen album took on mythical proportions over the past few years, as bits and pieces of information -- some real, some bogus -- came to light. Each new revelation spurred animated discussion board debates. There were even jokesters who "revealed" made-up titles or track names for the hotly awaited work before the actual title, Sunken Condos, came to light.
When the first single from Sunken Condos, "I'm Not the Same Without You," dropped in September, it only heightened anticipation. With its lush opening horns, propulsive groove, and delicious background vocal harmonies, it was a shiny new incarnation of Fagen at his most Fagenesque, with a brightness harkening back to The Nightfly. More than one fan noted that the song felt like "going home."
Now that the full album is in hand, how does it size up? Sunken Condos delivers. Every quality we love and respect about Fagen is here: complex melodies, immaculate production, sophisticated arrangements, tour de force musicianship, not to mention witty, surface-upbeat lyrics that beg to be dissected for hidden meaning. At age 64, Fagen is still a strong vocalist, curling that signature voice around sly lyrics as deftly as ever. And true to what we expect with any Donald Fagen, Walter Becker, or Steely Dan album, each listen unveils a new layer of detail to discover.
Familiar ground is amply referenced and revisited -- a few songs, notably "Miss Marlene," would not be out of place on a Steely Dan album, and "Memorabilia," with its "souvenirs of perfect doom" offers an age-weathered flip side to the atomic-era optimism of The Nightfly's "IGY."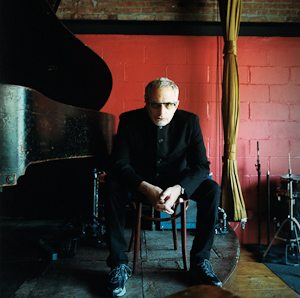 But in a departure from Fagen's approach with his preceding trilogy, where each album had a theme and a defined relationship with time (The Nightfly was the mid-century past rendered in future tense; Kamakiriad was the near future rendered in present tense; and Morph the Cat brought us the "new normal" present, rendered in darkly hued present tense), Sunken Condos has no set vantage point: it's a cohesive collection, but each song inhabits its own distinct narrative world. The cast of characters inhabiting the lyrics range from a prohibition-era gangster ("The Good Stuff") to a teenage bowling queen who meets an early demise ("Miss Marlene") to an aging boomer supplanted in love by a 21st century geek trendster ("The New Breed").
One song in particular -- the only cover number -- demonstrates that Fagen's bag of tricks is indeed still fresh. Advance press materials for Sunken Condos promised an "Ashkenazi reworking of Isaac Hayes' 'Out of the Ghetto'" -- a concept I, for one, could not fathom (I even suspected it might be a bit of Fagen's prankish humor). Well, damned if that isn't exactly what it is, with Klezmer horns and violin weaving in and out of a rapid-fire funk groove. It's ultra-clever on a conceptual level, and Fagen attacks the lyrics with the same fierce energy he puts out in live performances, something rarely reflected in his recordings. And it totally kicks ass.
Overall, the instrumentation of Sunken Condos is inventive and richly detailed, including ample use of vibraphone and harmonica. As with his "Dukes of September" shows, on Sunken Condos Fagen employs, along with a impressive roster of guest artists, most of the standby Steely Dan touring musicians -- in fact it's the entire band from recent years, minus only Keith Carlock (drums) and Jim Beard (keyboards). This is a group of veteran artists who each have their own solo careers, yet have worked with Fagen and each other enough to fit like a glove with his intentions. Steely Dan lead guitarist Jon Herington (whose Time on My Hands album came out in August) is especially highlighted; his nimble punctuation is a driving force throughout, and his solos on the bluesy "Weather in My Head" and the jazz-funk album opener, "Slinky Thing" are astonishing standouts.
Oh, and that mysterious "Earl Cooke, Jr.," who appears as the drummer on every track? That's a pseudonym for Michael Leonhart, not only the long-time trumpeter for Steely Dan and Fagen, but the co-producer and co-engineer for this album.
Michael Leonhart, in fact, played an unusually integral role in the crafting of Sunken Condos. In addition to working closely with Fagen on production and arrangements, he appears as a multi-instrumentalist on every track; as a case in point, on "Out of the Ghetto" alone he is credited for clavinet, minimoog, B3 organ, accordion, Wurlitzer, vibraphone, percussion, background vocals, and scream (yes, "scream").
So where does Sunken Condos fit in the current musical landscape? While some artists of a certain age see a need to perpetually reinvent themselves to prove their relevancy, Fagen -- never one to care much about being cool or trendy -- sticks to his creative guns on Sunken Condos. He is secure enough to move forward and progress within his own distinct, genre-defying universe. And oddly enough, this is what makes him more relevant than ever.
Photo credit: Danny Clinch, courtesy Warner Brothers Records
REAL LIFE. REAL NEWS. REAL VOICES.
Help us tell more of the stories that matter from voices that too often remain unheard.