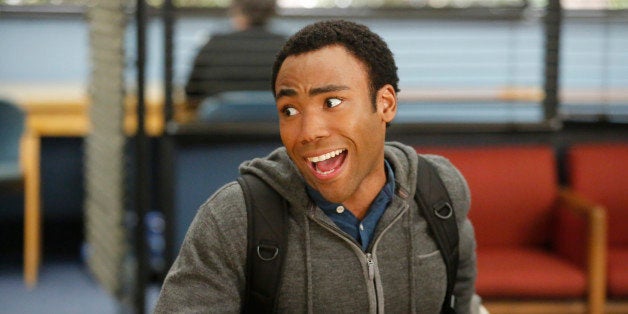 It's no secret that Donald Glover is leaving "Community" and will only be in five of the 13 episodes of Season 5. But ever since the announcement, fans have been wondering, "How will he make his exit?"
Co-star Gillian Jacobs said, "We would never want to split Troy and Abed up, but it's probably good for Abed, to push him to see who he is outside of that friendship."
In August, "Community" co-star Yvette Nicole Brown came on HuffPostLive and discussed Glover's imminent departure. At the time, she wasn't sure what exactly was going to happen, but she echoed sentiments that his absence might be a good thing for Abed (Danny Pudi). "I know that he seems like he's a little unstable when things change," she said. "But I think that there's enough of us around him who love him that Abed will understand that Troy needs to grow as well."
Troy and Abed poked fun at his own exit in the promo for "Community" Season 5, when Abed said, "Season 9 of 'Scrubs' Zach Braff is only in the first six episodes." Troy responded, "Son of a b--ch! After everything 'Scrubs' did for him!'"
We always knew this was the most self-aware show on TV.
"Community" premieres on NBC Jan. 2 at 8 p.m. EST.