As debate season begins, I hit the trail with candidate Donald J. Tramp. I found myself outside David S. Mack Center at Hofstra University in Hempstead, NY. Entering the area, it was clear it was high security. What would happen? This seemed to be the beginning of a long, crazy adventure in an election that was greater than any piece of fiction any aspiring writer could ever pen, let alone dream up.
However, this was only the beginning of today's crisis. Apparently, security would not let Mr. Tramp into the debate. They claimed their reasons were legitimate, but Mr. Tramp was not believing it. Security claimed Mr. Tramp was not the real candidate, but rather a puppet. One Long Island police officer claimed he didn't even speak like the man onstage but said his look was spot on.
Despite these criticisms from onlookers, Mr. Tramp did talk to the cameras, and as usual was quite a natural was asked about his positions.
When one vendor made the same observation, Mr. Tramp claimed he was Donald J. Tramp and not the other candidate who was supposedly taking his place onstage. Jill Stein brought her followers and was turned away and the press was all a buzz. However, no one is talking about how Donald J. Tramp wasn't allowed to take his place onstage. Instead they are just talking about this dangerous billionaire and his hateful rhetoric.
Mr. Tramp insisted this was not him but rather a liberal conspiracy. Will the real Republican presidential candidate please stand up, and will the puppet stop pulling everyone else's heart strings?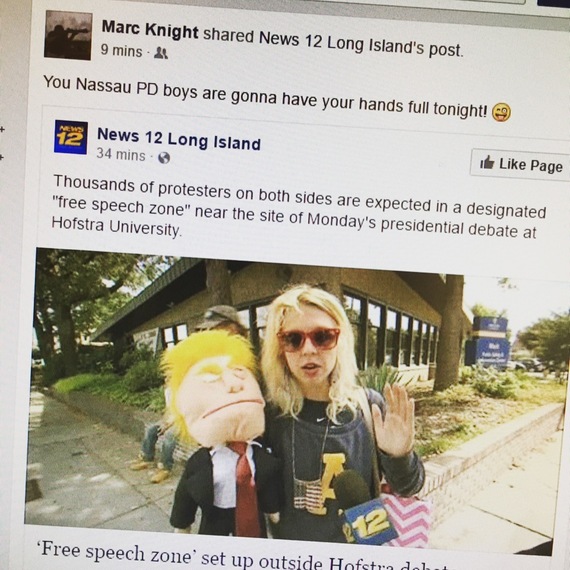 Calling all HuffPost superfans!
Sign up for membership to become a founding member and help shape HuffPost's next chapter