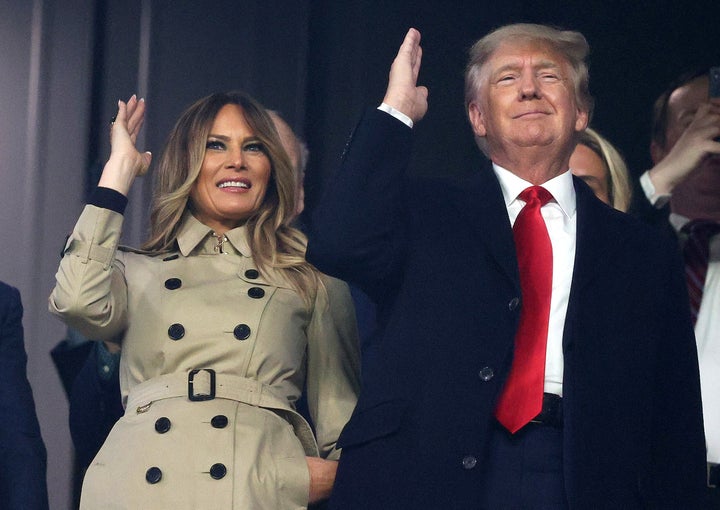 Donald and Melania Trump participated in the controversial "tomahawk chop" cheer for the Atlanta Braves in Game 4 of the World Series against the Houston Astros Saturday night.
While many fans enthusiastically participate in the cheer that's supposed to evoke chopping with a "tomahawk," Native Americans widely regard it as racist and demeaning.
Several spectators could be seen in the video of the former president and first lady also doing "the chop," and scads of Braves fans on Twitter erupted in chortling praise.
But there was also furious criticism.
St. Louis Cardinals pitcher Ryan Helsley, a member of the Cherokee Nation, complained after a game in 2019 against the Braves that the team's tomahawk chop cheer depicts Native Americans as "caveman-type people."
"They are a lot more than that," Helsley told The St. Louis Post-Dispatch. Appropriating Native American names for something unconnected to their culture "devalues us and how we're perceived in that way, or used as mascots," he said.
Major League Baseball Commissioner Rob Manfred insisted last week that regional Native Americans actually support the chop — which several Native American representatives quickly denounced.
The National Congress of American Indians issued a statement Wednesday urging Fox to not broadcast the chop during World Series games this weekend.
The Braves told the Atlanta Journal-Constitution late last year that the team was standing by its controversial name, even as a number of teams have dropped Native American terms and slurs from their names because they now regard them as racist.
But Braves officials said then they were still discussing the controversial chop chant that fans repeat at the start of games and as a rallying cry.
Trump was at the World Series for the first time since October 2019 when he attended Game 5 at Washington's Nationals Park. He was roundly booed that evening when he was shown on the stadium's video board.
There was some question if Trump had been invited to the game this year, as he claimed.
The former president issued a statement saying that he had been invited by Major League Baseball Commissioner Rob Manfred and club president Randy Levine "of the great New York Yankees."
But club CEO Terry McGuirk told USA Today before Game 2 that Trump had informed the team that he would be attending.
"He called MLB and wanted to come to the game,'' McGuirk said. "We were very surprised. Of course, we said yes.'' McGuirk said Trump would not be sitting with MLB or team officials.
Trump lost Georgia to Joe Biden in the tightly contested 2020 race, making Biden the first Democrat to win the state since 1992.
Popular in the Community