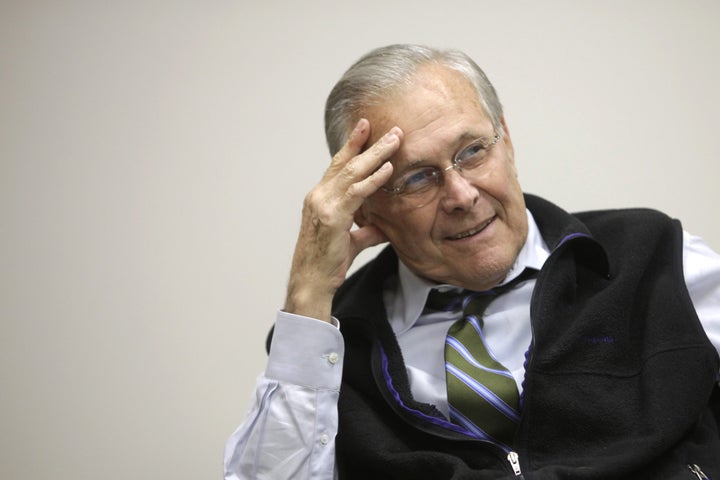 Former Secretary of Defense Donald Rumsfeld said recently that President George H.W. Bush had left him "disappointed," a statement that is likely to revive whispers of a still ongoing rivalry between the two men.
"No, I was kind of disappointed in him," Rumsfeld said in a recent interview with ABC News. "He decided he wanted to leave people with the impression that he didn't want to go to the CIA [in the Ford administration]. And that someone made him go there. And it was probably Rumsfeld or something."
Rumsfeld then admitted that his contentious relationship with Bush had left him "amazed" when his son picked him years later to return to the administration.
Politico reported last week on the genesis of the conflict:
Beginning in 1975, the elder Bush began grumbling that Rumsfeld, then chief of staff to President Gerald Ford, had sent him to run the CIA so he wouldn't be in the running to be on Ford's 1976 ticket, Rumsfeld recounts.
Rumsfeld details the situation in his book Known and Unknown.
"The circumstances surrounding George H.W. Bush's nomination to be director of the CIA is a particularly stubborn chapter of the myth that I had stage-managed Ford's staff reorganization," he writes, according to Politico. "By repeating the myth instead of setting the record straight, Bush in effect endorsed it."
While the majority of the tension between Rumsfeld and the elder Bush seemed to be based off of decade-old contests, Salon reported in 2006 that some degree of hostility had resurfaced during the George W. Bush administration.
Former President George H.W. Bush waged a secret campaign over several months early this year to remove Secretary of Defense Donald Rumsfeld. The elder Bush went so far as to recruit Rumsfeld's potential replacement, personally asking a retired four-star general if he would accept the position, a reliable source close to the general told me. But the former president's effort failed, apparently rebuffed by the current president. When seven retired generals who had been commanders in Iraq demanded Rumsfeld's resignation in April, the younger Bush leapt to his defense. "I'm the decider and I decide what's best. And what's best is for Don Rumsfeld to remain," he said. His endorsement of Rumsfeld was a rebuke not only to the generals but also to his father.
The first segment of Rumsfeld's interview is set to air Monday night on "World News with Diane Sawyer."
Calling all HuffPost superfans!
Sign up for membership to become a founding member and help shape HuffPost's next chapter