Donald Sterling is gone and he isn't coming back to his courtside seat at Staples Center.
NBA Commissioner Adam Silver announced a lifetime suspension and a $2.5 million fine for the owner of the Los Angeles Clippers on Tuesday during a press conference that will be remembered as a landmark moment in league history. The punishment was levied just days after audio recordings of Sterling making racist comments were released by TMZ and Deadspin.
"Effective immediately, I am banning Mr. Sterling for life from any association with the Clippers organization or the NBA," Silver said during a press conference in New York on Tuesday afternoon. "Mr. Sterling may not attend any NBA games or practices. He may not be present at any Clippers facility. He may not participate in any business or player personnel decisions."
In the recorded conversations that even garnered a rebuke from President Barack Obama, Sterling could be heard telling a woman, V. Stiviano, not to bring black friends to Clippers games or to post photos of herself with black people, including NBA legend Magic Johnson, on her Instagram account.
"We stand together in condemning Mr. Sterling's views," Silver said. "They simply have no place in the NBA."
CLICK HERE for complete transcript of Silver press remarks
In addition to announcing the permanent suspension from the NBA and the fine, Silver made it clear that he will urge the league's Board of Governors to exercise its authority to force Sterling to sell the team. The fine levied against Sterling, worth approximately $1.9 billion according to Forbes, will be donated to organizations dedicated to anti-discrimination and tolerance efforts.
"I fully expect to get the support I need from the owners to remove him," Silver said.
A day before Silver announced the findings of the NBA investigation and the punishments, Dallas Mavericks owner Mark Cuban expressed reservations about forcing out Sterling, fearing it could start the league down a "slippery slope." If a vote is eventually taken among owners, Silver will need 75 percent of them on his side to finally force Sterling to sell the team. Following the press conference on Tuesday, Cuban seemed to be ready to go along with the NBA Commissioner.
I agree 100% with Commissioner Silvers findings and the actions taken against Donald Sterling

— Mark Cuban (@mcuban) April 29, 2014
The NBA Players Association applauded the action taken by Silver but made it clear that it would not be satisfied until Sterling sells the franchise.
"As players, we're very happy with the decision, but we're not content yet," NBPA vice president Roger Mason Jr. said in response to the NBA announcement. "We want immediate action. We want a timetable from the owners on when this vote is going to happen. We feel confident that with Adam Silver's urging, and we've heard from a lot of the owners around the league, we think this is something that can be handled quickly."
The initial reaction of the league's players on social media was also overwhelmingly positive, with LeBron James leading the cheers for Silver on Twitter.
Even Sterling's own organization applauded the punishment.
The team's official website also made a dramatic statement on its homepage shortly after Silver's remarks.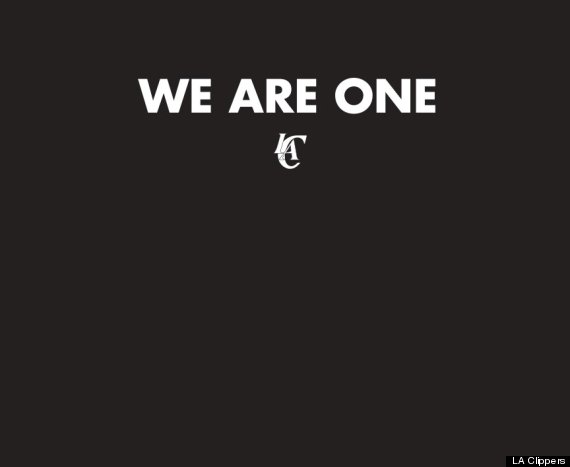 The "we are one" slogan presented a present-tense iteration of a phrase used by Clippers point guard Chris Paul after TMZ first released the Sterling tape. When the Clippers took the court before Game 4 of their playoff series with the Golden State Warriors on Sunday, the Clippers warmed up with their team-issued gear worn inside out to obscure the team name and logo.
Support HuffPost
The Stakes Have Never Been Higher
Related
Popular in the Community