Trump, midway through the Tuesday night speech, highlighted a 12-year-old boy in attendance named Preston Sharp, who helped start a movement to place more than 40,000 flags on the graves of veterans last year. After praising Sharp for a "job well done," Trump said the boy was also a reminder that all Americans should stand for the national anthem.
"Young patriots like Preston teach all of us about our civic duty as Americans," Trump said during the speech. "Preston's reverence for those who have served our nation reminds us why we salute our flag, why we put our hands on our hearts for the Pledge of Allegiance, and why we proudly stand for the national anthem." He put a ham's emphasis to that last phrase, which was written in all-caps on the version of the speech distributed to reporters, and then grinned.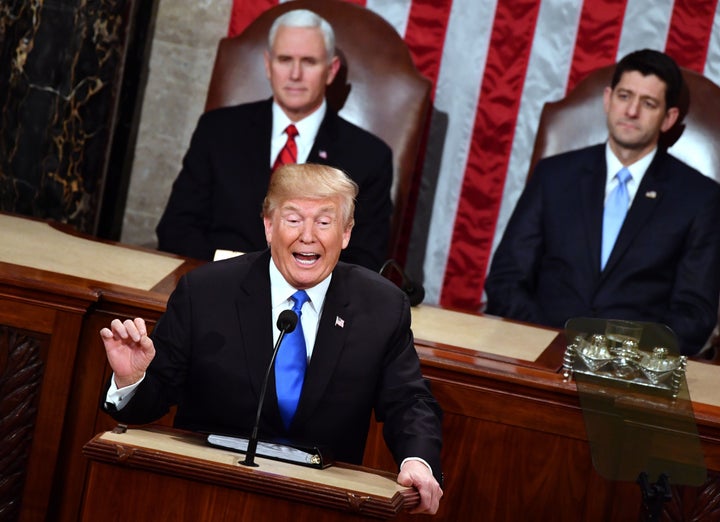 It was a subtler version of the same attack Trump has leveled in the past at athletes and other figures in sports ― all of them black ― who kneeled or protested during the national anthem before NFL games last fall, or who otherwise criticized him. Last year, Trump called on NFL owners to fire any "son of a bitch" who protested before a game; his press secretary also called for the firing of ESPN anchor and journalist Jemele Hill after she called the president a "white supremacist."
While the language may have changed, Trump is continuing a long history of white politicians using black athletes to goose their bases and advance racist political causes.
And the president continues to find his own safe spaces for his own counterprotests. Earlier in January, it was college football's national championship game. Tuesday, it was the State of the Union address. They are places where no one can challenge him, where he is free to wield the anthem, the troops, or a 12-year-old boy like a club against the black voices that would dare speak out against him.