But in the wake of failure and unfulfilled promises as his 100th day approaches, the president has changed his tune. Last week, he criticized "the ridiculous standard" of the first 100 days, slamming the deadline in one sentence.
To mark the milestone, HuffPost asked lawmakers, activists, lobbyists and influencers to offer their own (roughly) one-sentence takes on Trump's first 100 days.
Here are the responses, which have been lightly edited for clarity and style:
Khizr Khan, Gold Star father
"Every action and word of Trump has [a] foul stench of political expediency and self-aggrandizing, total lack of moral compass and leadership."
"President Trump has spent his first 100 days lying to the American people about issues both great and small, refusing to disclose his tax returns or address fears about his campaign's ties to Russia, struggling to advance a coherent foreign policy strategy and failing to guarantee affordable health coverage for all Americans ... #sad!"
Patrisse Cullors, co-founder of Black Lives Matter
"45 has proven to be one of the most dangerous human beings on the planet; we must resist his regime and build a movement in the millions."
"[The first 100 days] are as bad as I thought they'd be. I am a bit relieved that some of his efforts — the travel ban, his health care bill — have been stymied so far, but those fights are not over."
Sen. Lindsey Graham (R-S.C.)
Philip Ellender, president of government and public affairs at Koch Industries
"We're encouraged by the administration's work to rein in burdensome and unnecessary regulatory overreach that has stifled innovation and has added unnecessary costs to goods and services that Americans rely on every day."
Michael Mann, climate scientist
"Back in October, I wrote that Donald Trump is a threat to the planet, and what we have seen in his first 100 days of office — denying the threat of climate change, hiring climate deniers and fossil fuel industry lobbyists to fill key administrative roles, and issuing executive orders aimed at dismantling the progress of the past eight years — reaffirms that."
"It's been 100 days. I can't believe it's only been 100 days. I thought he was going to take a year to start showing signs of demagoguery."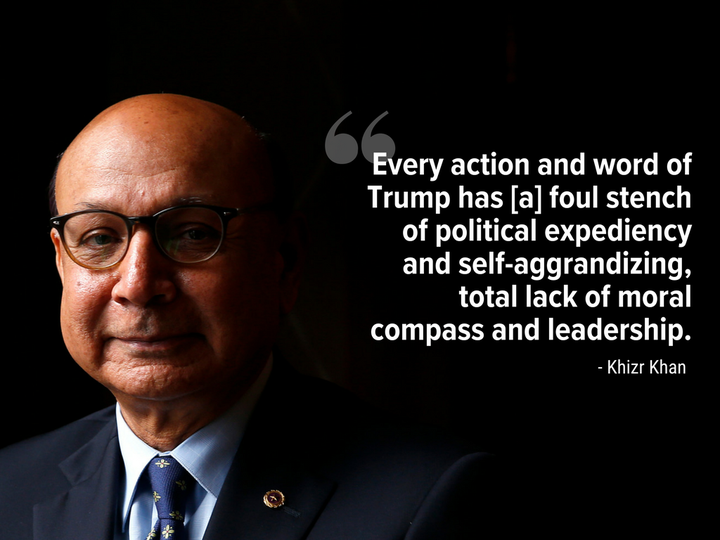 Fr. James Martin, editor-at-large of America magazine and consultant to the Vatican's Secretariat for Communication
"I hope that the president might consider the needs of those he used to call 'losers' ― in this case, those who have lost out at the hands of the economy: the poor, the homeless, the unemployed, the sick and the uninsured."
Sheryl Crow, singer-songwriter
"There's been an arc of betrayal, chaos, manipulation and ignorance."
Richard Cohen, president of the Southern Poverty Law Center
"President Trump has proven in his first 100 days that the economic populism of his campaign was fake, but that the racism and xenophobia were very real. His support for the health care bill showed his indifference to the fate of those trying to make ends meet. At the same time, he's pressed a far-right agenda targeting immigrants, Muslims, the LGBT community and others who are vulnerable."
Tom Perriello, Democratic candidate for governor of Virginia
"It is hard to decide whether his supporters, whom I meet with often on the trail, are more disheartened by President Trump's sheer incompetence, his ties to Russia, or his failure to focus on jobs, but this toxic trifecta means about the most positive review I hear is, 'Give him a bit more time.'"
April Reign, activist who created #OscarsSoWhite
"Trump's first 100 days have been harrowing and bear witness that we must challenge him and his administration at every turn by continuing to fight for justice and equity for all marginalized communities."
Rep. Luis Gutiérrez (D-Ill.)
"About as bad as could be expected from a team of misogynist, climate-change denying, anti-immigration, billionaire civil rights opponents, but we better be ready for even worse to come."
Ben Cohen, activist and co-founder of Ben & Jerry's
"It's clear now that 'Drain the Swamp' really meant 'Suck up all the morally bankrupt billionaires, Wall Street executives, and special-interest pond scum, and then pump them into the White House with a fire hose.'"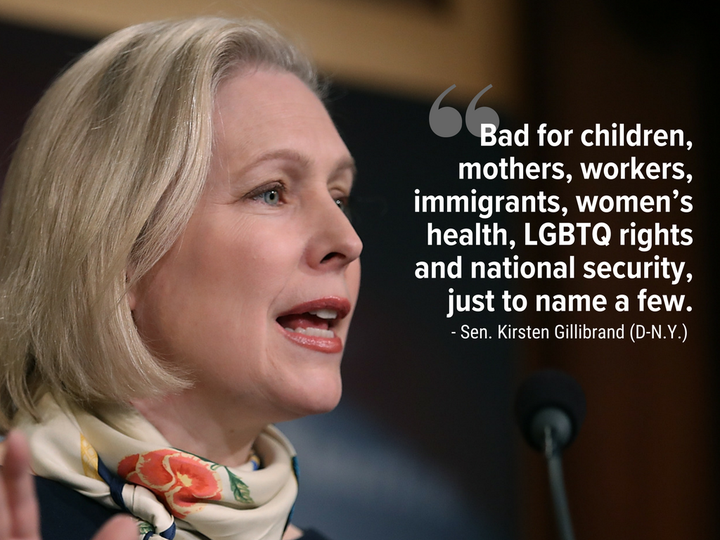 Raed Saleh, leader of Syrian rescue group the White Helmets
"After President Obama failed to uphold his 'red line' and let [Syrian President Bashar Assad] put Syria into a six-year spiral of horror and destruction, Syrians have found hope in President Trump's resolve to reassert the international community's intolerance towards the use of chemical weapons. We now wait to see if he will lead the international effort to help protect Syrians from other brutal regime tactics, and to help build a democratic alternative to the brutality and extremism of both Assad and ISIS."
Senate Minority Leader Chuck Schumer (D-N.Y.)
"Promises to working families: either broken or unfulfilled."
Former Rep. John Tierney (D-Mass.), executive director at the Center for Arms Control and Non-Proliferation
"To date, President Trump's nuclear policy can only be described as consistently inconsistent. After 100 days with the nuclear codes, it's still not clear that the president understands the complexity of the nuclear threats facing the United States or that these threats cannot be mitigated through tweeting."
"During the first 100 days, there's been never a better time to be a standup comic and never a scarier time to be a human on the planet of Earth."
House Minority Leader Nancy Pelosi (D-Calif.)
"President Trump's first 100 days have been a disastrous parade of broken promises to working people, handouts to wealthy special interests, and deep damage to the health and economic security of America's families."
Rob Delaney, comedian and co-creator of Amazon's "Catastrophe"
"Seen from space, Trump's first 100 days has been a muddled but steady effort to lay the groundwork to redistribute the nation's wealth from the bottom 99 percent to the top 1 percent, with him and his grotesque family astride the foul summit (with a side order of bigotry)."
Raffi Freedman-Gurspan, director of external relations for the National Center for Transgender Equality
"The Trump administration has taken malicious and harmful actions against several minority groups over the last 100 days, including attacking one of the nation's most vulnerable populations by rescinding Title IX guidance that clarified how to create safe and affirming environments for transgender children."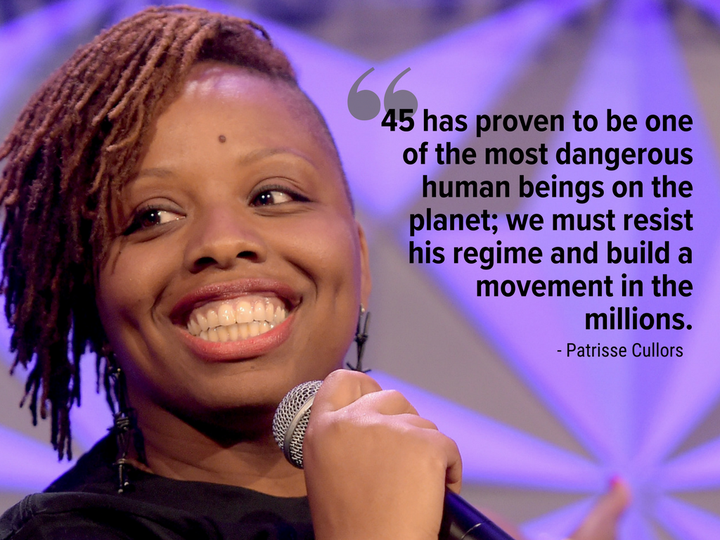 Sen. Kirsten Gillibrand (D-N.Y.)
"Bad for children, mothers, workers, immigrants, women's health, LGBTQ rights and national security, just to name a few."
Peter Neffenger, former administrator of the Transportation Security Administration
"Although a new administrator has not yet been nominated, I'm glad to see that the transformative changes we began continue to move forward, particularly with respect to partnering with the private sector to develop and deploy new security technologies through the TSA Innovation Task Force, coupled with continued focus and coordination on public area security."
Chuck Jones, president of United Steelworkers Local 1999
"Donald Trump's delusional."
Al Madrigal, comedian and former correspondent on "The Daily Show"
"It's been a shockingly horrible disaster ― he's gone back on so many promises that I can't believe the people in his base that put him in office can continue to support him, considering that he hasn't done a thing that he's promised to do. But what do I know? I'm just some idiot comedian."
Jonathan Gruber, economics professor at MIT
"Trump's first 100 days showed that democracy still functions as long as there are truth-telling organizations out there like the CBO ― and highlighted the key dependence of our government on those institutions."
Richard Carmona, U.S. surgeon general from 2002-2006
"A perception of unpredictable entropy, chaos, confusion and alternate facts have so far infected the beltway. America is better than this, let's show the world who we really are!"
Tamika Mallory, national co-chair of the Women's March on Washington
"We need to continue to use our voices to push back on the harmful policies and rhetoric of this administration, because the imminent threat that communities are up against is something too great to ignore."
Andy Slavitt, former acting administrator of the Centers for Medicare and Medicaid Services under President Barack Obama
"Trump's relationship to the presidency so far seems like my relationship with dieting ― he wants the results without doing the hard work."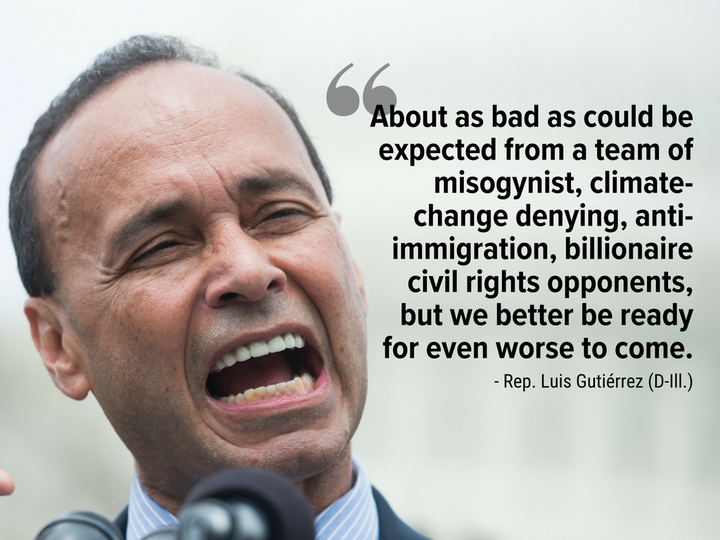 Melissa Etheridge, singer-songwriter
"It has solidified and brought to the surface even more the importance of diversity and how diversity is challenging and fearful to some. Being on the other side of diversity — being the diverse part of diversity — that means it is my job to take that freedom, to take that responsibility and to respect and love myself and to stand in my truth with it and show that the only way to get out of this mess is by understanding and believing that diversity is what makes us stronger."
Tom Colicchio, "Top Chef" host and co-founder of FoodPolicyAction.org
"The first hundred days of any presidency comes with a steep learning curve … unfortunately, this instance has been a classic example of 'You can't teach an old dog new tricks.'"
Neil Gaiman, author of American Gods
"I think it's making things more urgent. I don't know if we're getting better art, I don't know if we're getting more art. But the art we are getting feels more urgent."
Sarah Kate Ellis, president and CEO of GLAAD
"100 days of Trump translates into 100 days of erasure for the LGBTQ community ― from the census exclusion, to rescinding Obama's guidance for trans youth in schools, and lack of any LGBTQ mentions on the White House website, he has spent the early days of his administration trying to remove us from the very fabric of this country, and we must resist."
Sen. Mike Rounds (R-S.D.)
"Major issue: Supreme Court nominee is approved. It's one of the reasons why he got elected."
Tom Toro, New Yorker cartoonist
"Despite countless pathetic failures during his first 100 days in office, Trump can point to one great accomplishment: He has inspired a record number of people to become politically engaged artists. The spontaneous creativity of the Resistance, led by ordinary citizens expressing themselves with extraordinary imagination, has grown day by day to become the most powerful cultural force of the century, and it ― not Trump's vacuous, vain avarice ― will shape the future of our nation."
Rep. Jared Polis (D-Colo.)
"With regards to marijuana policy, we need the Trump administration to stop sending mixed messages filled with backtracks and flat out flip-flops. We need to take the marijuana sector out of a grey zone and into a legitimate one."
Kelly Garvy, founder of Protecting Progress in Durham
"Trump lies and embarrasses himself and the country on a daily basis, but for the past 100 days, I have forged new relationships and friendships with wonderful people in my community ― and we are ready for 2018."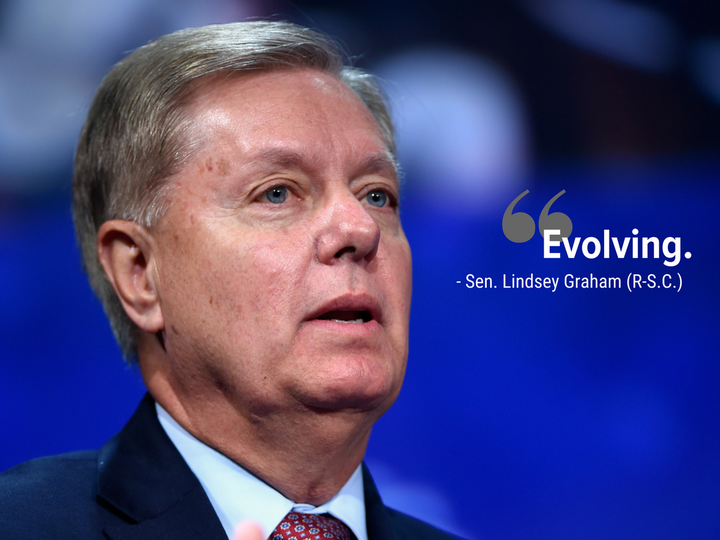 María Teresa Kumar, founding president and CEO of Voto Latino
"From immigration to health care, the president's agenda is the antithesis of a forward-looking nation, with the potential to take us back to our country's darkest days."
Rep. Chris Collins (R-N.Y.)
"Two words: Neil Gorsuch."
Joycelyn Elders, U.S. surgeon general from 1993 to 1994
"While the POTUS may be a genius, he would greatly benefit by listening to the informed ideas of authorities in health care, education and human rights in order to bring motivation and hope to all."
Ian Kerner, relationship counselor and sex therapist
"Whereas in the Obama era, 'sexual cliteracy' was on the rise and the 'orgasm gap' between men and women had been closing, I am now seeing a rise in sexual complaints from women about men who are woefully ill-cliterate. Sadly, the 'Viva La Vulva' years are over."
"It's been really rough. I can say from a community perspective a lot of South Asians are much more worried about their reality."
"It feels like two and a half years. Two and a half years is what it feels like."
Multiple HuffPost reporters contributed to this story.
Before You Go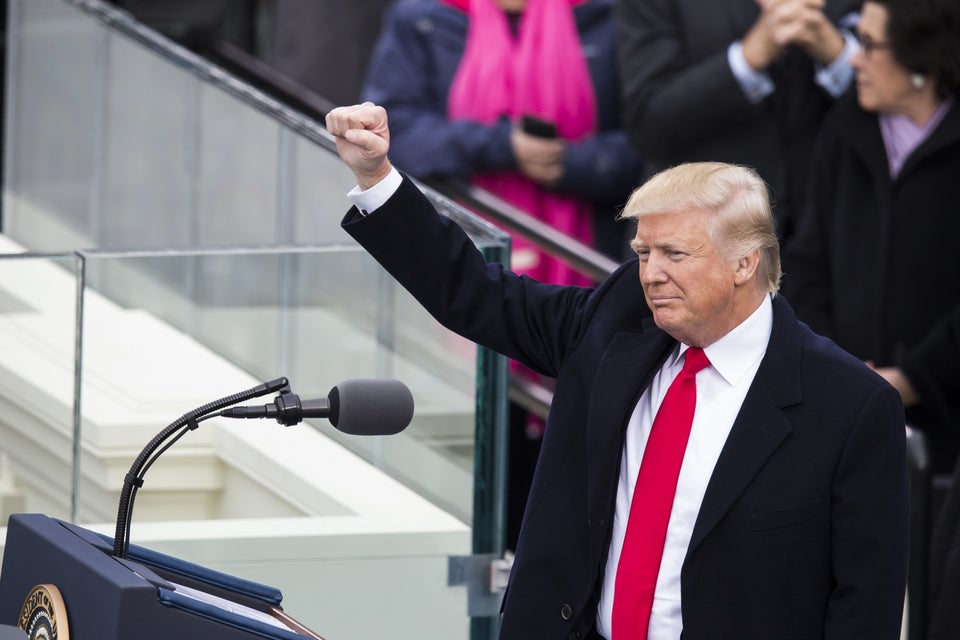 Best Photos From Trump's First 100 Days
Popular in the Community