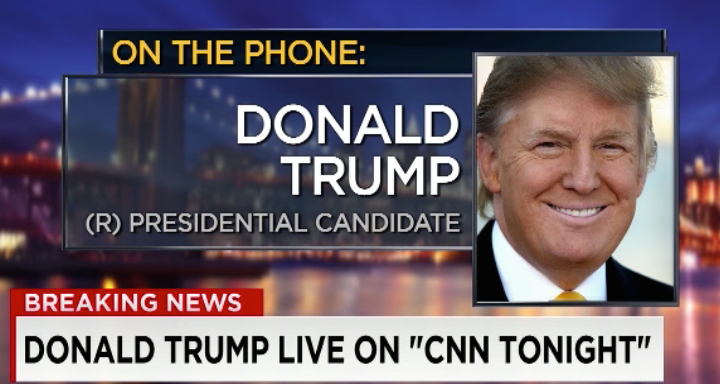 NEW YORK -- Presidential candidate Donald Trump dominated the political news cycle over the weekend, after suggesting in a Friday phone interview with CNN that Fox News' Megyn Kelly asked such tough questions during Thursday's GOP debate because she was menstruating.
The offensive comment got Trump subsequently disinvited from the RedState conference on Saturday, and made him a hot 2016 topic this past weekend on social media and TV news shows -- with the exception of Fox News, which has been uncharacteristically quiet about the swipe.
Trump noticeably didn't appear on "Fox News Sunday," where he may have been challenged on his comments about Kelly. Though he has routinely phoned into weekday morning show "Fox & Friends," a Fox News spokesperson told TV Newser that the Sunday show does not allow phone interviews with presidential candidates.
Other networks don't have similar restrictions. Yet, as commentators and candidates filled studios to talk Trump this weekend, Trump failed to make any in-person appearances. Instead, he did a half-dozen TV interviews by phone.
Trump called into four public affairs shows Sunday: CNN's "State of the Union," NBC's "Meet the Press," CBS's "Face the Nation" and ABC's "This Week." On Monday morning, he did phone interviews with NBC's "Today" and MSNBC's "Morning Joe."
Television is a visual medium, and yet Trump has had the rare luxury this election cycle of seemingly being able to call into news programs whenever and from wherever. This gives him the advantage of having more control over the interview dynamic, as he can field tough questions from the comfort of his home or office rather than the potentially more hostile on-set environment.
Representatives from ABC News and NBC News declined to comment on criteria for allowing phone interviews. A CBS News spokeswoman had no immediate comment. A CNN spokeswoman did not immediately comment.
TV hosts and bookers always push for on-camera interviews, but Trump's star power, and tendency to make provocative, made-for-cable-news statements, arguably gives him more leverage than the average candidate. His presence at the Republican debate surely contributed to 24 million people tuning in to the most-watched event in cable news history. And he can often be counted on -- whether on camera, on the phone or on stage -- to make off-the-cuff comments that can launch hundreds of TV segments.
If Trump wants to respond to a controversy -- even, or especially, one of his own making -- most networks will likely patch him through.
On Aug. 2, Trump gave phone interviews to three Sunday shows that broadcast from New York City, including NBC's "Meet The Press," even though his Trump Tower penthouse is located about an eight-minute walk from 30 Rock.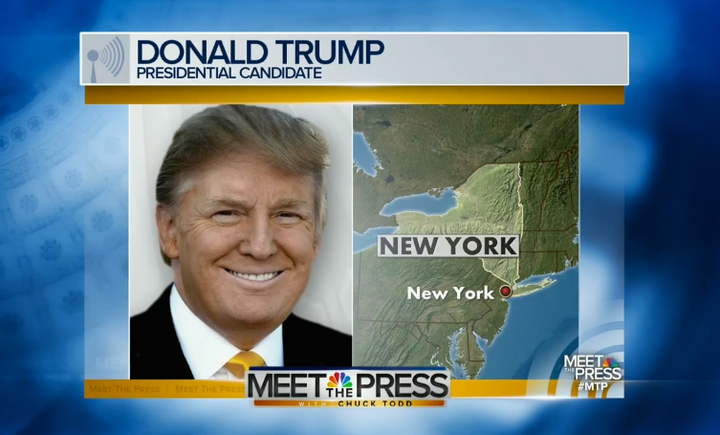 Trump has certainly cultivated a level of political star power reserved for just a few. If President Barack Obama wanted a slot on a Sunday news show, it's a safe bet he'd get on air. The same might be said of Hillary Clinton, given that the former secretary of state has had only one national television interview since becoming a presidential candidate in April. But it can't, however, be said for most of Trump's party rivals.
This past weekend, seven candidates -- Florida Sen. Marco Rubio, Ohio Gov. John Kasich, former Hewlett Packard CEO Carly Fiorina, Dr. Ben Carson, former Arkansas Gov. Mike Huckabee, former Texas Gov. Rick Perry, and Kentucky Sen. Rand Paul -- all appeared on Sunday shows on camera.
Most 2016 candidates aren't going to balk at appearing on national television, especially when name recognition plays a key role in early polling. But it seems that Trump doesn't need to set foot inside a TV studio to argue his points.
Even after widespread condemnation of Trump over his comments about Kelly, he said Monday -- via phone -- that Kelly should apologize to him. He also claimed his comment -- that she had "blood coming out of her wherever" -- could've referred to the moderator's nose or ears.
The controversy is sure to continue as Trump is scheduled to appear Tuesday on "Fox & Friends," to discuss his relationship with the network, and on CNN's "New Day." It remains to be seen if he will be allowed to phone it in.
Update Aug. 11: The interviews on both "Fox & Friends" and "New Day" were by phone.
Support HuffPost
The Stakes Have Never Been Higher
Related
Popular in the Community