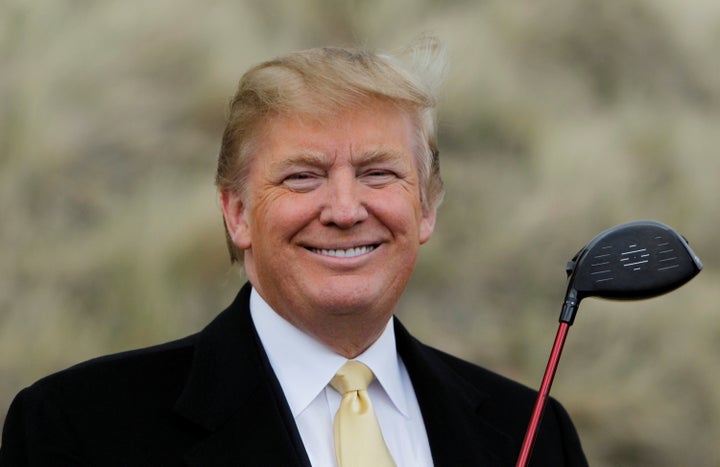 WASHINGTON -- Presumptive Republican presidential nominee Donald Trump has forgiven some $50 million in personal loans he made to his presidential campaign, his staff announced Thursday. The timing of the announcement was intended to calm GOP donors worried that Trump might use their donations to pay himself back.
"Mr. Trump has fully extinguished (terminated) this loan per his commitment," the campaign said in a statement. "Therefore, he has personally invested in excess of $50 million dollars in the future of our country."
Of course, the rules for converting loans to contributions require a bit more than a press release from campaign staff. To make it official, Trump must file a sworn statement to that effect with the Federal Election Commission. His campaign said Trump would file that statement by the end of the day on Thursday.
This was not the first time that Trump and his campaign staff had announced that he would not collect on the loans he made to his campaign. On May 13, Trump said he had "absolutely no intention of paying myself back." But his FEC filing for May revealed that he hadn't actually forgiven the loans.
As Republican Party operatives and officials have been laboring to reshape Trump's campaign into a more professional fundraising operation, it became crucial that the candidate clear up any lingering doubts on that score. As long as Trump's $50 million was still classified as a loan, it would be legal for him to reimburse himself out of other people's donations.
Republican consultant Matt Mackowiak said that forgiving the loan would help assuage donors' fears, but that more is needed.
"It removes something that is indefensible. Now that nonstarter has been removed. But he has all these other nonstarters," Mackowiak said, pointing to how Trump's campaign has reimbursed his children's travel expenses related to his White House run, hired and paid his own businesses for multiple services and used a much more expensive airplane than he needs. "Not only are they not raising money, but they're spending it wastefully, so it's doubly bad."
Earlier this week, Republicans (and Democrats and pretty much everyone else) were shocked when Trump's latest FEC refiling revealed that his campaign had only $1.3 million in cash on hand at the end of May and had raised a paltry $3.1 million in his first month as the party's presumptive nominee. By comparison, presumptive Democratic nominee Hillary Clinton had $42 million in the bank at the end of May.
Between now and November, Clinton is expected to raise and spend more than a billion dollars. Nobody knows what Trump will raise or spend.
The real estate mogul has been on a fundraising tear this week, starting with an "emergency" fundraising email on Saturday night and culminating in a New York event on Tuesday that Trump's aides say raised more than $6 million for the candidate and the Republican National Committee.  
Even if Trump is willing to ask wealthy donors for money (and it's not yet clear that he is), the self-professed billionaire still has an enormous amount of ground to make up going into the general election.
On Thursday, The Wall Street Journal reported that Trump's campaign expressed support for yet another pro-Trump super PAC, this one to be funded in large part by hedge fund billionaire Robert Mercer -- who had earlier supported Trump's rival Texas Sen. Ted Cruz for the nomination. Unlike some of his fellow GOP primary contenders, Cruz has yet to endorse the presumptive nominee.
The new PAC, registered with the FEC as "Make America Number I," is the fourth pro-Trump super PAC in recent months to court donors by claiming to be the only real pro-Trump super PAC.
The candidate spent much of the primary season denouncing the influence of super PACs in politics and arguing that his alleged ability to self-fund his campaign meant he was not beholden to special interests.
Trump campaign spokeswoman Hope Hicks maintained the party line on Thursday, telling The Wall Street Journal that the campaign "continues to disavow the support of all super PACs, as we have throughout this election." It remains to be seen how many more months like May the Trump campaign can endure before it is forced to change its tune.   
S.V. Date contributed reporting.
Calling all HuffPost superfans!
Sign up for membership to become a founding member and help shape HuffPost's next chapter