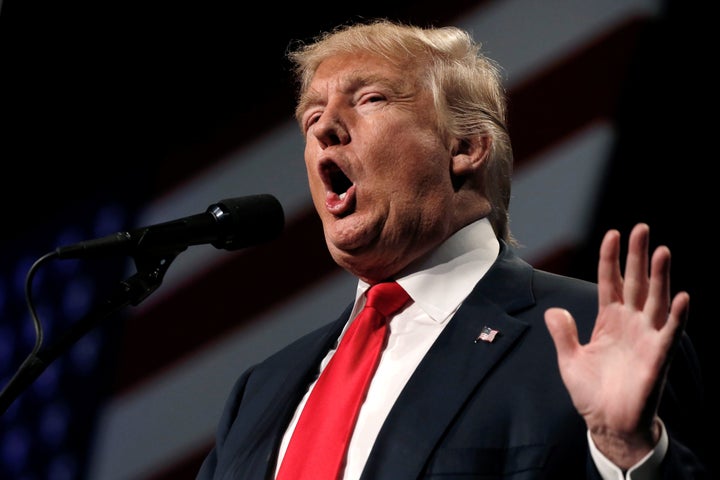 Donald Trump is a candidate who claims to be a Christian and, as such, is generating a lot of support from the Christian right in this country.
I am not a Christian, but I did grow up in a household with Christian parents. So I retain at least what I believe to be a rudimentary grasp of what being a Christian means: To be a follower of Jesus Christ, to be Christ like, to be mild mannered, meek. 
According to Webster's Online dictionary a Christian is:
"Of or relating to Jesus Christ or the religion based on his teachings
: of or relating to Jesus Christ or the religion based on his teachings
: treating other people in a kind and generous way."
The last part, to me, sticks out like a sore thumb: "Treating others in a kind of generous way."
When, I thought after having read this, has Donald Trump ever treated anyone in a kind and generous way?
Matthew  5:38 implores Christians that, when faced with adversity: "If anyone slaps you on the right cheek, turn to them the other cheek also."
Last year after complaining that FOX's Megyn Kelly was being too rough on him at the debates, Trump told CNN's Don Lemon: "You could see there was blood coming out of her eyes. Blood coming out of her wherever."
Say, what? How is talk like this conducive to the teachings of Jesus Christ and the Bible? How is it consistent to "Turning the other cheek" and "treating other people in a kind and generous way?"
"Blessed are the meek, for they will inherit the earth," instructs Mathew 5:5.
According to Merriam Webster's dictionary, to be "meek" is:
: enduring injury with patience and without resentment: Mild
2 : deficient in spirit and courage: submissive:
3 : not violent or strong.
Mr. Trump is not very good at turning the other cheek or displaying a meek attitude toward any of his detractors. At a family leadership summit in Ames, Iowa last year "The Donald" said of his critic John McCain: "He's a loser... He's a war hero because he was captured? I like guys who weren't captured... He lost and let us down."
Which brings us to another of Mr. Trump's favorite pastimes: Name calling. He brands his critics and anyone willing to disagree with him "idiots," "losers," and "lightweights" on a daily basis. What did Jesus Christ have to say about name-calling among Christians.
In Matthew 5:21-22, Jesus Christ implores a future generation of Christians never to call their brothers names, lest they provoke the wrath of God Almighty on judgement day.
"But I say to you that everyone who is angry at his brother will be subject to judgment, and whoever says to his brother, 'Stupid fool!' will be subject to the council, and whoever says, 'Obstinate fool!' will be subject to fiery hell." Mr. Trump―and I use "Mr." lightly―not only calls his critics names, but he also mocks their disabilities. Christ healed his brothers and sisters of their afflictions―leprosy, death, blindness, simply by touching them. Trump, conversely, mocks people's afflictions, as he has done with New York Times reporter Serge F. Kovaleski. Many people on the far-right, including far-right Christian conservatives, seem to be in awe with Mr. Trump and his ability to make money.
However, according to The Bible, the book Mr. Trump claims to live his life by, Jesus Christ warned his followers about the dangers of seeking earthly riches instead of heavenly ones. In Matthew 19:24, Christ forewarns his disciples: "It is easier for a camel to go through the eye of a needle, than for a rich man to enter into the kingdom of God."
Several reported shady business dealings have also put Mr. Trump's claim of being a Christian into question. According to a USA TODAY and other mainstream news sources Trump has cheated dozens of businessman out of money he had owed them, going against one of the ten commandments, Thou Shalt Not Steal. This from a a June 9, 2016 USA TODAY article,
Donald Trump often portrays himself as a savior of the working class who will "protect your job." But a USA TODAY NETWORK analysis found he has been involved in more than 3,500 lawsuits over the past three decades — and a large number of those involve ordinary Americans...who say Trump or his companies have refused to pay them.
How so many people who claim to be Christians can support this man—who mocks the disabled, fleeces the poor, calls other people names and worships himself—is beyond me.
Calling all HuffPost superfans!
Sign up for membership to become a founding member and help shape HuffPost's next chapter