WASHINGTON ― President Donald Trump made a vague pronouncement of support for "real and positive immigration reform" on Tuesday ― in the middle of a speech peppered with references to undocumented immigrants who bring in drugs, kill Americans and drive down wages.
Hours before his speech to a joint session of Congress, the president reportedly told news anchors he was open to a legal status for some undocumented immigrants, prompting a flurry of speculation that he might take a 180-degree turn toward the so-called amnesty he decried on the campaign trail.
Trump's speech, however, gave no such indication, even though it mentioned immigration reform.
"I believe that real and positive immigration reform is possible, as long as we focus on the following goals: to improve jobs and wages for Americans, to strengthen our nation's security, and to restore respect for our laws," Trump said. "If we are guided by the well-being of American citizens, then I believe Republicans and Democrats can work together to achieve an outcome that has eluded our country for decades."
It was a far cry from a commitment to comprehensive immigration reform, even if it left a door open for Trump to accept such a policy in the future. The president only addressed one aspect of immigration legislation: the need to reform legal immigration to a "merit-based immigration system."
Nearly every mention of immigration or immigrants in Trump's address was negative, in keeping with a speech he used to launch his candidacy, and one he made while accepting the Republican nomination. He discussed immigrants almost exclusively in the context of crime, terrorism and lowering Americans' wages.
Trump signed in executive order days into his presidency that defined nearly all undocumented immigrants as a priority for deportation ― even non-criminals and those whose only crime was related to their immigration status. He promised to hire more Immigration and Customs Enforcement agents to carry out those removals. A majority of those picked up in a weeklong series of raids have been convicted of crimes, although one-quarter were non-criminals.
Some of the individuals deported by Trump's administration were convicted of crimes deemed less serious under President Barack Obama. Guadalupe "Lupita" García de Rayos, deported earlier this month, had been convicted of using a fake Social Security number to work. Her two U.S. citizen children, now living without their mother, sat in the audience as Trump delivered his address as guests of Democratic lawmakers.
"Bad ones are going out as I speak and as I promised throughout the campaign," Trump said. "To any in Congress who do not believe we should enforce our laws, I would ask you this question: What would you say to the American family that loses their jobs, their income, or their loved one because America refused to uphold its laws and defend its borders?"
Trump highlighted four individuals whose family members were killed by undocumented immigrants, according to authorities. He said others like them will be helped through a new office at the Department of Homeland Security called VOICE, for Victims Of Immigration Crime Engagement. The goal was to provide "a voice to those who have been ignored by our media, and silenced by special interests," he said.
The guests Trump highlighted were Jessica Davis and Susan Oliver, whose husbands, Detective Michael Davis and Deputy Sheriff Danny Oliver, were killed in the line of duty in 2014; and Jamiel Shaw Sr., whose son was shot to death in 2008. Susan Oliver's daughter, Jenna, was also at the address.
Trump promised they "will never be forgotten. We will always honor their memory."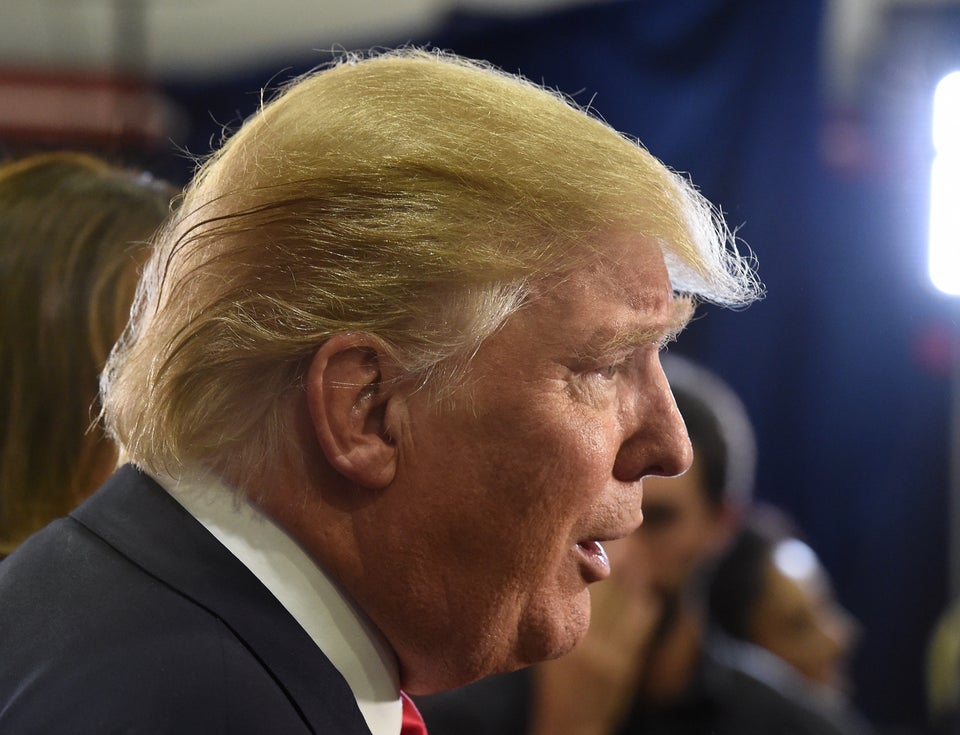 How Donald Trump Talks About Undocumented Immigrants