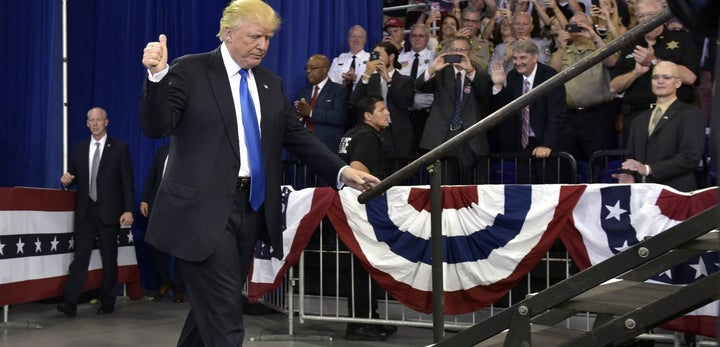 Donald Trump, disregarding centuries of atrocities faced by black people in America, claimed Tuesday that black communities have never been worse off than they are now. 
Speaking at a rally in Kenansville, North Carolina, Trump again stumbled in an apparent attempt to endear himself to black voters.
"We're going to make our country safe again. We're going to rebuild our inner cities because our African-American communities are absolutely in the worst shape that they've ever been in before," he said. "Ever, ever, ever."
The comment, made in a city named for a slave owner, is objectively untrue, and completely ignores that black people were once subjected to slavery and Jim Crow laws. 
Twitter users instantly pointed out the obvious:
Trump's press secretary didn't immediately respond to a request for clarification.
Trump has made similarly tone-deaf comments while attempting to court black voters. 
"What do you have to lose by trying something new, like Trump?" he asked an audience in Michigan last month. "You're living in poverty. Your schools are no good. You have no jobs. Fifty-eight percent of your youth is unemployed. What the hell do you have to lose?"
President Barack Obama rebuked this rhetoric while addressing an awards dinner hosted by the Congressional Black Caucus Foundation last week. 
"You may have heard Hillary's opponent in this election say that there's never been a worse time to be a black person. I mean, he missed that whole civics lesson about slavery and Jim Crow," Obama said. "He says we got nothing left to lose, so we might as well support somebody who has fought against civil rights, and fought against equality, and who has shown no regard for working people for most of his life. Well, we do have challenges, but we're not stupid."
Calling all HuffPost superfans!
Sign up for membership to become a founding member and help shape HuffPost's next chapter
BEFORE YOU GO
PHOTO GALLERY
16 Things Donald Trump Has Said About Women, Round 2