President Donald Trump ordered federal government agencies to pull together a list of all the programs that benefit Mexico either directly or indirectly ― a prelude to the coming showdown over which country will pay for the construction of Trump's border wall.
A section of Trump's Jan. 25 executive order, which authorized the construction of the wall, mandated the task. The agencies must compile the information and provide it to the secretary of state by Feb. 25.
Trump may be attempting to use the threat of withdrawing foreign aid as leverage to fulfill his longtime campaign promise that Mexico will pay for the wall. Yet amid the flurry of activity in the first several weeks of the Trump administration, the order went almost entirely unnoticed, even on Capitol Hill, where lawmakers who oversee foreign aid told The Huffington Post they were unfamiliar with the project.
Sen. Jim Risch, a Republican from Idaho who chairs the subcommittee with oversight of USAID and other foreign aid programs, said the administration hadn't consulted him on the matter. "I expect that the administration's looking at various methods and combinations of methods to do what they want to do, but I'm not privy to any of the details," he added.
Sen. Chris Murphy (D-Conn.), who sits on the same subcommittee as Risch, was also unaware of the administration's move.
The order sounded like more of the same "saber rattling" from Trump, said subcommittee member Tim Kaine (D-Va.). "I'm looking for one thing out of this administration to recognize that Mexico is an ally. I mean even one thing ― that they're one of our top three trading partners," he said.
And I'm still waiting," Kaine added. "I think the penchant that this president has for picking fights with allies and then cozying up to adversaries just violates basic common sense."
"We need a strong and secure Mexico, strong and secure Canada. A sour economy or sour security situation in either country poses a challenge for the United States," Gardner said. "So whether it's military partnership and cooperation or economic partnerships or state department partnerships with Mexico, they're important.
"Obviously, any time you have a new administration, they want to review the actions that have taken place," he added. "That's an appropriate role for a new administration. But we'll see where it goes from there."
Much of U.S. aid to Mexico goes to fund American priorities, such as institutional reform within the police and armed services to successfully wage the drug war. USA Today, one of the only outlets to pick up on Trump's order at the time, noted that cutting the funding would strengthen drug cartels and increase chaos in the border region, heightening the flow of migrants. Currently, more Mexican nationals are leaving the United States then entering it. Trump's move, paradoxically, could reverse that situation.
"The U.S. would be shooting itself in the foot to give up the institutional reform aid," Adam Isacson of the Washington Office on Latin America told HuffPost. "We have an interest in these forces doing their job more effectively, without impunity for corruption or human rights abuses. Rhetorically urging Mexico's security forces to reform themselves, without helping the effort, borders on useless."
Another problem with Trump's strategy is the asymmetry in the dollar amounts. The wall is estimated to cost tens of billions of dollars, while Mexican aid amounts to a fraction of that, at roughly $320 million. That figure amounts to less than 1 percent of Mexico's $256 billion government spending last year, though some aid from the U.S. goes to civil society groups rather than the government itself.
Mike Vigil, the former head of international operations for the Drug Enforcement Administration, said it took decades for members of U.S. law enforcement to build trusting relationships with their Mexican counterparts. Threatening to slash aid undermines those efforts, he said.
When serving in Mexico in the 1990s, he ran an operation tracking suspect aircraft from South America. The operation depended heavily on Mexico's goodwill.
"They would allow me to bring in U.S. aircraft into sovereign Mexican territory with one phone call," Vigil told HuffPost. "I worked very closely with them. We had very good ties. But if Trump continues to push Mexico's buttons, they could easily say, 'We'll no longer work with DEA or U.S. law enforcement agencies. You guys have the consumption problem, you deal with it.' I hope it doesn't, but it could go that far."
Cutting security aid to Mexico makes little sense, given that it's part of America's own anti-drug trafficking efforts, said Francisco Franco Quintero, a security specialist at the Iberoamerican University in Mexico City. Much of the aid to Mexico hasn't been transferred in dollars, but in the form of military hardware and technology.
"This aid isn't something the United States is giving the Mexican government out of its own good will," Franco Quintero told HuffPost. "It's part of a recognition on the part of previous administrations that both countries have an interest in fighting drug trafficking. It wouldn't be a punishment for Mexico … It would be a punishment for both countries."
And Mexico could retaliate. "It would lead to a reciprocal thing and we would end up being in a skirmish while we're cozying up to an adversary," said Kaine. "I don't get it."
Roque Planas contributed reporting.
Before You Go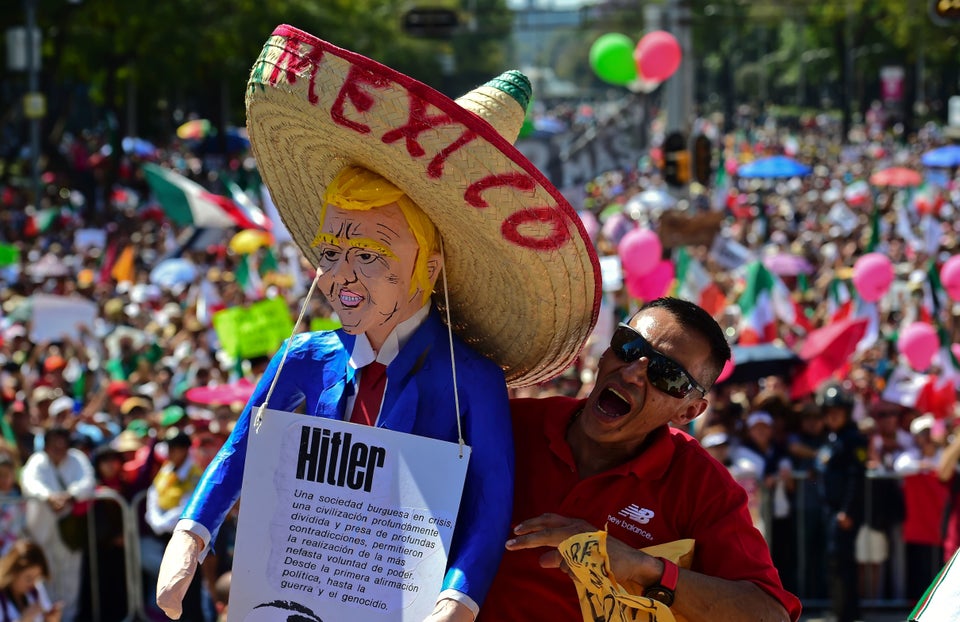 Trump Protests In Mexico
Popular in the Community