Patrick Bateman, the antihero of the popular novel and movie "American Psycho," is a successful Manhattan businessman who doubles as a serial killer. But President-elect Donald Trump is the real-life American psycho, if you ask left-leaning French newspaper Libération.
Its Thursday front page features an image of Trump ― his face and body darkened, leaving nothing but his striking mop of hair and his right hand, thumb and forefinger pointed in the shape of a gun.
The title was likely intended as more of a catch phrase, since there are plenty of stark differences between the fictional Bateman and Trump. For one, Trump is not a serial killer. Nor was he an investment banker.
American Psycho author Bret Easton Ellis has said that Bateman aspired to be Trump because the businessman was "an elitist" in the 1980s. The serial killer even praises Trump's book, The Art of the Deal, in the novel. But Ellis told Rolling Stone in March that Bateman would not like the president-elect now, because he's given a "voice to white, angry, blue-collar voters."
Libération's cover is also a nod to the way the future president has portrayed himself throughout his campaign, using xenophobic and sexist discourse to fire up crowds.
France is dealing with its own version of the Trump phenomenon. Marine Le Pen, head of the extreme far-right National Front party, has toed a similarly dangerous populist line.
She congratulated him on his victory early Wednesday before it was even official, hailing his triumph as a "great movement."
"I'm much less interested in my own political ascendancy than with the future of my people, my country," she told French television channel France 2 on Wednesday. "The political elite is disconnected, it refuses to see and hear its people."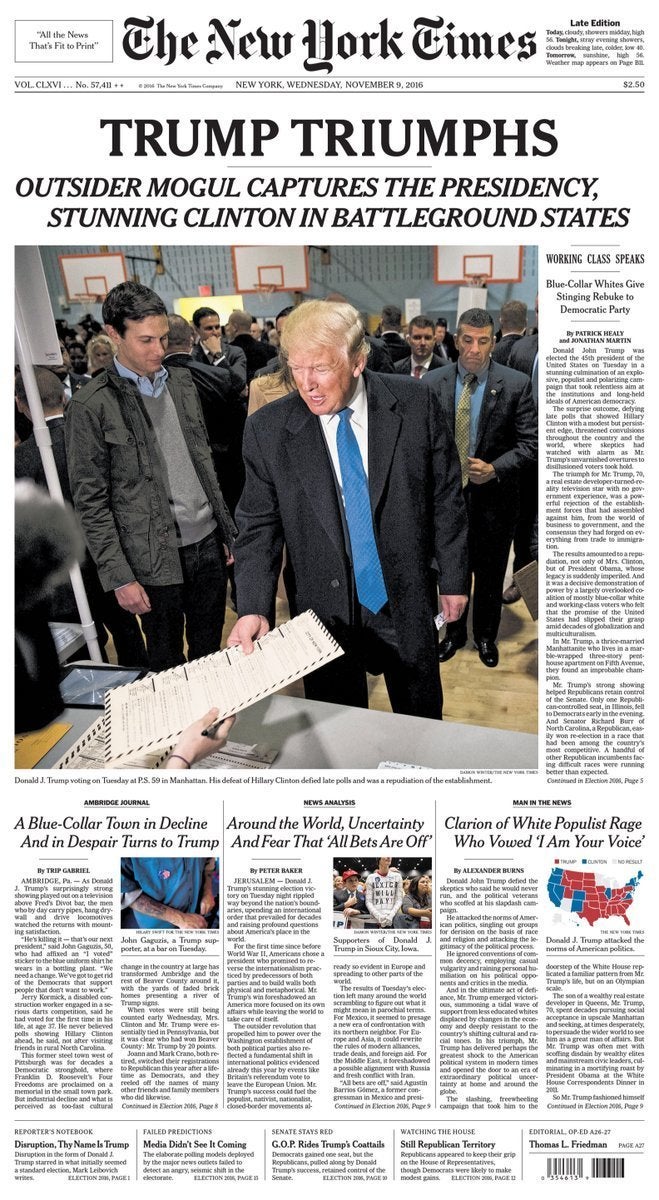 Newspapers React To President Trump