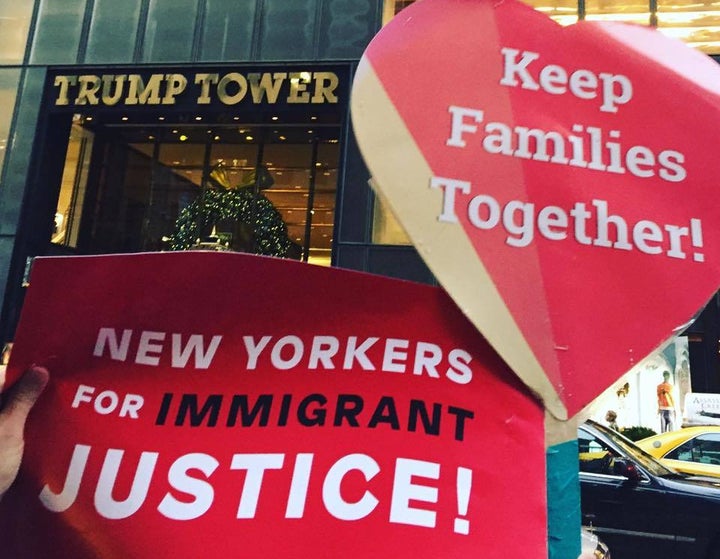 Over the last few weeks, Immigration and Customs Enforcement (ICE), acting under orders from the Trump White House, have begun indiscriminately targeting undocumented immigrants for deportation regardless of mitigating factors. This includes multiple people who have received Deferred Action for Childhood Arrivals (DACA) like Daniel Ramirez Medina, Daniela Vargas and Josue Romero, leaving the 750,000 current DACA recipients to anxiously try to read the tea leaves on Trump's plan for them and the program—no easy feat, especially considering Trump's conflicting and nonsensical statements on the subject.
June 16, 2015 - Trump's Presidential Campaign Announcement. Among a number of many other inflammatory promises, Trump includes a one liner promising to "immediately terminate President Obama's illegal executive order on immigration," meaning DACA.
August 31, 2016 - Trump's Immigration Policy Campaign Speech And Website Update. In what was billed as Trump's big softening on immigration, and on the same day he went to Mexico to meet with the Mexican president, Trump tacked farther to the right than he ever had before (which many didn't think was possible) on his immigration policy. This included outlining his plans for Obama's executive orders (which were also included as part of his policy platform online): "We will immediately terminate President Obama's two illegal executive amnesties, in which he defied federal law and the constitution to give amnesty to approximately 5 million illegal immigrants."
December 8, 2016 - Trump Is TIME's Person Of The Year. In his far ranging interview with the magazine, Trump shows some empathy for DREAMers: "We're going to work something out that's going to make people happy and proud. They got brought here at a very young age, they've worked here, they've gone to school here. Some were good students. Some have wonderful jobs. And they're in never-never land because they don't know what's going to happen."
January 18, 2017 - Trump Appears On His Favorite, Fox & Friends. Two days before the Inauguration and Trump's trying to make everyone happy: "It's a plan that's going to be very firm, but it's going to be a lot of heart. And we're going to be looking into that situation. That's [being a DREAMer] a very tough situation, but I think they're going to end up being very happy. We're going to have great people coming into our country, people that love our country."
January 25, 2017 - Trump Tells ABC About His Big Heart, And Draft DACA Repeal Executive Order Leaked. When asked directly about DREAMers by ABC's David Muir, Trump indicated that a policy would be coming within four weeks, but that DACA recipients "shouldn't be very worried." He went on to comment: "I do have a big heart. We're going to take care of everybody...But I will tell you, we're looking at this, the whole immigration situation, we're looking at it with great heart." This happened on the same day that Vox published a draft leaked executive order that would effectively terminate the DACA program by preventing any new applicants or renewals from occurring.
February 16, 2017: Trump's Unhinged Press Conference. Trump seemed to (finally) acknowledge the political difficulties of following through on his campaign promises. "DACA is a very, very difficult subject for me...You have these incredible kids, in many cases not in all cases. In some of the cases they're having DACA and they're gang members and they're drug dealers too...I have to deal with a lot of politicians—don't forget—and I have to convince them that what I'm saying is right. And I appreciate your understanding on that. The DACA situation is a very difficult thing for me as I love these kids, I love kids, I have kids and grand kids and I find it very, very hard doing what the law says exactly to do and, you know, the law is rough. It's rough, very very rough."
February 28, 2017 - Trump Addresses A Joint Session Of Congress. And DACA never comes up. However, in a meeting earlier in the day with news anchors, (that the Administration later admitted was a deliberate misdirection attempt) Trump offered up some thoughts on offering protections for DREAMers. From Buzzfeed: "Asked by George Stephanopoulos if he was open to a path to citizenship for DREAMers, Trump said yes—once they leave the country and come back, which is a nonstarter for many immigrants with ties to the country."
Today - Trump Has Some Decisions To Make. No one, least of all Trump, seems to know what Trump's plans are when it comes to individuals with DACA. To be sure, the anti-immigrant extremists are clamoring for Trump to follow through on his campaign promise to "deport them all," setting up social media campaigns and writing nasty blog posts. But, Trump is finding the reality of the situation much more difficult to manage. After a disastrous attempt at a Muslim and refugee ban, Trump can ill afford another executive order that highlights the cruelty and bigotry of his administration. And yet, the indiscriminate actions of immigration enforcement agents across the country mean that all immigrants, even those with DACA protection, are anxious and uncertain about their futures. At some point, Trump, or leaders in Congress, will be forced to make a decision; let's hope their better angels prevail.
Popular in the Community