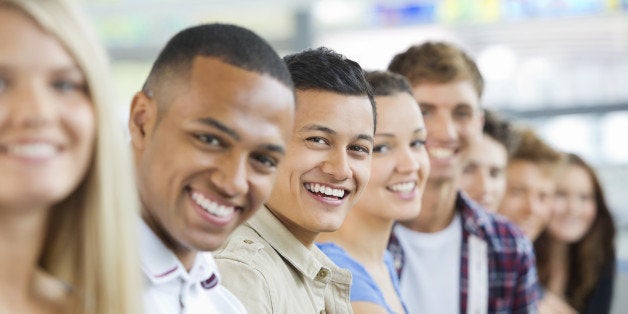 We see these displays of diversity because associating with non-white people is valuable. Displaying racial diversity allows schools and companies to present themselves as modern and inclusive. And claiming non-white friends allows white people to present themselves as non-racist.
Affiliation with non-white people is one way that white people attempt to claim racial honor -- to demonstrate that they, and their institutions, are not racist. In my research, I have labeled this process of deriving value from racial identity "racial capitalism." Racial capitalism often results in displays of fake diversity.
In the crowded 2016 field of presidential candidates, Donald Trump has distinguished himself with his overtly racist statements. He has referred to Mexican immigrants as "criminals" and "rapists." He recently suggested that maybe a Black Lives Matter protester beaten by Trump supporters at a rally "should have been roughed up." In a recent tweet, he shared completely false statistics about murder rates by black people that were invented by a Neo-Nazi. His false statements about Muslims are too many to list; and, as Professor Khaled Beydoun has repeatedly noted, 24 percent of American Muslims are also black.
To combat his poor standing among people of color, Trump has resorted to racial capitalism. A few weeks ago, a video showed a black woman reading through a Trump speech after staffers had intentionally seated her behind Trump. In an interview, the woman explained that she knew the staffers were trying to make Trump's audience appear more diverse and that her decision to read was a form of protest.
But Trump's strategy of recruiting select non-white supporters is unlikely to succeed. The point is not that non-white Trump staffers' opinions don't count, or that the opinions of certain black clergy are irrelevant. The point is that -- while of course some black people do support Trump -- displaying a few black faces is ultimately nothing more than fake diversity. It doesn't change the fact that Trump regularly says racist things. It doesn't change the fact that the vast majority of non-white people have an unfavorable opinion of Trump and his policies. It doesn't change the fact that most of his policies would leave most non-white Americans materially worse off.
Indeed, Trump's clumsy attempts at racial capitalism reveal exactly how little he understands about race in America. The idea that one can resolve complex and longstanding racial tensions by associating with a few non-white people is painfully naive. And Trump's apparent belief that such measures will endear him to non-white Americans reveals the depths of his racial ignorance.
Calling all HuffPost superfans!
Sign up for membership to become a founding member and help shape HuffPost's next chapter