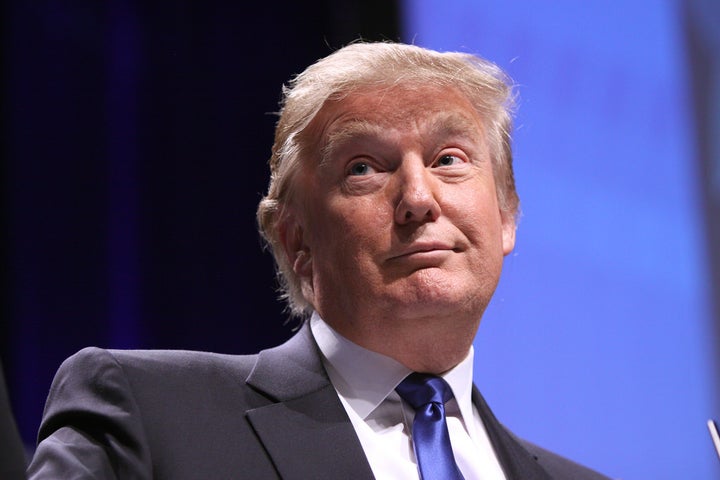 Donald Trump has earned a reputation―even among his most ardent supporters―for saying things that are verifiably ridiculous. While many of his statements seem to be tailor-made for late-night comedy monologues, others are not only blatantly false but also highly dangerous.
Recently, Mother Jones called attention to one of the most reckless things Trump, "the builder," has declared―that asbestos, a notorious human carcinogen, is "100 percent safe once applied."
According to the presumptive Republican presidential nominee, the anti-asbestos movement is a mafia-led conspiracy theory that has absolutely nothing to do with public health and safety. "I believe that the movement against asbestos was led by the mob, because it was often mob-related companies that would do the asbestos removal," Trump claimed in his 1997 book, The Art of the Comeback. "Great pressure was put on politicians, and as usual, the politicians relented. Millions of truckloads of this incredible fireproofing material were taken to special 'dump sites' and asbestos was replaced by materials that were supposedly safe but couldn't hold a candle to asbestos in limiting the ravages of fire."
Trump could not be more wrong about this, and because of the highly lethal nature of asbestos, it's imperative to set the record straight.
Asbestos is ubiquitous and can be found in home, schools, workplaces, consumer products and our environment. Exposure to asbestos causes incurable respiratory diseases and mesothelioma, lung, gastrointestinal, laryngeal, colorectal, and ovarian cancers. The World Health Organization (WHO), the National Institute for Occupational Safety and Health (NIOSH), the Occupational Safety and Health Administration (OSHA) and every other major independent scientific body in the world agree there is no safe level of asbestos exposure. The only scientifically suitable method to control asbestos-related disease is to ban its use.
TRUMPISM: "I believe that the movement against asbestos was led by the mob"
TRUMPISM: Asbestos is an "incredible fireproofing material"
FACT: Asbestos fibers can withstand high temperatures, which lent to asbestos' popularity among builders, but its use in fireproofing is incredibly dangerous to those who encounter asbestos during and after a fire. According to a NIOSH study, firefighters "had a rate of mesothelioma two times greater than the rate in the U.S. population as a whole."
Asbestos is the quintessential example of a deadly, corporate cover up. The asbestos industry knew for decades that exposure to asbestos kills, but corporate executives callously hid the dangers for American workers and families. A 1966, Bendix (now part of Honeywell) memo said, "If you have enjoyed a good life while working with asbestos products why not die from it."
Today, many Americans believe asbestos is a problem of the distant past, but Trump cannot feign ignorance when it comes to asbestos. Years before he shared his admiration for asbestos in The Art of the Comeback, Trump was fighting a class-action lawsuit brought by demolition workers who had been contracted to clear the way for Trump Tower in New York. When the workers were interviewed by the New York Times, they cited working in "choking clouds of asbestos dust without protective equipment" among other subpar working conditions.
While Trump lost the lawsuit and ultimately settled out of court, the Times reported that Trump denied knowing about the states of the working conditions at the site. Unfortunately for many workers in America's construction industry, this is an all too common story. The building industry has not only been a huge driver of asbestos consumption over the decades, it has dedicated lobbying dollars to protecting its use and limit laws that would protect Americans from exposure. When the EPA gallantly tried to ban asbestos in 1991, the industry stopped the effort in its tracks, which is why asbestos can still be found in our homes, environments, and even consumer goods.
The Art of Getting it Right
Hope is on the horizon. The U.S. Congress just passed a bill reforming the Toxic Substances Control Act (TSCA), which gives the EPA the power to ban "known human carcinogens" like asbestos without consideration to cost "or other non-risk factors." This means the health of American workers and families can finally be valued above potential costs the industry may incur. While this should result in a full ban on asbestos within seven years, it certainly does not guarantee one.
The next president of the United States will play a critical role in ending the man-made asbestos crisis in America. If the person we elect to this office values profits over public health and safety, we stand to lose all the progress we've made.
Without responsibility, transparency, and accountability, no one is safe. There is a lot to debate this election season, but there is no debate about the deadly dangers of asbestos.
Popular in the Community