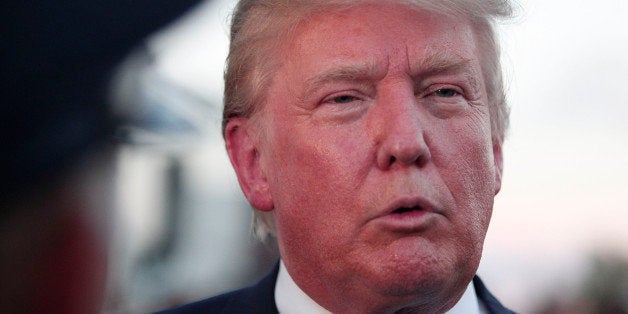 However, it is difficult to explain his support in Iowa where a candidate representing the evangelical wing of the party would seem to do well (and the secular Trump has notoriously described communion wafers as "the little cracker"), or a salt-of-the-earth (bland) type who doesn't offend anyone's sensibilities like Wisconsin Governor Scott Walker. After all, Chris Christie, who almost matches the bluster of Trump and the ferocity of his bullying tirades, was nearly last in the polls in Iowa.
Trump is the embodiment of Tea Party politics. He embraced birthism long after even Fox news abandoned this line of attack on Obama as futile. His policy ideas are scant, if non-existent, while his most attractive characteristic to his supporters seems to be his anti-government fervor and his appeal to make America great again. His supporters do not trust career politicians, which explains the rise of Ben Carson and Carly Fiorina after the first Republican debate. They grasp for simplistic solutions to complex problems like building a wall to keep out all illegal aliens and, as Trump somehow conjures, letting Mexico pay for it. They are the anti-intellectual crowd who ironically support a billionaire who went to the best schools and reminds people of it every chance he gets.
So what is the appeal of Trump? His bombastic retorts, his way of personalizing every petty disagreement, as in a recent spat with Sen. Rand Paul when Trump settled the argument by boasting that he "once easily beat Paul in a round of golf," explains his appeal to the largely uneducated, angry white male that Republicans have been courting since Reagan's "war on crime" rhetoric. After all, we know that a low golf handicap makes for a good president! In reality, it is an appeal to those who believe reverse discrimination is a larger and more prevalent problem than real-world discrimination, to those who believe might makes right, to the increasingly paranoid who see the world in terms of us vs. them. They can not be discounted because they have seen their jobs evaporate and migrate overseas and have seen their economic situations grow more and more precarious. Thus, they believe in a man who explains he can do it better simply because he says he can.
When Trump finally announces that his education policy will consist of having every school child buy a copy of his bestseller The Art of the Deal perhaps then he will be laughed off the stage. Until then, the Republicans are stuck with him. He is a Frankenstein monster of their own creation. Get used to the combover!
REAL LIFE. REAL NEWS. REAL VOICES.
Help us tell more of the stories that matter from voices that too often remain unheard.