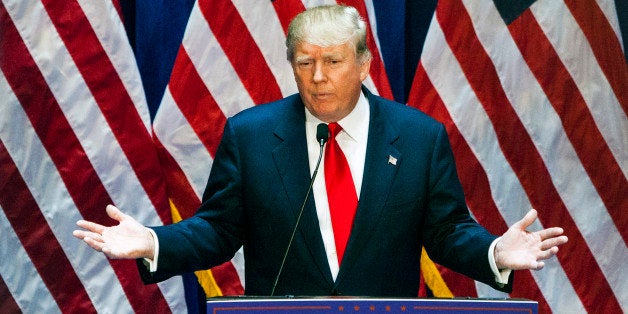 The words Orville Redenbacher, Jon Stewart and others have been waiting to hear from Donald Trump for years have arrived:
"I am officially running for President of the United States and we are going to make this country great again."
Marching through Trump Tower to Canadian Neil Young's "Rockin' in the Free World", Donald took his time waiving awkwardly from above the crowd before condescending, rather descending, an escalator to teach us poor losers a lesson.
Hearing the announcement on Twitter, I quickly grabbed popcorn, fired up Periscope, and later CNN to catch what will go down as possibly the funniest announcement of a presidential run this decade, or millennium, or as long as these Presidential primaries are held.
First of all, it's got to be the first time a presidential candidate said "crap" in his introduction speech. Indeed, I hope a wall was nearby to contain this crap, because "The Donald" was just getting started.
When it comes to spewing venomous racial bile, nobody will Trump the Donald.
Our country is in serious trouble, we used to have victories, but we don't have them anymore. When's the last time we beat China in a trade deal? I beat China all the time. When did we beat Japan at anything?
He continued with a frontal assault on our neighbors south of the border.
Mexico is not our friend, they're killing us economically. The U.S. has become a dumping ground for everyone else's problems, and these are the best and the finest. Mexico is sending people with lots of problems; they're doing drugs, they're bringing crime and rape. It's coming from all over South and Latin America and probably from the Middle East.
Trump's rambling speech touched on Hummvees, hotels in China -- and was entirely delivered off the cuff.
That didn't stop the reality TV star from making his own independent, un-researched unemployment rate claims.
The "real unemployment rate" is 18-21 percent because China has our jobs and Mexico has our jobs, and nobody talks about it.
Turning to Obamacare, the developer claimed that our $5 billion dollar website to implement the ACA "doesn't work," ignoring the 7 million covered by Obamacare in its first year alone.
Sadly, a candidate interested in issues might've spoken thoughtfully about King vs. Burwell whose multi-billion dollar insurance subsidies decision is pending in a divided Supreme Court this summer. I digress, this is about popcorn, it's Donald the Trump, not a real candidate for president, but a reality TV candidate for president.
He then called for a repeal of Obamacare, but replace it with "something for everybody, but much better and much cheaper" to chants of "Trump! Trump! Trump" from the crowd.
Certainly, something is better than nothing, right?
"I have lobbyists that can produce anything for me," said the man who wants to be president.
We need a truly great leader now. A leader that wrote the art of the deal, that can bring back our jobs, can bring back our military... and we also need a cheerleader.
George W. Bush was a cheerleader at Yale.
The making this country great platitudes were in no shortage today from the billionaire who made wearing a third-rate toupee great again too.
He couldn't even pronounce Iran correctly, calling it Eye-ran.
Free trade can be wonderful if you have smart people, but we have stupid people, we have people who are not smart.
Makes you long for Mitt Romney's delightfully polite 47 percent moochers comments, doesn't it? He really only meant that for a private audience of donors and other one percenters.
Trump is busy selling $15 million condos to China, whom he needs to beat, and loves.
If this speech was a subway map, it be all over the place and would have stops in Mexico, China, Tennessee, and the border.
Trump said that our leadership should emulate China and our leaders were like a high school football team facing Tom Brady. Guess Trump missed the memo about Tom Brady being caught cheating and suspended by the NFL for the first four games next year.
He always was and will be a USFL guy I guess.
Trump is ready to call the head of Ford Motor Company -- whom he knows -- and as president would say "Congratulations. For every car that comes across the border, we're charging a 35 percent tax (import tariff) paid up front coming across that border" for establishing a $2.3 billion dollar plant south of the border.
I guess NAFTA isn't part of the President Trump agenda either? Either that, or he just really hates Mexicans.
Trumps fear of sounding crass was apparently discarded. "I am really rich," was his most quotable sound bite.
When you hear a man saying he's going to build a border fence -- and complimenting his fence-building skills extensively before getting to the point -- it's elevating crass into the realm of Big Brother.
Who can think of the Berlin Wall without thinking of oppression?
Trump wasn't satisfied to look at the Saudi Arabian border in his chat though. He claimed that he'd build the ultimate border fence AND make Mexico pay for it.
Take a break now, a second bowl of popcorn is allowed for this speech. Old man Orville is smiling in his grave.
Trump did take a well-deserved break from alternating between xenophobia and belligerence to give a round of applause to his family. It was the loudest applause of the day.
By then, even Periscope viewers were asking for a few facts.
Trump responded with his personal biography, his riches to mega riches story, growing up the son of an impoverished millionaire developer in New York City's boroughs.
Finally, after 30 minutes a fact arrived.
Trump held out his purported financial statement claiming that "it would be filed with the government shortly," showing $9.25 billion in assets and only $500MM in borrowings with a net worth of nearly $9 billion.
Then Trump reminded us that our country has losers again and entered the lightning round of spitting out a pupu platter of political ideas, sometimes from both times of the aisle.
According to "the economists," who he "dislikes," we have $18 trillion in national debt, and at "$24 trillion we become Greece."
Repealing the "great lie" Obamacare, building the great wall of Trump -- paid for by Mexico no less, being tough on ISIS by "finding General MacArthur or 'that guy'" and tough on "Eye-Ran" too.
Hmmm, the search for "that guy" is a presidential issue? Ok.
The lightning round picked up, and we were headed towards the final decision in our Occupy Democrats boardroom -- and running low on bag number two of popcorn.
Trump proceeded to insult Secretary of State John Kerry for... being John Kerry, leading him to "promise I will never be in a bicycle race."
Next up, a promise to, "immediately terminate President Obama's illegal order on immigration." After that, hug the 2nd Amendment.
Shockingly, Trump ended the endless platitudes to speak about a couple of actual electoral issues before signing off. They included an attack on Jeb! -- or if you prefer, the former non-candidate formerly known as Jeb Bush.
"End common core, Bush is in favor, can't see how he can possibly get the nomination," Trump blurted out, pointing out one of the few actual policy issues in the Republican clown car they call a nominating contest.
He proceeded to bring up solid Democratic party talking points at the end thundering to "Rebuild the country's infrastructure!", but of course it devolved into more Trump being Trump claiming boldly that he'd bring in every project ahead of time and under budget, for just "one third of the cost" without explaining how the Trump miracle works...
Mercifully, he wrapped up after that.
CNN said that he's polling in the top 10 and to expect more fireworks exploding all over Fox News in August when the debates begin.
While Trump saved his boldest words for Jeb Bush, I have to throw them back at Trump himself.
"How the hell can you vote for this guy?"
Popular in the Community