President-elect Donald Trump is staying on as an executive producer of NBC's "The New Celebrity Apprentice" despite his impending responsibilities as leader of the free world, according to reports Thursday in The New York Times and Variety.
The popular program, which propelled the businessman to national prominence and paved the way for his eventual presidential win, is set to begin airing again in January with its new host, Arnold Schwarzenegger. The show went off the air during Trump's presidential bid.
MGM, which produces the show for NBC, confirmed to Variety that Trump will still be one of the program's executive producers, and that MGM, not NBC, will pay the president-elect's fees. (MGM did not return a request for comment from The Huffington Post.)
Trump spokeswoman Hope Hicks confirmed the news, noting that the president-elect has a "big stake" in the program, which has licensed several international editions.
"Mr. Trump has a big stake in the show and conceived of it with Mark Burnett. Additional details regarding his business interests will be shared December 15th," Hicks said in a statement.
Trump's involvement with the "Apprentice" franchise became a source of controversy near the end of the presidential race. After The Washington Post published Trump's 2005 boasts about sexual assault, HuffPost uncovered several offensive remarks the president-elect made during his time on the show. In October, a former "Apprentice" contestant accused Trump of assaulting her in a Beverly Hills hotel room. And several former crew members told The Associated Press that Trump frequently used sexist, lewd language while on set.
Meanwhile, producer Mark Burnett ― who repeatedly claimed he was not a Trump supporter ― fought to keep the show's unaired archives under wraps and reportedly cracked down on staff leaks of such material. According to The New York Times, Burnett recently met with the president-elect at Trump Tower to discuss potential inauguration celebrations, including a parade up Manhattan's Fifth Avenue.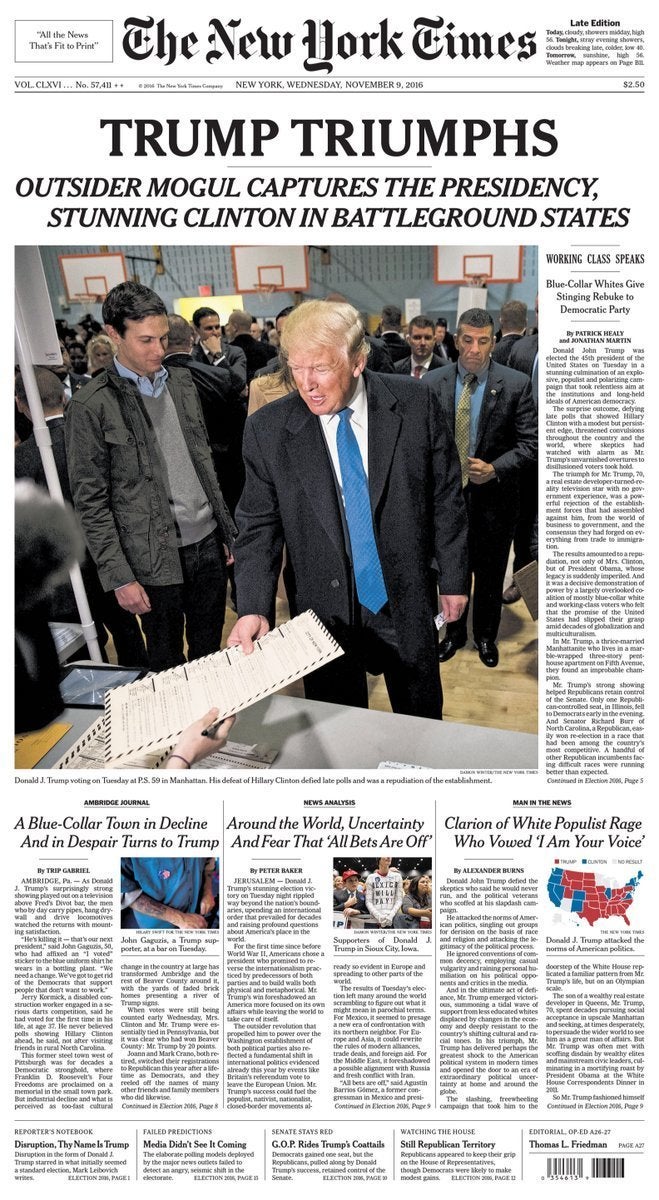 Newspapers React To President Trump
Popular in the Community