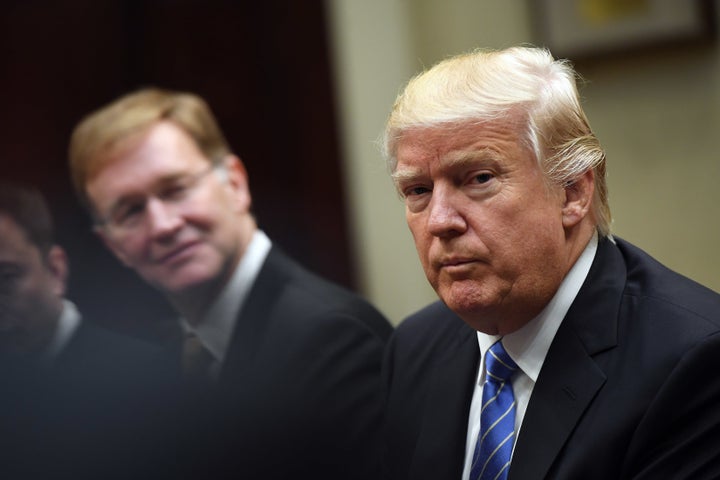 A new survey finds President Donald Trump starting out with record-level disapproval. Views of his inauguration, by contrast, are more in line with recent years. And Americans weigh in on former President Barack Obama's final acts of clemency in office. This is HuffPollster for Tuesday, January 24, 2017.
AMERICANS DIVIDED ON START OF TRUMP'S PRESIDENCY - Lydia Saad: "President Donald Trump is the first elected president in Gallup's polling history to receive an initial job approval rating below the majority level. He starts his term in office with 45% of Americans approving of the way he is handling his new job, 45% disapproving and 10% yet to form an opinion. Trump now holds the record for the lowest initial job approval rating as well as the highest initial disapproval rating in Gallup surveys dating back to Dwight D. Eisenhower. Trump's inaugural approval rating is not much lower than the 51% recorded for George H.W. Bush in 1989 as well as for Ronald Reagan in 1981, but his disapproval rating is substantially higher than theirs. Whereas 45% disapprove of Trump, only 6% disapproved of the elder Bush and 13% disapproved of Reagan….To the extent there is good news for Trump in these numbers, it is that they are slightly better than how he was rated for his handling of the presidential transition earlier in the month." [Gallup]
It's partly, but not all, about partisanship - Harry Enten: "The inflated level of opposition to Trump at the start of his term could be explained, in part, by increased political polarization. George W. Bush, with a 25 percent disapproval rating in 2001, held the previous record for start-of-term opposition. Bush, of course, was the last president to win the White House without a plurality of the national popular vote. But Trump's lack of support isn't all down to polarization. Barack Obama entered office in 2009 with a disapproval rating of 12 percent, and politics was pretty polarized then. No matter what way you look at it, Trump is quite unpopular compared to the historical average….Typically, an incoming president — especially a narrowly elected one — uses the time between Election Day and inauguration to salve campaign wounds and unify the country. And traditionally presidents see a jump from their first net favorability rating after the election to their first net approval rating after taking office. Trump's transition (and inauguration), by contrast, has seemed at times to be simply a continuation of the campaign….The good news for Trump is that there's plenty of time for him to right the ship. Many presidents — including every Republican since Dwight Eisenhower save for Gerald Ford — have seen their approval rating rise, at least momentarily, from their first job approval rating. Trump's going to need it." [538]
The first of many datapoints to come - Gallup's survey is one of the first to ask about Trump as president, rather than president-elect and represents either an unusually good finding or a modest improvement. As Gallup notes, surveys during the past month asking about Trump's transition often found his approval lower in the 40s. It's also significantly better than Trump's current favorability rating, which HuffPost Pollster's aggregate currently puts at a net negative 9, with about 42 percent rating him positively, and nearly 51 percent negatively. By contrast, former President Barack Obama spent much of his early term with a personal favorability rating that outstripped his job approval. [Trump approval chart]
Is Trump stronger than he seems? - Nate Cohn: "Mr. Trump's ratings are poor for an incoming president, no matter how you cut it. The question is whether his ratings are merely poor or disastrous. If his approval rating were taken at face value, there would be an argument that his presidency could be in jeopardy before it even started….It would be easy enough to say that Mr. Trump enters as an unprecedentedly unpopular president. But how many times over the last year and a half were the polls cited as evidence that Mr. Trump was historically unpopular? I don't mean the horse race numbers, which generally showed Mr. Trump competitive for the nomination and the presidency. I mean the questions about character, which painted a far more pessimistic picture of his chances. One could brush all this aside by attributing his victory to the weakness of his opposition. From this point of view, Mr. Trump is a historically weak political figure who benefited from historically weak opposition….The other possibility is that there's something about Mr. Trump's appeal that's not captured in the traditional approval ratings or the character questions. One piece of evidence seems consistent with this possibility: the seeming optimism about his presidency." [NYT]
INITIAL REACTION TO TRUMP'S INAUGURATION SIMILAR TO 2005, 2013 - Jeffrey M. Jones: "Americans' reactions to the inaugural ceremonies for Donald Trump were more positive than negative. Thirty-nine percent say they are more hopeful about the next four years based on what they saw, heard or read about Friday's inauguration, 30% are less hopeful, and 30% say what they heard or read made no difference. That reaction is similar to what Gallup measured for George W. Bush's and Barack Obama's second inaugurations, but much less positive than it was for Obama's first….Partisan reactions to Trump's inauguration are very similar to those for Bush's second inauguration in 2005….While not quite the home run Obama's first inauguration was, Trump's inauguration was not much different than other recent inaugurations in terms of making Americans more hopeful about the coming four years. This is the case even though Trump's speech got less positive reviews than prior inaugural addresses from those who watched the inauguration ceremonies or saw news coverage of them. " [Gallup]
MEASURING CROWD SIZE ISN'T EASY - Amy B Wang: "Short of counting attendees one by one — and barring technological advancements that could retroactively analyze images to do so — there may never be undisputed numbers pinned to the inauguration of President Trump or to the Women's March on Washington that stormed the city the following day....For the most part, the boundaries of crowds are stable; the density of the crowd is where there is some room for interpretation....Washington comes with its own set of challenges when it comes to crowd estimation. In 2015, a report by The Washington Post showed that perspective mattered greatly when estimating crowds on the Mall. When viewing a crowd from a low angle — say, from the inaugural dais — the spaces between people can easily visually disappear, causing the crowd to appear less spaced out." [WashPost]
PUBLIC APPROVES OF CLEMENCY FOR DRUG OFFENDERS, NOT FOR CHELSEA MANNING - HuffPollster: "Americans have mixed feelings about the commutations that former President Barack Obama issued during his last days in office, according to a new HuffPost/YouGov survey. In one of his final acts as president, Obama commuted the sentence of Chelsea Manning, the U.S. soldier who sent classified documents to WikiLeaks, as well as the sentences of hundreds of federal prisoners convicted of drug crimes. A 58 percent majority of Americans say they approve of Obama's decision to reduce the sentences of hundreds of federal prisoners convicted of nonviolent drug offenses. Just 30 percent disapprove….Obama's clemency toward Manning is significantly less popular. Just 33 percent of Americans agree with the decision to commute her sentence, while 47 percent disagree, with the remainder unsure….Overall, 37 percent of Americans say Obama gave clemency to too many people during his presidency, while 12 percent believe he gave clemency to too few people, and 23 percent think his actions were about right." [HuffPost]
HUFFPOLLSTER VIA EMAIL! - You can receive this daily update every weekday morning via email! Just click here, enter your email address, and click "sign up." That's all there is to it (and you can unsubscribe anytime).

TUESDAY'S 'OUTLIERS' - Links to the best of news at the intersection of polling, politics and political data:
-An Ipsos survey of 24 countries finds little international optimism about Donald Trump's presidency. [Ipsos]
-Eli Yokley compares Trump's inauguration speech to voters' top priorities. [Morning Consult]
-Hayley Miller notes that most Americans disagree with the new administration's focus on fossil fuels. [HuffPost, Pew report]
-Stephen Farnsworth, S. Robert Lichter, and Deanne Canieso analyze late-night shows to predict that Trump will be the most ridiculed president in recent history. [WashPost]
-Alan Reifman reviews polls showing growing support for the Affordable Care Act. [HealthCarePolls]
-Maimuna Majumder examines the relationship between hate crimes and income inequality. [538]

Popular in the Community