PHOENIX ― Thousands of protesters and supporters gathered in Phoenix on Tuesday night for a rally featuring President Donald Trump.
Demonstrators gathered outside the Phoenix Convention Center in protests largely pegged to Trump's anti-immigrant views and his recent remarks on racism. Throngs of protesters shouted "shame" and "no wall, no KKK, no racists!" at Trump supporters who walked along the street toward the entrance. The president's fans, in turn, often grinned and shouted back, "Trump USA!"
Police blocked off streets around the convention center to prevent vehicles from entering areas heavily filled with protesters. A woman protesting against racism died in Charlottesville, Virginia, after being hit by a vehicle driven by a white supremacist.
Law enforcement officers dressed in plainclothes often stood among the protesters, ready to stop conflicts. Still, the president's supporters and opponents frequently shouted each other down in the hours before Trump's remarks.
Among those gathered outside the convention center were members of an armed group called the John Brown Gun Club, who said they were present to keep people safe. One of the club's members, who carried an AR-15 and identified himself only as "Irish" in an interview with HuffPost, described the group as ideologically mixed, including people who sympathized with both anarchist ideas and libertarian ones.
Trump's most enthusiastic supporters had already begun lining up in front of the convention center by Tuesday morning, hoping to catch a front-row seat. Some sported the red "Make America Great Again" hats that Trump popularized on the campaign trail, while others held placards reading "Trump won, go ahead and cry" or wore buttons reading "Bomb the hell out of ISIS."
Dozens of people waiting in line also declared their support for Kelli Ward, the Trump-backed primary challenger to Sen. Jeff Flake (R-Ariz.). Flake has been a vocal critic of the president. People wore red buttons and shirts in support of Ward, who said she'd be out "in full force" at Trump's rally. CNN reported Ward would attend Trump's rally, but was not scheduled to give remarks.
"He tells the truth and he's a real person ― he's not a politician," said Leslie Rainwater, 68. She had traveled from Texas the night before to attend the rally, making a spur of the moment decision after her sister scored tickets.
"I'm more excited about this than seeing the Beatles," said Rainwater, who saw that band perform three times in the 1960s.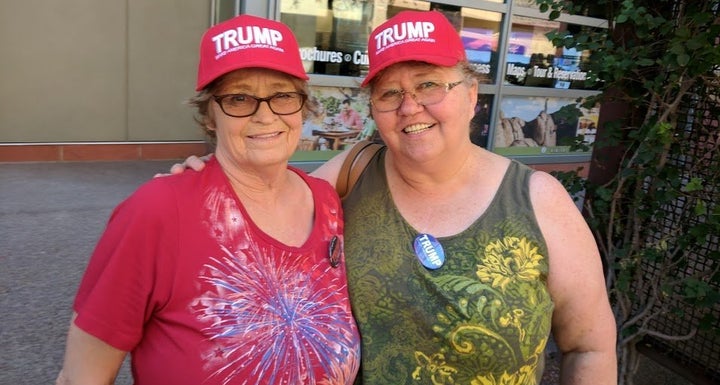 Some who came out to see Trump were unfazed by the uproar over his response to the violence in Charlottesville earlier this month.
"That wasn't Trump that did that stuff," said Todd Livingston, 54. "I think if we erase history, we're bound to repeat it. It's not that we're proud of it. It's just what it is. This is what made America."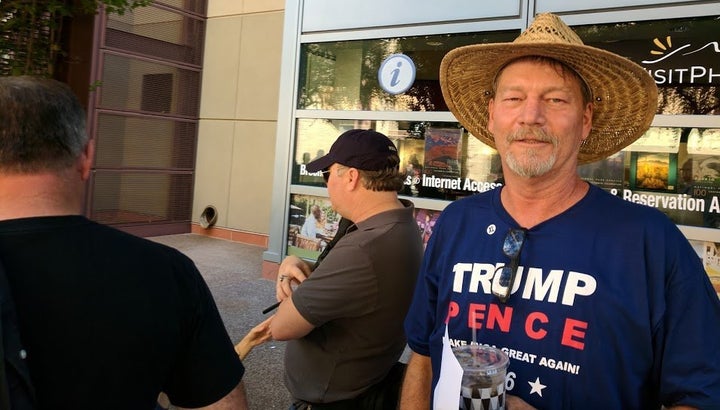 Iranian-born Soodie Odegard, 69, said she'd become so concerned about the direction the country was moving in by 2015 that she moved to Ecuador.
"I thought something really bad was going to happen here," Odegard said. "I thought we would all become slaves to the globalists, to the elite."
She returned for a visit to the U.S. on Election Day last year to vote for Trump. By this summer, due largely to Trump's leadership, she felt confident enough to return to the country.
"He wants to make America great," Odegard said. "America has always been great. Then we lost it for a few years. Now we're on the road to being great again."
A man with a gray ponytail, who would only identify himself by his first name Persi, questioned whether the violence in Virginia actually took place, floating a conspiracy theory that billionaire financier George Soros had staged the episode.
"The Nazis and the Black Lives Matter folks all got off the same buses," Persi, 57, said. "Why they allow George Soros to pay people to protest in the United States is beyond me."
"I'm here to support him more than to listen," Persi said of Trump.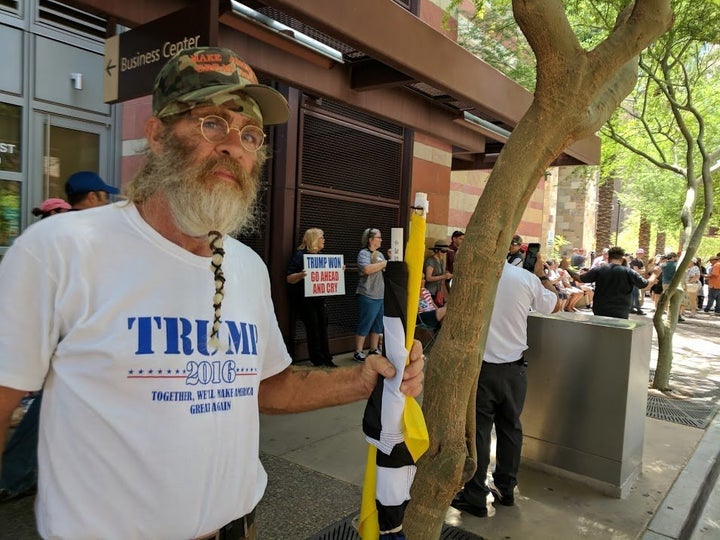 Trump outlined a new U.S. policy in Afghanistan Monday night, speaking in a reserved tone while reading from a teleprompter in Fort Myer in Arlington, Virginia. That more stolid appearance raised questions about how the president would appear at Tuesday night's rally, a forum where Trump generally speaks freely, regularly goes off script and often appears unrestrained.
Rainwater said she was looking forward to Trump getting the crowd excited.
"I'm waiting for him to rile the crowd up, and get out that good energy. Positive energy," she said. "Nothing's been positive lately."
This article has been updated throughout.
Before You Go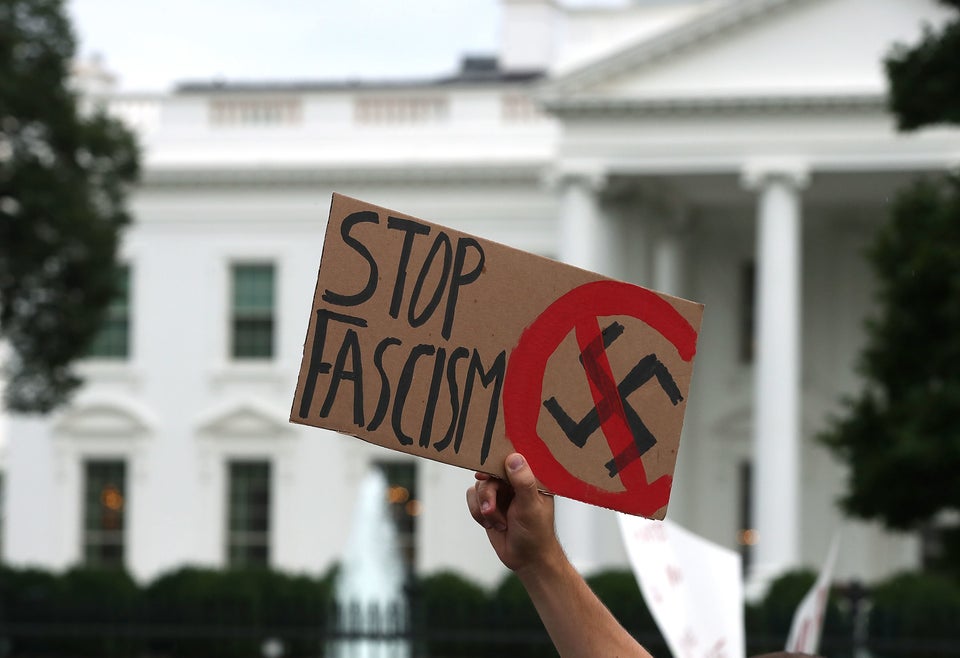 Anti-Hate Protests Against Trump
Popular in the Community