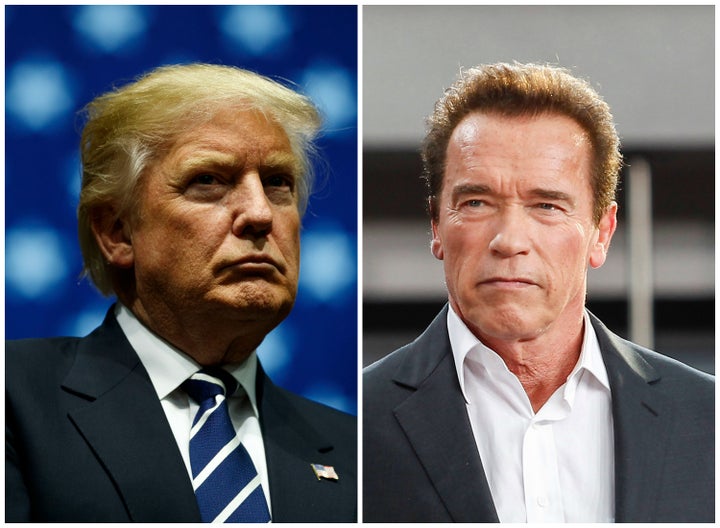 Television met the latest incarnation of Arnold Schwarzenegger on Monday evening when he said hello to the world as host of "The New Celebrity Apprentice," an NBC show with a slightly tweaked name but the same general concept as its Donald J. Trump–led predecessor. 
Much like NBC, Schwarzenegger did what he could to distance himself from the president-elect in the leadup to the show's premiere. One day after audio surfaced last fall of Trump bragging about sexually assaulting women to then–"Access Hollywood" host Billy Bush, the former California governor said that he would not vote for Trump in the 2016 presidential election ― the first time he hasn't voted for a Republican nominee, he said, since he became a citizen in 1983.
The distancing appears to have been successful enough, at least as of Tuesday. Most of the conversation the morning after the show's premiere has revolved around Schwarzenegger's twist on Trump's famous "You're fired" tagline (it's "You're terminated," for those interested). And while The New York Times' Mike Hale called Schwarzenegger "robotic" in Episode 1, The Telegraph's Jonathan Bernstein thought he "immediately [outdid] Trump" in the show's premiere. 
But Trump and Schwarzenegger have more in common than their duel careers as politicians and entertainers, moreso than their roles as hosts of "Celebrity Apprentice." Like Trump, Schwarzenegger has also been accused of groping multiple women without their consent in the past. And much like Trump, such allegations did little to derail his campaign for political office. 
As recently highlighted in a piece by The Daily Beast's Amy Zimmerman, allegations that Schwarzenegger treated women inappropriately first popped up in a major way in a 2001 feature in Premiere magazine entitled "Arnold the Barbarian," in which John Connolly detailed the experiences of women who felt "shaken" after nonconsensual encounters with Schwarzenegger.
Two years later, the allegations popped up once again, when Schwarzenegger was just days away from winning the the California gubernatorial recall election. On Oct. 2, 2003, the Los Angeles Times published the stories of six women who said Schwarzenegger either touched them inappropriately, tried to remove their clothes or pulled them onto his lap, after which he asked inappropriate questions. "Did he humiliate me? You bet he did," one woman said. 
The campaign initially denied the allegations, which spanned multiple decades. But later that same day, Schwarzenegger admitted that he "was on rowdy movie sets and I have done things that were not right which I thought then was playful but now I recognize that I offended people."
He added, "Those people that I have offended, I want to say to them I am deeply sorry about that and I apologize because that's not what I'm trying to do." Two days later, the Los Angeles Times published the accounts of three more women who said Schwarzenegger acted inappropriately toward them. Three days after that, the actor was elected governor of California.
There are certainly differences between the allegations against Schwarzenegger and Trump, who himself has been accused of sexual assault by more than a dozen women. Namely, remorse. While Schwarzenegger apologized immediately after the allegations cropped up, Trump didn't, instead choosing to divert attention to the sexual assault allegations faced by his political opponent's spouse.
NBC did not immediately respond when asked by The Huffington Post whether the network or MGM, the production company behind "Celebrity Apprentice," considered Schwarzenegger's history of groping allegations before naming him host of the reality show.
Certainly, however, that's a lot of accusations between the two hosts of one show.
Calling all HuffPost superfans!
Sign up for membership to become a founding member and help shape HuffPost's next chapter
BEFORE YOU GO
PHOTO GALLERY
Dear Mr. Trump Project