As a Category 4 hurricane rapidly approached the coast of Texas on Friday night ― causing millions to run for their lives and worry for their homes, their pets, their family photos, their property and their livelihoods ― President Donald Trump escaped to Camp David, where he unleashed his own storm of controversial news, seemingly hoping no one would notice.
Trump signed a memo banning transgender individuals from newly enlisting in the military and pardoned a former sheriff with a history of racist actions. One of his most controversial advisers resigned, and his administration teased they'd end a program that could put many young undocumented immigrants at risk of deportation. These controversial announcements all came as Hurricane Harvey bore down on the Texas Gulf Coast.
The barrage of news coming from the White House, with each story notable in its own right, illustrated both an administration prone to crisis and ill-equipped to handle them, whether natural or self-made.
The U.S. news was largely dominated by Hurricane Harvey throughout the day Friday, as the storm quickly escalated from Category 2 to Category 4, with winds escalating to 130 miles per hour. Millions of Texans were urged to flee their homes, with Republican Gov. Greg Abbott encouraging people to evacuate even if it wasn't mandatory.
"It is not hyperbole to say that if the forecast verifies, Texas is about to experience one of the worst natural disasters in the history of the state," Abbott said Friday in a written request for Trump to declare a major disaster.
Trump wished Texans "good luck" as he departed the White House on Friday for Camp David in Maryland. But he and his administration seemed eager to use the natural disaster as a distraction.
Just after 6 p.m. EDT Friday, Military Times reported that Trump signed a memo banning transgender men and women from enlisting in the military. The presidential memo also tasks Defense Secretary Jim Mattis with determining whether to remove already enlisted transgender individuals from service, and it bars the military from funding gender confirmation surgery.
Trump's initial announcement that transgender individuals wouldn't be allowed to serve, made in a July 26 series of tweets with no input from the Department of Defense, was widely criticized by military officials, members of the armed forces and lawmakers from both sides of the aisle.
Then, just after 8 p.m., the White House issued a statement that Trump had pardoned Joe Arpaio, the former sheriff of Maricopa County in Arizona. Arpaio had been found in contempt of court for violating a judge's order and unlawfully detaining individuals his officers claimed might be in the country illegally. He became infamous for making inmates in his jails wear pink underwear and sleep in tents when temperatures at times topped 110 degrees.
Trump and Arpaio worked together to try to disprove Barack Obama's ability to serve as president, with Arpaio leading an "investigation" into the authenticity of Obama's birth certificate that Trump once praised as "successful." In his statement Friday, Trump called Arpaio a "worthy candidate for a Presidential pardon," the first of Trump's presidency.
Trump does have the constitutional authority to issue pardons, but the timing of Arpaio's pardon caused many to question Trump's priorities.
Trump's pardon, given to a man widely seen as racist, came at a time when many are still criticizing the president's response to the white supremacist protests in Charlottesville, Virginia. Trump's initial unwillingness to explicitly condemn racists was so widely panned that Trump felt a need to defend his responses in a 20-minute rant at a Phoenix rally Tuesday.
And according to WTSP's Noah Pransky and CNN, Trump deliberately timed the announcement of Arpaio's pardon to come Friday evening ― Arpaio's lawyer found out about the pardon at 6 p.m. Eastern Friday, and the announcement wasn't made until 8 p.m. Eastern time, a full two hours later and a mere 30 minutes after Hurricane Harvey was upgraded to a Category 4 storm.
Trump teased the pardon of Arpaio on Tuesday night at the Phoenix rally but said he wouldn't grant the pardon then because he didn't "want to cause any controversy."
Also late Friday, it was announced that Sebastian Gorka, a controversial adviser to Trump, had left his White House job.
There were also reports throughout Friday afternoon that Trump was considering ending the Deferred Action for Childhood Arrivals program (DACA), which would strip legal work permits from hundreds of thousands of undocumented immigrants who came to the U.S. as children.
In any other administration, any one of these announcements could have dominated the news cycle for days. In the Trump era, however, it appears every action was taken to ensure these decisions would be buried by Saturday, when the destruction of Harvey takes over.
This story has been updated to reflect the time between when Arpaio's lawyer found out about the pardon and when the White House announced it.
Before You Go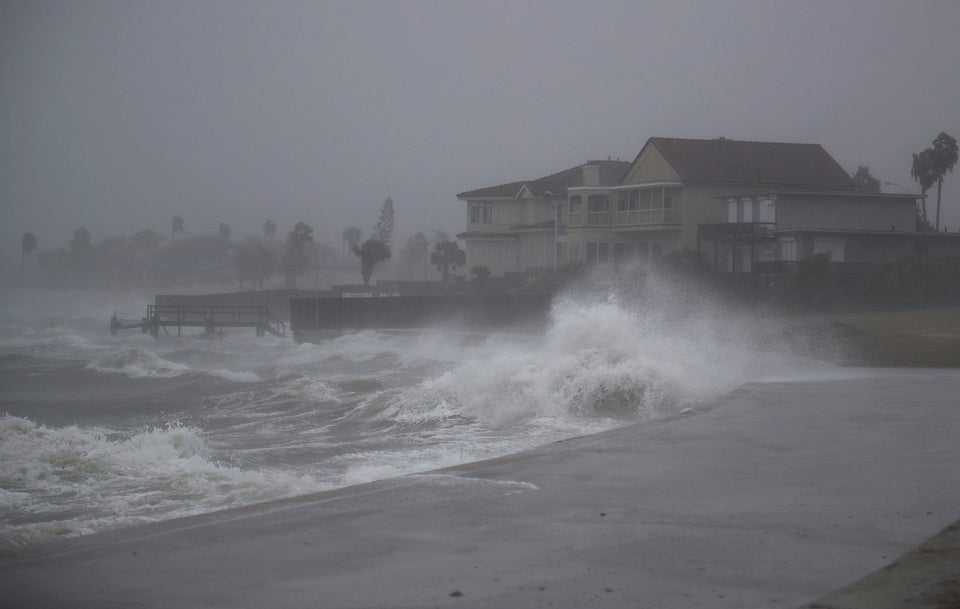 Gulf Coast Braces For Hurricane Harvey
Popular in the Community