WASHINGTON ― Just three months into his presidency, Donald Trump's bestselling The Art of the Deal might be due for a sequel: The Humility of the Failed Bluff.
The boastful businessman who claimed that his negotiating skills were unsurpassed appears to have met his match a number of times already.
Trump went from accusing the Chinese of manipulating their currency to agreeing that they didn't. He has not made any visible progress in forcing Mexico to pay for a border wall. He was talked out of abandoning the North American Free Trade Agreement by the leaders of Mexico and Canada. And he was unable to bully Democrats into working with him to repeal the Affordable Care Act.
"He has folded like a lawn chair at the slightest hint of pressure, and he's getting played like a violin by enemies like Vladimir Putin and Kim Jong Un," said Adam Jentleson, former deputy chief of staff to retired Senate Democratic Leader Harry Reid of Nevada.
In Mexico, the country Trump has vilified since the start of his campaign nearly two years ago, a senator told The New York Times that political leaders there have started to see Trump primarily as a "bluffer."
"In front of a bluffer, you always have to maintain a firm and dignified position," Armando Ríos Piter told the Times.
Some Trump supporters challenge that view. Michael Caputo, a western New York political consultant who worked for Trump's primary campaign last year, said Ríos and others who underestimate Trump will be sorry.
"Bluffers win. And they win big," Caputo said. "At the end of the poker game that the senator is speaking about, we'll end up with more chips. The senator is going to be awful surprised and out of the game early."
But other Trump allies, including radio talk-show host Rush Limbaugh, are starting to fret about Trump's strategy. "I'm not happy to have to pass this on," Limbaugh told his listeners earlier this week. "But it looks like, from here, right here, right now, it looks like President Trump is caving on his demand for a measly $1 billion in the budget for his wall on the border with Mexico."
On the campaign trail, Trump marketed himself as the ultimate closer, a tough-talking businessman who could renegotiate trade deals and international agreements to better benefit the American worker. He regularly disparaged "weak" and "stupid" leaders in Washington for failing to accomplish what someone who had actually sat at a boardroom table could easily do once in the Oval Office.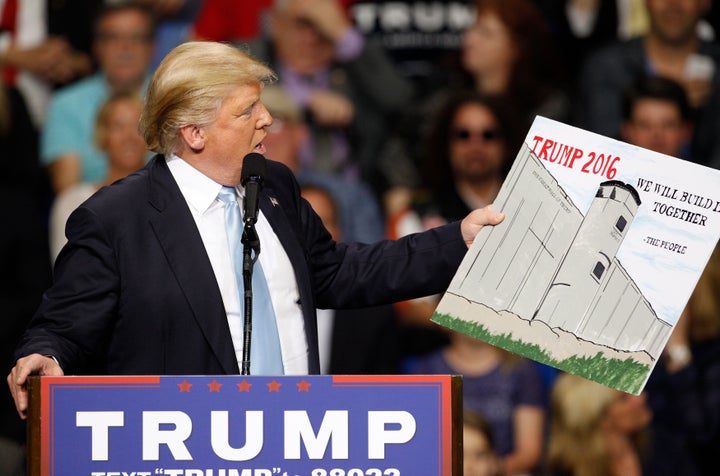 "I've watched the politicians. I've dealt with them all my life," Trump said in 2015. "If you can't make a good deal with a politician, then there's something wrong with you. You're certainly not very good."
Nearly 100 days into his presidency, however, Trump appears to be finding the job is much tougher than he imagined. He has issued bold ultimatums in negotiations on health care, immigration and trade only to have to back down. While his predecessor once said he never bluffed on the world stage, Trump has embraced the risky tactic on both foreign and domestic fronts ― with little to show for it.
"People put in for the TV character of Donald Trump, a hyper-confident negotiator, a wheeler-dealer mogul," said GOP strategist Rick Wilson. "The real Donald Trump is a 70-year-old man who inherited a bunch of money who's been bankrupt four times and who basically turned into a branding company.… He's intellectually sloppy and temperamentally unsuited for the job."
In the health care debate, Trump has been all over the map. He first warned Republican lawmakers that he would leave the Affordable Care Act in place and move on to other priorities unless they approved a bill to repeal and replace it. The ultimatum failed to sway skeptical conservatives in the House, and lawmakers bolted town for a two-week recess without voting on the measure. He and his aides then threatened to reach out to Democrats to resuscitate his stalled agenda, but that too went out the window. This week, the administration is once again pushing for a party-line vote on an Obamacare repeal bill.
Trump's bluster toward Democrats also fell flat. Earlier this month, he threatened to sabotage Obamacare if they didn't agree to proposed changes regarding the law. White House budget director Mick Mulvaney announced Wednesday that the administration was considering cutting off crucial payments to health insurance companies ― a move that would be devastating for people who buy coverage on their own, rather than through employers. Later that day, less than 48 hours before a crucial government funding deadline, Trump backed down and said he would honor the payments after all.
"People put in for the TV character of Donald Trump, a hyper-confident negotiator, a wheeler-dealer mogul."
Trump didn't fare any better on funding his proposed border wall, either. Facing likely odds of a government shutdown, the president on Tuesday backed off demands that Democrats agree to fund the construction of a wall on the U.S.-Mexico border ― the same wall he said Mexico would pay for on the campaign trail. Trump maintained that the wall remained a priority and that it would eventually get built. But it's hard to see what more he could do to persuade Democrats to vote to fund the wall between now and the next round of budget talks in September.
That issue, because it was a promise repeated throughout his campaign, could do Trump serious damage if he doesn't deliver, said Ari Fleischer, a press secretary to former President George W. Bush.
"I think Trump must demonstrate this year, not necessarily now, progress toward building the wall or his base will be disappointed," Fleischer said. "He went too far in saying Mexico will pay for it, but I believe his base cares far more about it being built and a lot less about who pays."
Trump's efforts to renegotiate the North American Free Trade Agreement may yet bear fruit. His threat to pull the U.S. out of the agreement brought Canada and Mexico to the negotiating table this week. But it's less clear what kind of concessions he'll be able to wring out of them. Even Trump admitted that withdrawing from the trade pact would amount to a "shock to the system."
"If I'm unable to make a fair deal for the United States, meaning a fair deal for our workers and our companies, I will terminate NAFTA. But we're going to give renegotiation a good, strong shot," he said at the White House on Thursday.
Before You Go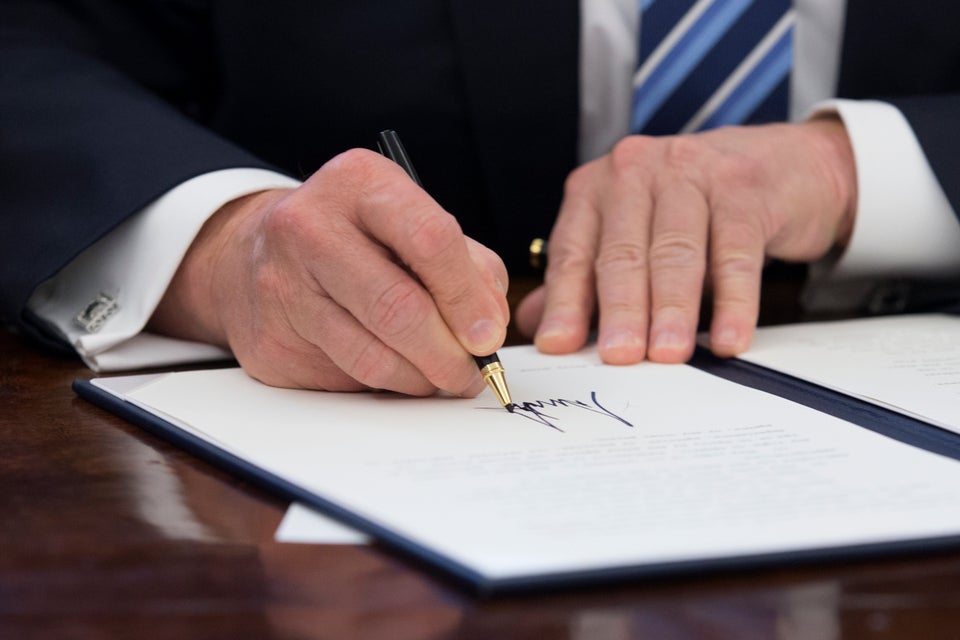 Donald Trump Loves Signing Things
Popular in the Community