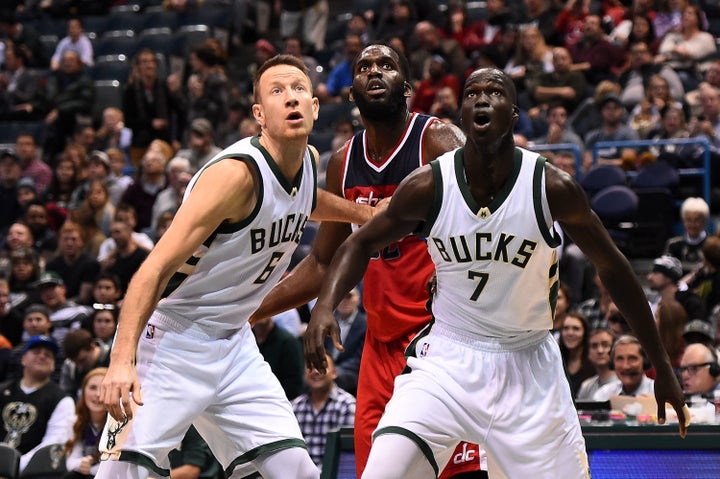 President Donald Trump's executive order banning Syrian refugees and preventing travelers from several Muslim-majority countries from entering the United States has left people stranded in airports across the country and resulted in others being turned away at the door. Its impact has already been felt in the film industry, and there are growing concerns that the order could affect a number of professional athletes too.
Thon Maker, a rookie on the NBA's Milwaukee Bucks who was born in South Sudan, was able to re-enter the United States without issue Friday night after the Bucks played the Toronto Raptors in Canada, the team said. Maker is a former refugee whose family fled Sudan when he was five.
Maker and Los Angeles Lakers guard Luol Deng, who is also Sudanese, are the two NBA players who could be most directly affected by Trump's executive order. Though both have dual citizenship status ― Deng is British, Maker is Australian ― the order could still apply. Neither the Bucks nor Lakers are scheduled to travel to Toronto, the NBA's only market outside the U.S., for the rest of the season, though Milwaukee could still end up facing the Raptors if both make the NBA playoffs this spring.
"We have reached out to the State Department and are in the process of gathering information to understand how this executive order would apply to players in our league who are from one of the impacted countries," NBA spokesperson Mike Bass said in the statement. "The NBA is a global league, and we are proud to attract the very best players from around the world."
A federal court on Saturday temporarily blocked part of Trump's executive order, forbidding the deportation of refugees given government clearance or immigrants with valid visas. And while professional athletes may have better access to resources for immigration help, that many face uncertainty under Trump's order is a reminder of how far-ranging its effects may be, especially in leagues where teams travel internationally.
No Major League Soccer players were born in the seven countries listed in Trump's order, but two have ties. Steven Beitashour of Toronto FC is an Iranian-American dual citizen who has played for Iran's national team. Columbus Crew's Justin Meram, similarly, was born in the U.S. but has played for the Iraqi national team. It's unclear how the order might affect either player. An MLS spokesperson declined to comment on the issue Sunday.
Michael Bradley, the captain of the U.S. Men's National Team and Beitashour's teammate in Toronto, said in an Instagram post Sunday that he is "sad and embarrassed" by Trump's refugee ban.
One athlete has already felt the effects of Trump's order.
"I am a British citizen who has lived in America for the past six years ― working hard, contributing to society, paying my taxes and bringing up our four children in the place they now call home," Farah said on Facebook. "Now, me and many others like me are being told that we may not be welcome. It's deeply troubling that I will have to tell my children that Daddy might not be able to come home ― to explain why the President has introduced a policy that comes from a place of ignorance and prejudice."
Former NBA player Nazr Mohammed, who was born in Chicago to Ghanaian parents, criticized the ban Saturday afternoon. (Ghana is not among the seven countries named in the order, but Mohammed is a practicing Muslim.)
The ban has also drawn criticism from international sporting officials. Richard Peterkin, a member of the International Olympic Committee's executive board, tweeted Saturday that "Trump's Executive Order on immigration is totally contrary to Olympic ideals."
The 2016 Rio de Janeiro Olympics included, for the first time, a team composed of refugees from around the world who competed under the Olympic banner. The 10-member team included two athletes from Syria and five from South Sudan.
Popular in the Community