"My daughter Ivanka has been treated so unfairly by @Nordstrom," Trump complained on Twitter Wednesday morning. "She is a great person — always pushing me to do the right thing! Terrible!"
Within minutes, @POTUS ― the president's official White House Twitter account, previously used by President Barack Obama ― retweeted Trump's complaint, sharing it with 15 million followers.
White House social media accounts like @POTUS are managed by White House staff, and are subject to the Presidential Records Act, which requires that presidential communications be archived. Trump has a separate, personal Twitter account that he also uses. Below is the official presidential account as it appeared Wednesday.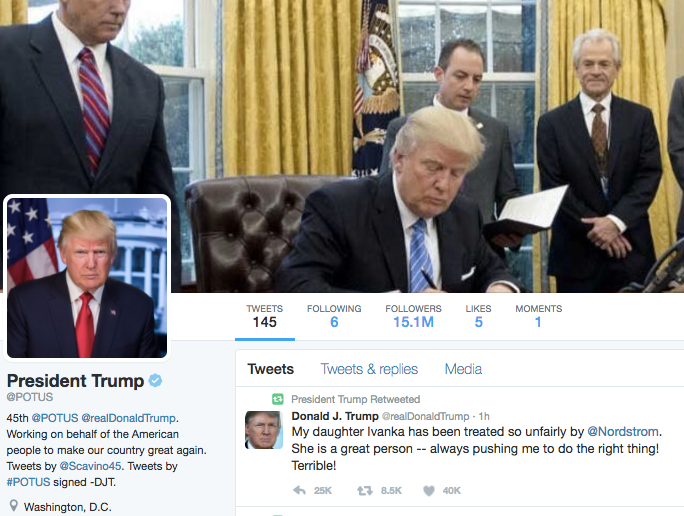 This is not the first time Trump has attacked a company on Twitter. But his previous tirades against companies were, by and large, objections to how corporate policies would affect their employees and taxpayers ― not complaints about how corporate decisions would affect Trump's own family members.
Nordstrom said the decision to stop selling Ivanka Trump's brand was based on its poor sales, not politics.
"In this case, based on the brand's performance, we've decided not to buy it for this season," the company previously said in a statement. On Wednesday, it noted that "Ivanka was personally informed" of the company's decision "in early January."
Every year, Nordstrom cuts around 10 percent of the thousands of brands it stocks. But the president evidently doesn't believe that poor sales were the driving force behind Nordstrom's decision.
According to White House spokesman Sean Spicer, Trump thinks his daughter's apparel brand was dropped was because "they have a problem with [Trump's] policies."
At a White House briefing Wednesday, Spicer said that for Trump, Nordstrom's decision amounted to "an attack on his daughter."
When companies "take out their concern about [Trump's] actions or his executive orders on members of his family, he has every right to stand up for his family and applaud their business activities," Spicer told reporters.
Nordstrom announced its decision to drop Ivanka's line of career separates a few days after the president signed a highly controversial ban on travel and immigration from seven predominantly Muslim countries.
"For someone to take out their concern with his policies on a family member of his is just not acceptable," Spicer said.
Spicer did not offer any evidence to support the claim that Nordstrom's decision was politically motivated and not based on sales. He also refused to address why Trump used public resources ― namely, his official White House Twitter account ― to pursue a personal vendetta on behalf of his adult daughter's clothing brand.
A spokeswoman for Ivanka Trump's clothing line declined to comment on the president's tweets, or on Nordstrom's business decision.
White House ethics experts were quick to point out that it's unprecedented for a sitting president to attack a public company because of a business deal it had with one of his children. Former Obama White House ethics czar Norm Eisen called Trump's tweet "outrageous" Wednesday, and offered to help Nordstrom sue the president.
Before You Go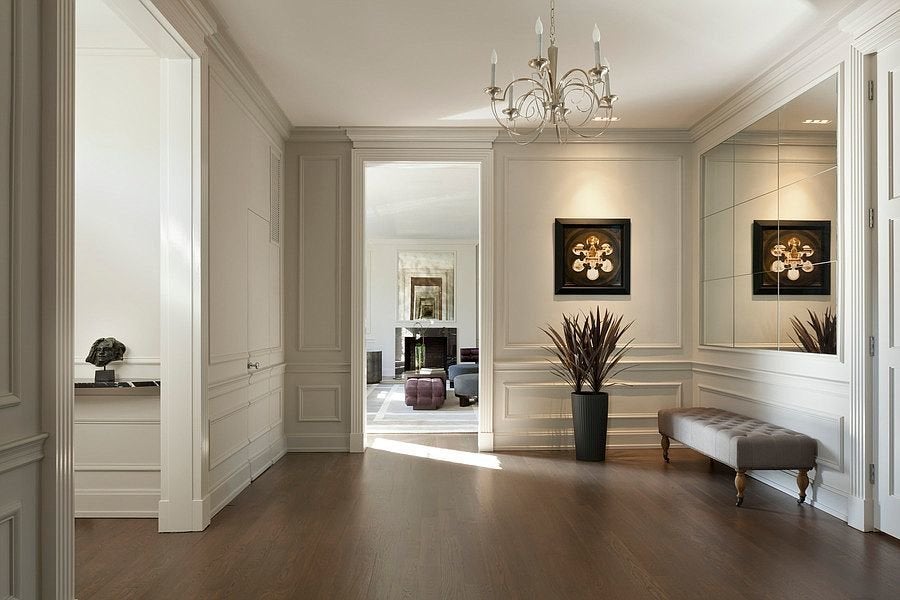 Ivanka Trump's House In Washington, D.C.
Popular in the Community